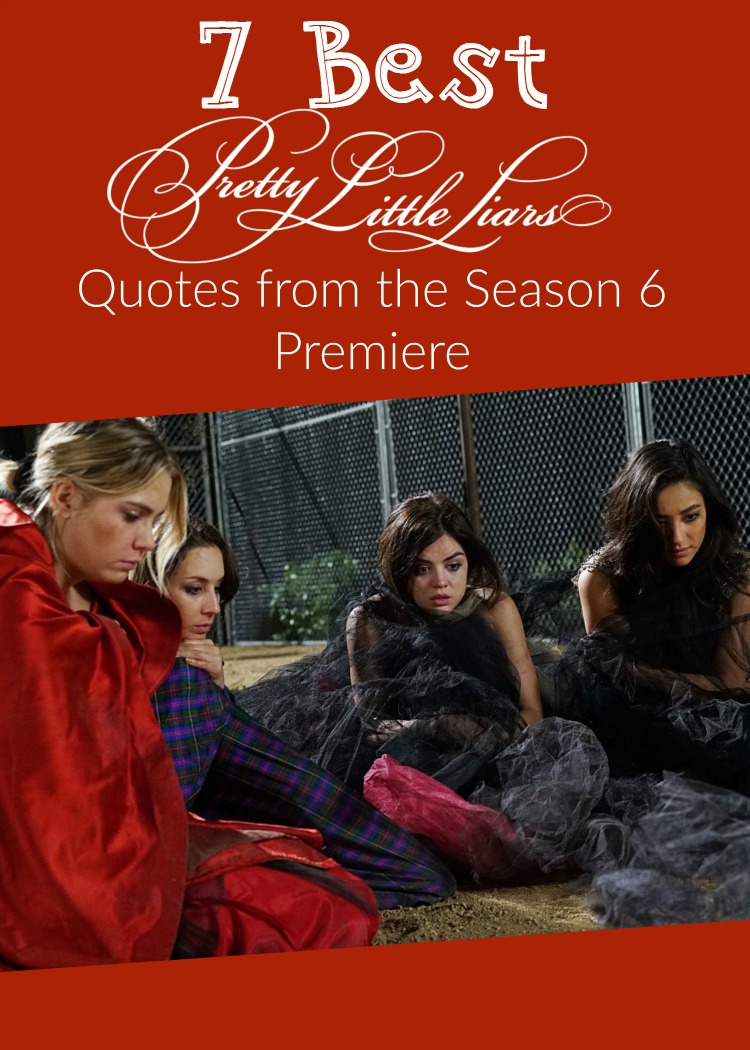 Season 6 of Pretty Little Liars restarts once again January 12, 2016. However, the season premiere on June 2, 2015 gave us quite a few interesting, funny and strange quotes. Here are some Pretty Little Liars quotes from the Season 6 premiere.
Pretty Little Liars Quotes from the Season 6 Premiere
Spencer, talking to the other girls, explaining to them what it was like to be near Charles, says "I don't know, I can't pinpoint it, but there was something really familiar." Aria asked her, "What do you mean, like the way he moved?" Spencer responded, "No it was…like when you meet a pen-pal or like a cousin or somebody that you knew when you were really little."
The girls ask Mona how she thinks "A" might punish them. Mona responds by saying, "It steals you in the night and puts you in the hole."
Caleb and Ezra are trailing Alison with the hopes she will lead them to the girls. Caleb says to Ezra, "I promised Hanna's mom I would get the girls back and I don't plan on breaking that promise."
"A" taunts Alison with a game, pretending to be a male. The male voice says, "Roadside assistance, may I help you?" Alison says, "Hi, my car is broken down, I need help." The male voice responds, "What you need is in the trunk of the car." Alison says to him, "What? What did you say?" The male voice tells Alison, "I said open the trunk of the car, Alison."
When the Liars are rescued, the cops look inside the dollhouse and find another girl inside. A male cop states, "Hey, there's another girl down here!" A female cop asks, "Miss? It's okay. You're safe now. What's your name?" The girl responds, "Sara. I'm Sara Harvey."
When the girls are trying to figure out where they are, and Hanna says they could be in the Amazon right now, Spencer replies that they're in the Northern Hemisphere because she can see the waning mood. Hanna replies, "I was saying that facetiously." Mona says "Wow, that's an eleven letter word, Hanna."
When the girls are trying to figure out a way to communicate without Charles seeing, Spencer uses an Etch-A-Sketch. She says "Did you guys know that, um, I won an etch-a-sketch contest when I was in the third grade?" Aria replies "Of course you did."
What were your favorite Pretty Little Liars quotes from the Season 6 premiere? Tell us in the comments!