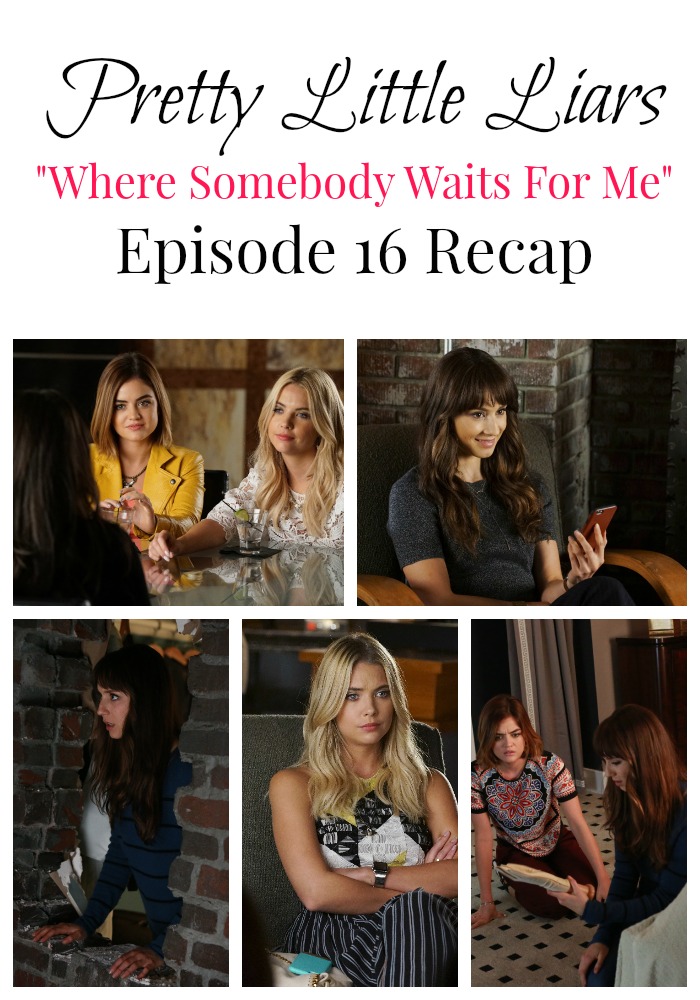 This week Pretty Little Liars Season 6 Episode 16 recap of "Where Somebody Waits For Me" challenges last weeks episode a lot! We now have a new likely murder suspect in Charlotte's death and a brand new murder weapon. Buh-bye golf club from last week's Episode 15, things are getting more complicated.  We also learn that Spencer's mom is sick, Emily's eggs that she was selling have been destroyed, and Hanna is being seriously stalked by Evil Emoji right now. Check out all the details of this mysterious episode in our Pretty Little Liars Season 6 Episode 16 recap!
Pretty Little Liars Season 6 Episode 16 Recap
During this Pretty Little Liars Season 6 Episode 16 recap, we start off with a glimpse of Hanna and her fiance Jordan spending some much needed time together after Hanna lost her job. We then see Spencer climb down the ladder to the room they found last week. Spencer sees Aria, and they start looking around the mysterious room. They discover a file cabinet and behind it a hole in the wall. They go through the hole and end up behind Radley outside, so now they know how either Sarah Harvey or someone else has been sneaking in and out.
Spencer goes to Caleb (These two were meant to be together and help each other!) about the hole in the wall and how Sarah has been sneaking out of the hotel without anyone seeing her. Caleb shows Spencer some files he got off Evonne's cell phone about her mother. It turns out Spencer's mother is sick but hasn't told her.
In sad news, Emily goes to the clinic and finds out they lost her eggs and others due to the power being cut off. I guess this should hopefully sew up a mysterious Pretty Little Liars baby popping up from Emily selling her eggs, for now. I suspect Evil Emoji will have stolen Emily's eggs before the power went out, it seems a little cruel even for Evil Emoji to just have destroyed all of the eggs.
Hanna wakes up at the hotel to a panicked flurry of texts from the girls and tells Jordan they need to head back to Rosewood. Jordon tries to calm her down by suggesting she eat some breakfast, which they never actually ordered. Breakfast comes with a note that says "The Honeymoon is over" and "poor Jordie" complete with a sad face of eggs and bacon. Evil Emoji has struck again, but did they order the food long distance or are they here? Jordan eventually asks Hanna to go back to New York with him, and she tells him she can't yet.
Spencer and Emily confront Allison and tell her everything that has been going on. Allison tells them that the murders weapon that killed Charlotte was not a golf club. Spencer then later confronts Mona about her mother's health, but we still don't yet know too many details about Spencer's mom. Mona reveals that the other political campaign is potentially going to leak that Spencer's mom is sick to the press to try to bully Spencer's mom into stepping down from her political office. It's nice to have Mona on the same side as the Liars for once. Aria sees her boyfriend Liam at the cafe, and he tells her he is there to talk about Ezra and his book.
Liam reads the pages of Ezra's book that Aria wrote. He knows Aria wrote the pages and asks if Ezra knows she is writing the chapters. Liam tells Aria to finish the chapter and to explain that she has been writing to Ezra when he gets back. Allison goes over to Spencer's to talk about Charlotte and Dr. Rollins. She tells Spencer how sometime along the way with helping Charlotte, she fell in love with Dr. Rollins. Later on, we see Allison tells Dr. Rollins about talking to Spencer about them, and they kiss.
Hanna and Aria go back down under the hotel and end up finding Emily there. Emily explains that she was trying to find her eggs but with no luck did not. 
WAIT… IT MAKES SENSE NOW. #PrettyLittleLiars pic.twitter.com/UN0SrEHnJP

— Pretty Little Liars (@PLLTVSeries) February 17, 2016
The episode ends with Ezra returning and showing Aria the next three chapters of his book, but Aria has already written them. Spencer goes through her sister Melissa's bag and discovers a piece of metal that could be the new murder weapon that killed Charlotte.  Could Melissa be Charlotte's murderer?
So the Pretty Little Liars Season 6 Episode 16 leaves us with Melissa being a new suspect in Charlotte's murder and a whole new murder weapon! Sound off about the episode in the comments!