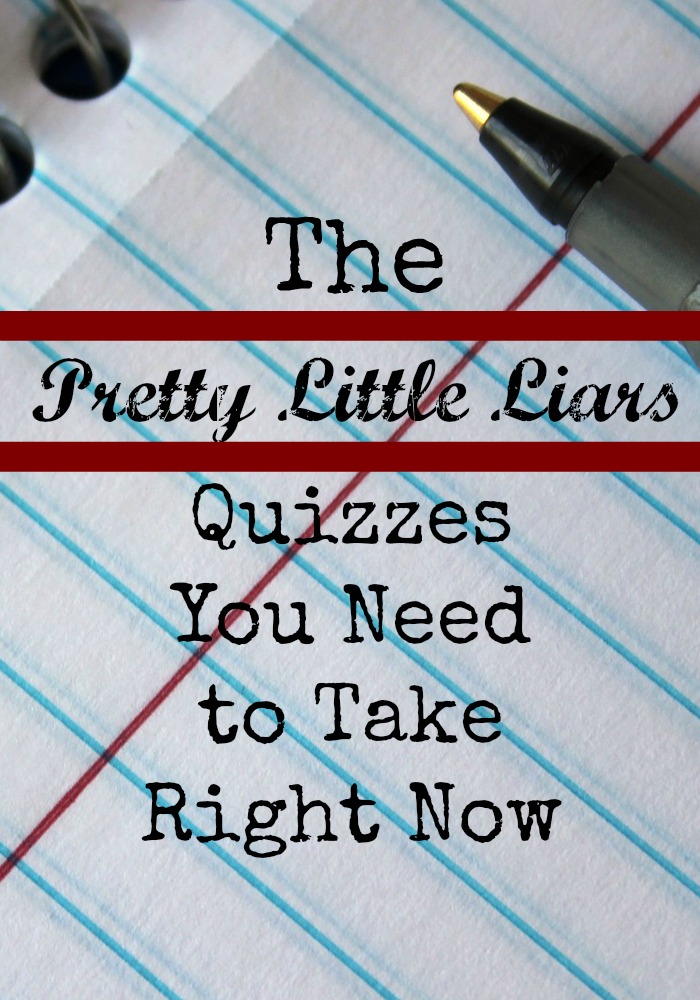 I *heart* Pretty Little Liars so much that I had to take some Pretty Little Liars quizzes for fun. It's always fun to take these and find out who you might be on the show, or who your love interest might be.  You might be surprised by the results!  I know I was surprised by a few.  Just because you think you would definitely be Ali or Hannah, think again!  Check out these fun quizzes below.
The Pretty Little Liars Quizzes You Need to Take Right Now
The Ultimate Pretty Little Liars Quiz: Get ready for 31 questions testing your PLL knowledge!  I admit, some of these questions stumped me!  Some are no-brainers (well, if you really watch the show) like how did Jenna go blind?  And then there are others like 'What is the topic of Melissa's essay that Spencer steals to win a contest?' (the answer if Russian History, I got it wrong).  Do you remember what Spencer dressed up as the first Halloween?  I do!  Check your PLL knowledge with Seventeen's quiz here
Which Pretty Little Liar are you?: You are eight questions away from knowing which PLL you are.  Totally in love with my result although I thought it would be different.  I got Emily (must be the love of fitness in me!)  I thought maybe I would get Aria, but nope, I am definitely more like Em when I think about (could also be all the coffee I have served to others).  This was a fun and short quiz, so go check it out!
Who is Your Pretty Little Liars Boyfriend?: Mine is Ezra, funny because I really like their relationship and root for them!  Answer these 15 questions to find out who your PLL boyfriend is.  Is it who you would think it is?  I thought for sure I would get Toby or possibly Caleb.  It might be easy to sway your answers to who you might think you would get, just be honest and see what happens!
Are You A True PLL Fan?: This is a great quiz!  One of the questions 'Which is the order, left to right, of the girls in the opening theme song?' I mean you see that every time you watch (especially if you binge watch on Netflix!) but do you really know the order?  Do you remember where Hannah's mom hid money?  My score was, well, not as high as I would have liked, but these questions are tough!  Are you a true fan?  Check it out!
How Would You Be Killed Off On Pretty Little Liars? I have to laugh at this one!  Apparently I die not once, but twice!  Kind of like Ian.  The first time I take the quiz I am pushed but that didn't do me in so it would be the massive head wound in a staged suicide.  Hmm…not sure how I feel about this one!  How would you be killed off on the show?  Check it out!
I love taking Pretty Little Liars quizzes!  It's always fun to see what the results will be.  Especially who my PLL boyfriend is because I just can't decide for myself!  There are countless ones prompting you to find out which one you are, but search a little more and you can find some different ones!  
There are
so many 
Pretty Little Liars
quizzes out there to take. Check our picks out and then post some of your other faves in the comment section below!