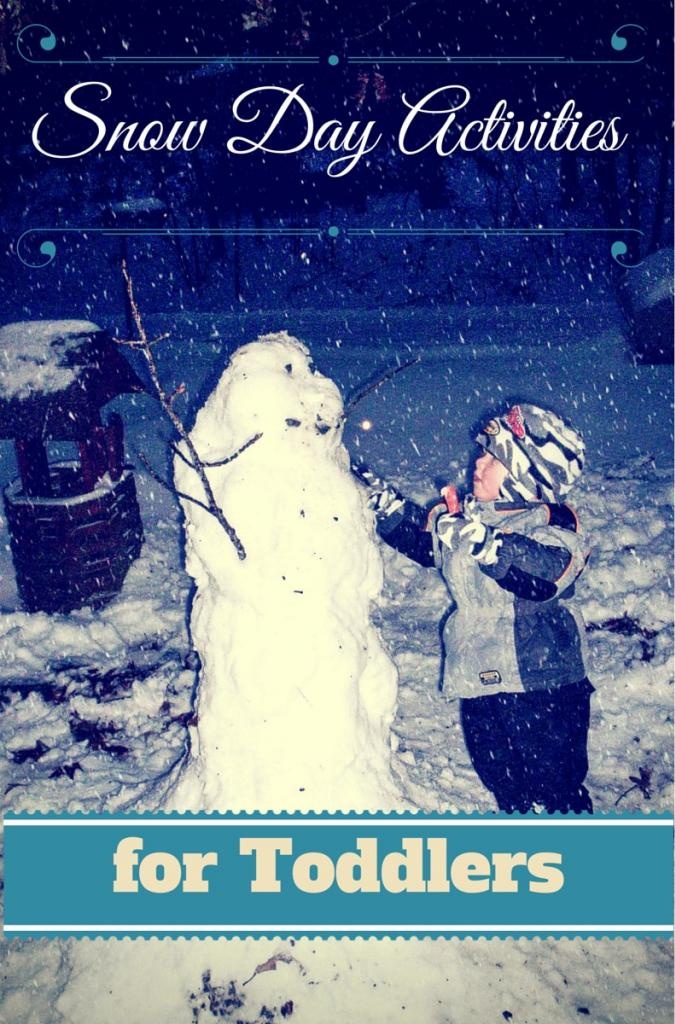 When you're stuck in a blizzard with tiny tots, coming up with snow day activities for toddlers is a must. The snow is falling, the roads are covered in a beautiful blanket of white, glittering powder and you are home with your toddler.  What are you to do?  How are you going to entertain him all day and keep him busy?  Before you get overwhelmed, here are some fun things to do with your little one on a snow day!
Snow Day Activities for Toddlers

Build a snowman: Seems obvious right? It's one of the classic snow day activities for toddlers for a reason!  Sometimes we forget to do the things we did as a kid.  Make it fun, get some scarves, a winter hat and gloves.  and a carrot!  Name him and take pictures with him.  Your tot will love to see the pictures of their snowman they built and show anyone who wasn't there to help! (use my pic of snowman)
Paint the snow:  Make your own snow paint, then get outside and paint the snow.  They will love to see the white snow turn different colors.  An educational activity as well because you can talk about the different colors.  Draw shapes in the snow and paint some letters.  Just because it's a snow day doesn't mean you can't learn and have fun!
Hot cocoa and a movie: Make some hot cocoa with your tot, let him add the marshmallows and pick out a movie!  Educational bonus?  Have him count his marshmallows!. Cuddle up on the couch with some blankets and snuggle right in.  In the busy day to day bustle of life we can forget to do these things.  Enjoy it!
Build a fort: Get all the blankets you have, take the cushions off the couch and set up a cool little fort to hang out in!  Gather some books and have some reading time together.  (Maybe even take a nap!)
Car races:  Do you have an old pool noodle lying around from the summer?  Cut it in half the long way, while he gathers all the cars he has.  Lean the half noodles against a chair and let the cars fly!  See whose car can go the farthest.

Hair salon:  No need to go anywhere!  Gather your hair brushes, clips and hairspray!  Let your little one style your hair how she chooses.  Take it up a notch and let her do your makeup too.  Make sure to take some selfies for the memories!
Snow days can be a great opportunity to spend some unexpected quality time with your little one!  Put the house work aside for an afternoon and focus on having fun.  Building a snowman can tire out a tot (and you!) and who doesn't like a good afternoon nap on a snowy day!
Looking for more winter fun? Check out our Pinterest board!


Do you have any favorite snow day activities for toddlers? Tell us in the comments!