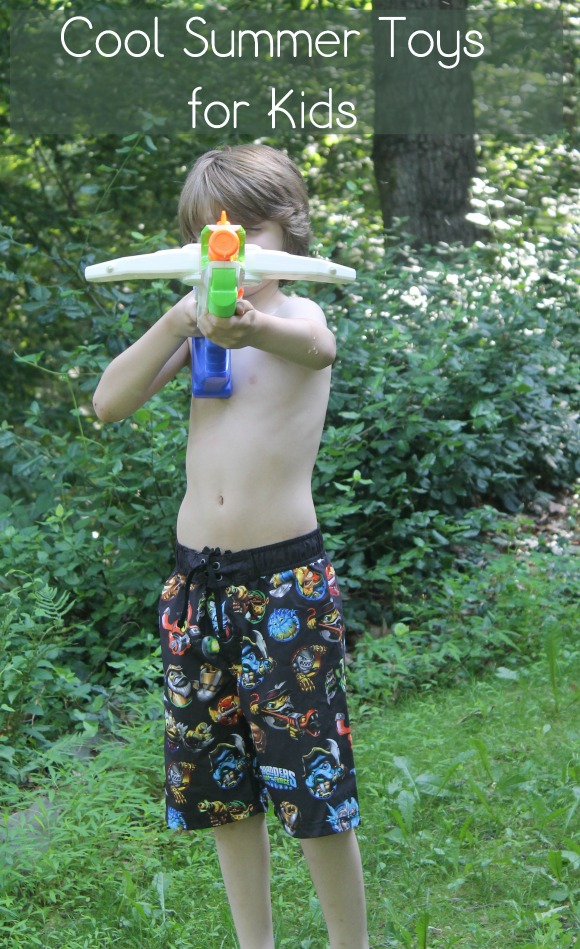 Summer is all about staying cool and having fun outdoors as a family. Summer toys for kids are always a major part of that fun for us! We received a fantastic box of summer toys for kids from Hasbro and couldn't wait to dig in! Hasbro makes some of my son's all-time favorites, included that summer essential- the Super Soaker! Take a look at our favorite summer toys for kids from Hasbro!
Staying cool and getting active with summer toys for kids from Hasbro
Affiliate links included below.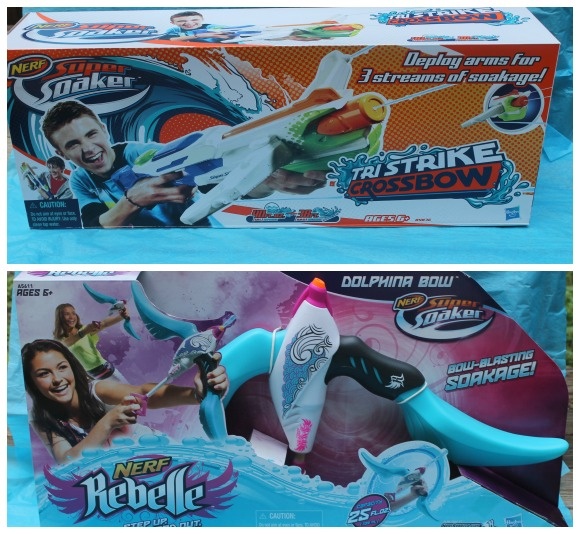 Our package arrived on the first really hot day of summer. Thankfully, it included two different Super Soaker summer toys: the Nerf Super Soaker Tri Strike Crossbow Soaker
and the Nerf Rebelle Dolphina Bow Blaster
. Jacob put on his bathing suit and we headed outside.  I got to use the Rebelle and Jake used the Tri Strike Crossbow. Check out the range on that thing!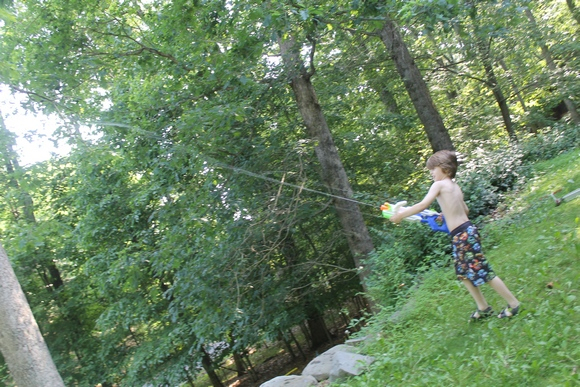 Jake tried to take a picture of me blasting the Rebelle, but I forgot that I was wearing a pajama shirt and had crazy hair. Sorry, but you're not going to see my crazy hair, pajama-wearing self! I have to maintain some dignity! Still, he did get a shot that shows how well the Rebelle Dolphina Bow blasts water.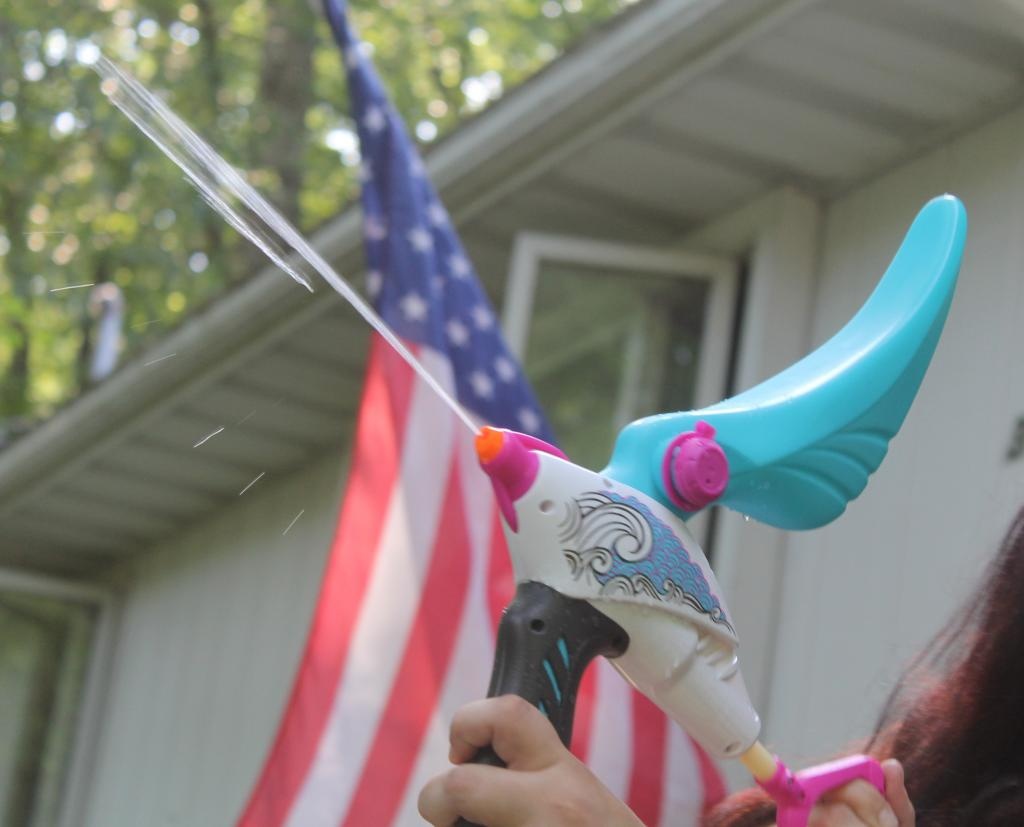 The Super Soaker Tri Strike Crossbow is really cool because you can either blast water out of one chamber, or open the wings and blast it in three streams. Jake wanted me to note that the water lasts longer if you are just using one chamber. He said this is important if you're up against someone with a larger Super Soaker or something. However, up against Mommy with the smaller Dolphina, he let loose all three streams!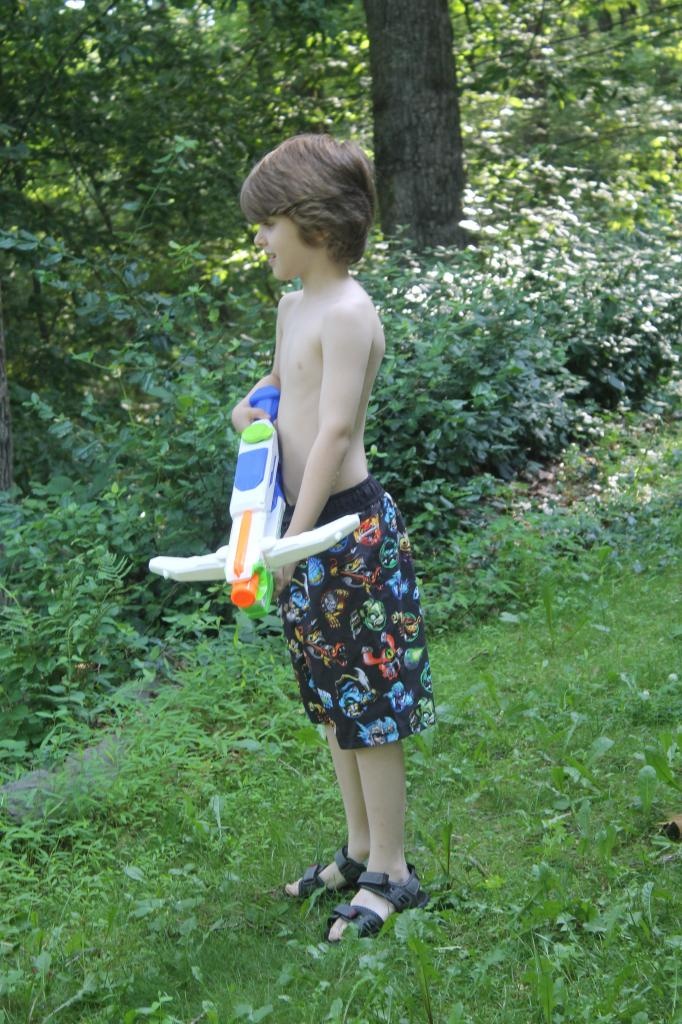 The Rebelle Dolphina Bow Blaster is designed to appeal to girls, but Jake loved playing with it too. While it's definitely one of the coolest summer toys for kids, I think it's also pretty terrific for moms too!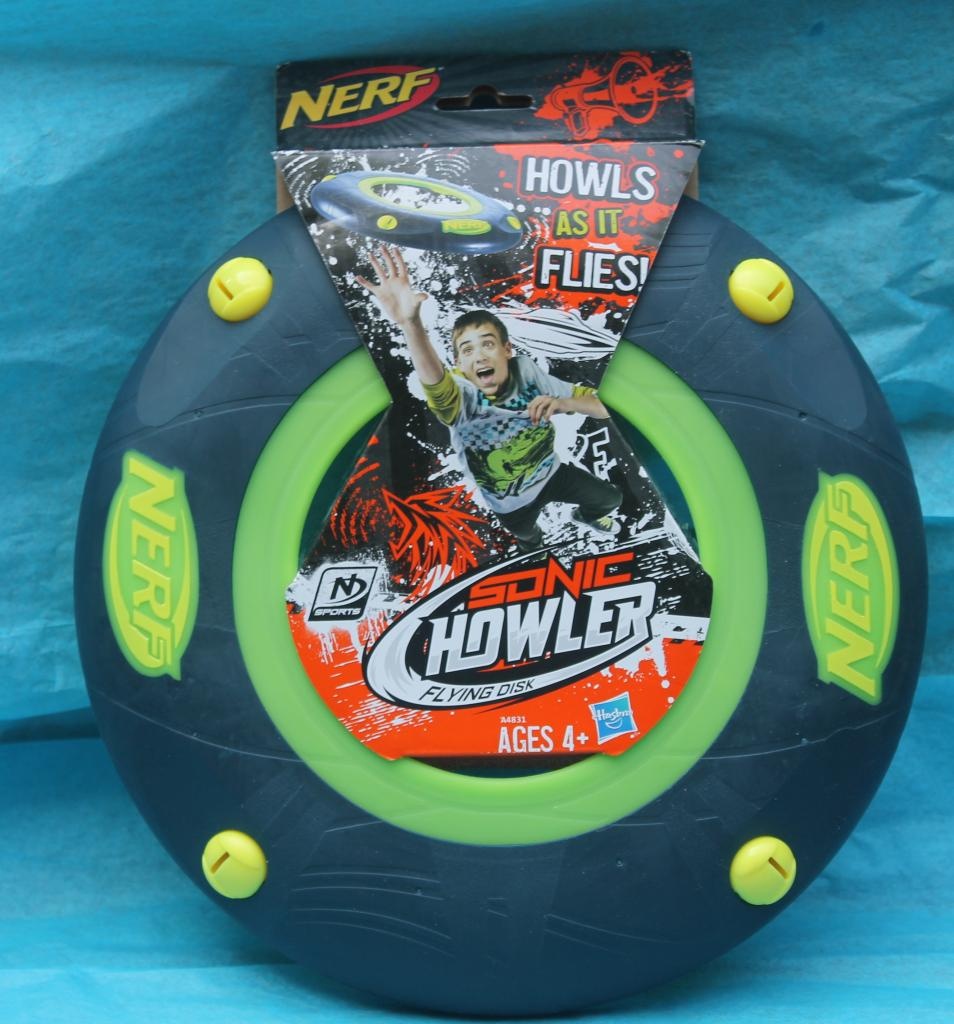 We also tried out the Nerf N-Sports Sonic Howler Flying Disk
. This is a really simple, kid-driven toy with one majorly cool feature: it howls as it soars through the air. The soft grip makes it easy to throw and catch. Well, theoretically, I am really bad at catching! It's also durable enough that when my dog caught it a few times (she's like our missed shot retriever, I miss, she retrieves so I don't have to!), it didn't get ruined. I wouldn't recommend it for heavy canine playtime, eventually my dog can chew through anything. Still, if you love including your pup in family active time, it won't get ruined very easily.
These are just a few of the fun summer toys for kids available from Hasbro. They have a great line of other Super Soakers and outdoor active toys for kids of all ages! Check out our Hasbro Hot Toys post for other cool suggestions.  Best of all, they're perfect for family time. I love finding toys for kids that are fun enough for grownups too!
When was the last time you played with Super Soakers with your kids? What is your favorite of the summer toys for kids from Hasbro?
Don't forget to check our Toys for kids Pinterest Board for great suggestions.
Follow MyKidsGuide's board Toys for kids on Pinterest.