These Back To School Party Ideas For Girls are a great way to have fun with your friends right before you have to go back to classes.
I love back to school because it means more time with my old friends and a chance to meet new ones.
Plus, I love buying new supplies, like killer backpacks and clothes!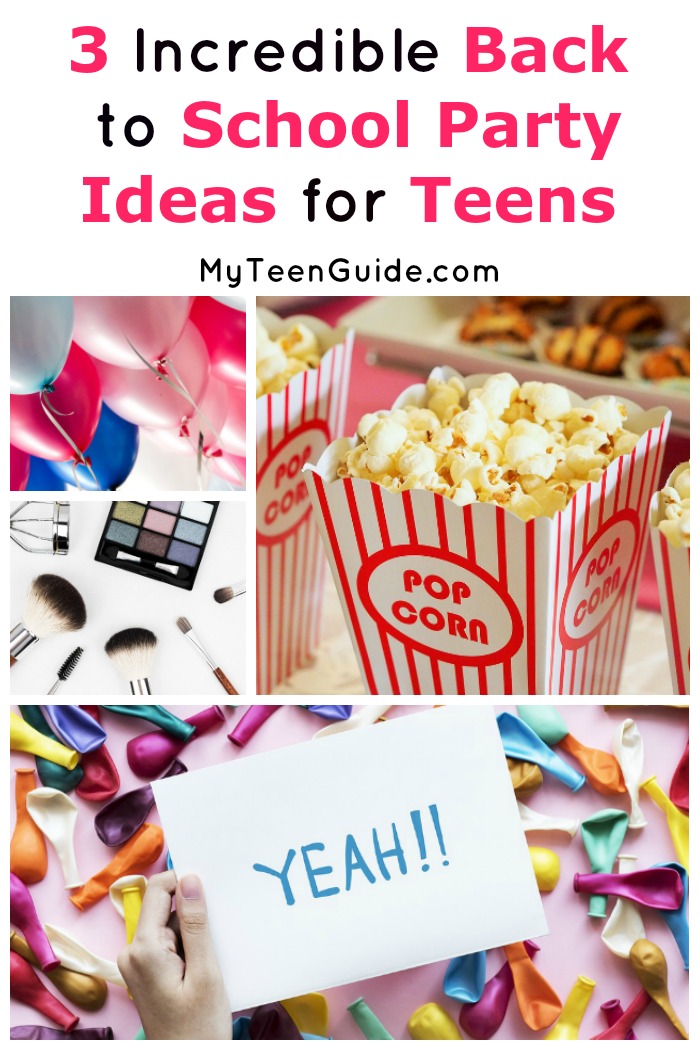 It's a great time of year, so of course I need to throw a party to celebrate!
Read on for a few of my favorite back to school party ideas, plus tips on how to throw the ultimate bash!
Related: Party Games for Teens Stuck Indoors This Summer
Back To School Party Ideas For Girls
This post contains affiliate links. If you make a purchase through these links, we earn a small commission at no extra charge to you.
When it comes to awesome back to school party ideas, anything goes, really. These are my three favorites because they are so much fun for me and my friends!
1. Makeover Party
https://www.instagram.com/p/Bkk6T9ID4Gi/?tagged=schoolmakeover
Everyone brings their makeup, hair accessories, curling irons and even some clothes and you hang out trying new makeup tips, hair styles and clothing styles out until you find something new that you like.
We love to check out the YouTube channels (see one of my favorites below) with makeup and hair tips.
https://www.youtube.com/watch?v=dqmzp7w4jOY
I like the Vintage looks of pinup girls hair and makeup right now the most, but you can play with contouring or just learning how to get cute beach waves in your hair.
Makeover parties are always fun because they are cheap and you get to take tons of pictures! Just ask your friends to bring along their favorite makeup, or you can grab a fabulous all-in-one kit like these:
Clothing Swap Party
https://www.instagram.com/p/BeIYbxRB94g/?tagged=clothingswapparty
This is a fun way to get new to you clothes for the school year. I know parents are always budgeting and it can be expensive to go out and buy new stuff, but swapping with my friends is awesome.  I get new stuff to wear, and I don't have to spend my money.
As long as everyone (and their parents) is okay with swapping out stuff we don't wear anymore – this works out great. I have friends who are a lot taller than me, and they always end up being able to give me jeans, shorts and skirts that are too short for them. Perfect way to spruce up my back to school wardrobe!
When you send out your invite, just make sure to remind your friends to wash their clothes before they bring them. No one wants to try on a sweat-on sweater, even if it is your BFF's sweat!
3. Movie Binge Party
This back to school party idea for girls is my favorite. I love nothing more than to have my friends over for a movie binge day.
A day spent eating junk food in our pajamas watching all the chick flicks we want is perfect. We can laugh, cry and even pick out new clothing styles we like in the movies all before we have to go back to the daily grind of school.
Related: Scare Yourselves Silly With Our Horror Movie Marathon Party Games!
Sometimes, it's just nice to have a day of nothingness like that before school starts.
Need some tips on what to watch? Check out some of our favorites:
Now that we have a few fun back to school party ideas, read on for my top tips to make sure it's THE bash of the year!
Tips & Must-Haves for a Successful Back to School Party
1. Awesome Party Decorations
https://www.instagram.com/p/Bj3WH_4hzry/?tagged=backtoschoolparty
Finding great back to school party decorations is kind of tricky. A lot of the ready-to-go decor is either meant for little kids or for a graduation party. Still, there are some cool ideas that fall somewhere in the middle! Try these:
Decorate based on your school's colors. You don't have to go overboard! Just grab some streamers and balloons. You can even do some personalized balloons with your school's name and year on it.
Use chalkboard signs on the food and drinks table to let your guests know what they're eating.
2. Tableware Essentials
https://www.instagram.com/p/BlDtTnpBjzY/?tagged=partyplates
Again, you don't have to go wild here. It's hard to find back to school party plates and cups that aren't made for itty bitty kiddies anyway.
I suggest once again going with your school colors. You can grab a big party pack from Party City in just about any color.
Don't really love your school colors (hey, I get it, mine were green and yellow!)? Classic black and white or black and gold always looks nice!
For your party cups, here's a fun idea: give out reusable water bottles that your guests can use throughout the year! If your friends require much caffeination before starting their day, try portable coffee mugs. They're a bit more expensive, obviously, but if you're keeping the decor and party plates simple, you'll have some wiggle room in your budget.
3. Cool Party Lights
https://www.instagram.com/p/BkfZBQhHLp4/?tagged=masonjarlights
Planning a night-time party outside? You'll need some lights!
A simple yet elegant option is to string up some plain white globe lights. I love them because you can reuse them for just about any party theme.
4. Outdoor Party Must-Have
If you're having your party outdoors, you really want to make sure you don't get rained out! That's where party tents come in handy.  You could rent one, but if you throw a lot of parties, it makes sense to have your own.
Here are some of my top picks:
5. Party Favors
https://www.instagram.com/p/BXaoNpDluVc/?tagged=backtoschoolparty
Fortunately, finding cool back to school party favors is a lot easier than finding party decorations! Here's a brilliant idea: make fun little "back to school kits" like the one pictured above! Obviously, your kit will be a bit different than one made for younger kids. Here are some things to include:
Put it all together in a cute little cosmetic bag
!
As I said, you can pretty much throw any type of back to school parties to say goodbye to summer. As long as you invite your closest friends and have fun, it'll be a hit!
These are my favorite back to school party ideas for girls. What are yours?