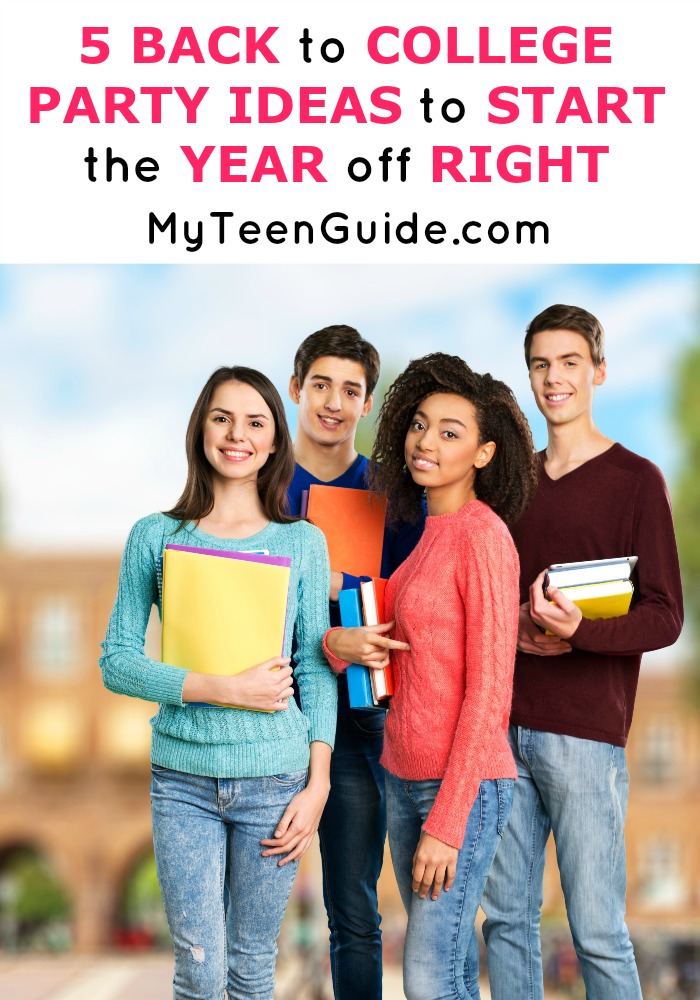 As the new class of freshman head off to college, I always need some party ideas that are good for teens to shake things up and break the ice between the newbies and the veterans. I am always so happy to see everyone after the summer, but there are always new faces and it can be tough for the newbies (and even a few of the less social veterans!) until everyone knows each other.
I myself can not wait for classes to start, and to catch a little football with my friends this fall. The new school year is going to be the best one ever! I know I'll be ready to have some fun after I get my new backpack packed  and decorate my dorm room. When the school year starts going, I will need to study hard, maybe invest in some professional paper writers and hit the ground running this year. Get the year started with these five back to college party ideas that are perfect for any group of teens.
5 Back To College Teen Party Ideas To Start The Year Off Right
1. Try An Alphabet Party
https://www.instagram.com/p/BGfAfnMNGrD/?tagged=effie
You're smart, savvy college educated students. By now, you should know your alphabet right? So here's a fun theme that will get your party started off right. Announce that you're having an alphabet party, which means people should dress as something that's the first letter of their name. So Emily could dress as an elephant, Effie Trinket, an eagle or the Eiffel Tower. Be creative, this theme idea will get the year started off with laughs.
2. College Gear Photo Scavenger Hunt
https://www.instagram.com/p/BAKol1NyvQE/?tagged=collegegear
Collect a bunch of your favorite college gear and hide it in various locations around your party. A hoodie, a pompom in school colors, a cup with your school's logo and any other college gear works great! Then give partygoers a list of items they have to find and have them snap pictures with their phones as they find each item. The winners score some fab or silly prize.
3. Book Swap
https://www.instagram.com/p/BHCgkj7hCfb/?tagged=textbooks
You have textbooks, beach reads and maybe the spare set of notes you don't need anymore. Host a back to college party where everyone brings books to swap to the party! Not only will you reminisce about that ultra-hard course from last fall, but you may even score a textbook you need, or a new fiction read to check out that you won't be able to put down.
4. Have A Feast
https://www.instagram.com/p/BHVPoJvhR0k/?tagged=spahgetti
My friends and I are usually coming from different cities and summer experiences, and I know everyone wants to catch up. Host a big feast are your place to get the college school year started on the right foot. Maybe it's a pancake feast or a spaghetti dinner. Whatever you choose, make sure to keep the eats simple and the music playlist flowing for some great times with your friends.
5. Guess Who Wrote It
https://www.instagram.com/p/BHX3_2-ghok/?tagged=smileyface
Here's a fun get to know you style game. When I headed back to college each year, there are always a few new faces to get to know. Break the ice with this game. Give everyone a stack of notecards. For each round, have each person draw a smiley face on one card, and a frowning face on a second card. The caller then calls out a category such as food, music or color. Each person then writes down one answer they like within the category on the smile card, and one they don't like on the frowning card. The cards then all get shuffled and as each one is read players guess who wrote it. For every correct answer, players get a point The player with the most points at the end, win!
So do you throw a back to college party at the beginning of the year or semester? Which of these teen party ideas would you use at your party? Tell me in the comments!
Copyright: Vector Image by StockUnlimited