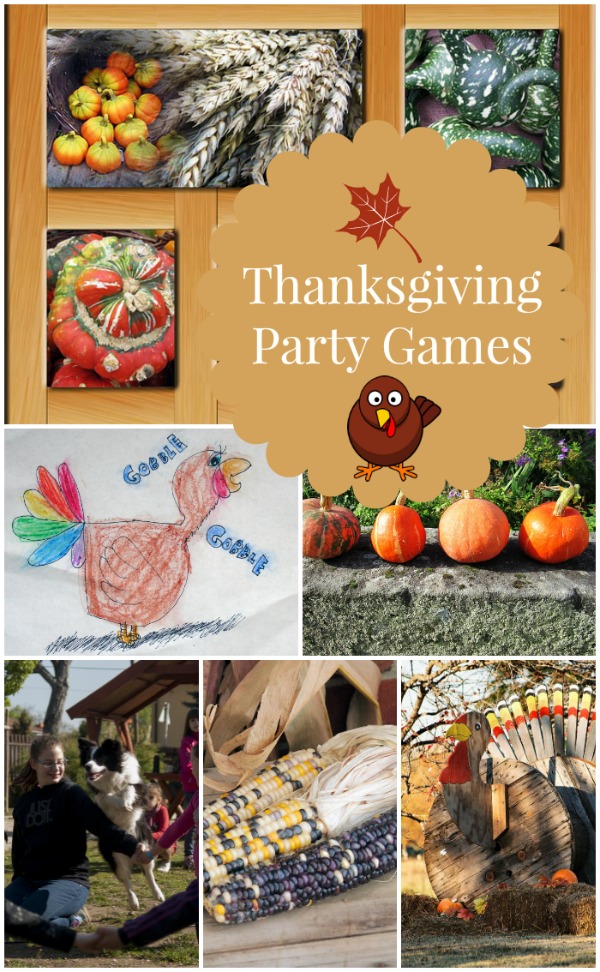 If you are hosting a big family meal this year, these Thanksgiving Party Games For Kids are sure to be a ton of fun.  Not only will you occupy the kids easily with these games, they help you get crafty and potentially create great memories as a family! We love crafts and projects too, so enjoy the ones we listed below!
Related Posts:
THANKSGIVING PARTY GAMES FOR KIDS
Pin The Feather On The Turkey:  Print out a picture of a turkey and cut the feathers out.  Attach "bald" turkey to a piece of cardstock or poster board and then give kids the feathers and tape to try to pin the feather on the turkey. Blindfold, spin them three times and point them in the right direction.  Always fun to see their results.
Turkey Bingo:  Create fun turkey themed bingo cards and put at each place setting.  Use pictures for younger kids, words for older kids.  Play a friendly round of bingo and the winner gets to choose their dessert first.
Scavenger Hunt:  This can be a ton of fun for kids of all ages. Assemble a great list of items to hunt for around the house.  Things like colored items, turkey decor, feathers, corn, cornucopia or other Thanksgiving and fall themed items.  Send kids off with the list and watch as they assemble their finds. When they're done collecting, they can make this gorgeous fall mobile craft!
Thanksgiving Trivia:  This is one of the best Thanksgiving party games for kids to do around the table during the big meal. Print out lists of great popular Thanksgiving facts.  Go around the table asking questions to see who knows all the right answers.  Include things like the types of food that appeared the first Thanksgiving, why they celebrated and who was there.  This is a ton of fun to do for kids and adults.  You can easily create two lists.  One for the younger crowd and one for the older crowd.  Create a challenge between the older kids and adults to see who remembers the most facts.
Pumpkin Bowling:  Set up a kids plastic bowling set, and have fun watching them use small pumpkins as their bowling balls instead of the traditional ball.  This is tons of fun, but terribly messy so make sure to do this outside where you can easily cleanup and not break anything.
Having fun Thanksgiving party games for kids will help set the mood for your event.  Not only will you have something to help occupy the kids, you'll have something everyone will enjoy too.  Thanksgiving is a time of thanks, love and family.  This year celebrate with those you love and enjoy some fun family friendly games too!
What kinds of Thanksgiving party games for kids does your family play to make the day more fun?