Looking for that perfect Easter gift for your teen?
While you might think that teenagers are too old for Easter presents, the fact is that teens love getting gifts at Easter — as long as those gifts are age-appropriate! After all, Easter is steeped in religious and cultural traditions, and gifts are an important part of keeping those traditions alive.
Here's our picks for the top 15 best Easter gifts for teenagers: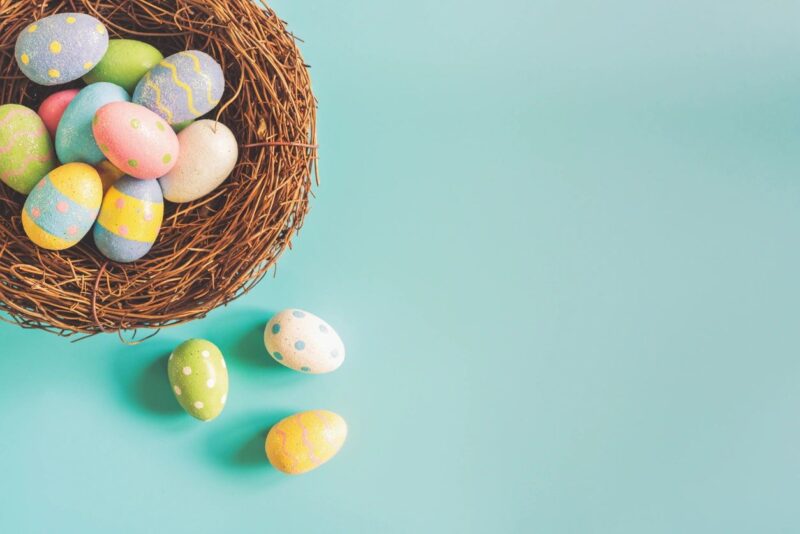 1) Bibles for Teens Girls and Teen Guys
Teen-orientated bibles make the perfect gift for the young Christian in your life. These bibles are packed with teen-friendly features such as real-world interpretations of passages, challenging insights and daily readings. Whether you're teen is a regular church goer or they're just beginning to explore their relationship with God, these bibles are a gift that lasts well beyond the Easter season.
2) Journals
While most teens these days live and breathe digital media, an old-school hardcover journal is always a welcome surprise. Available for under $10, these journals make the perfect place for teens to doodle, sketch or jot down their thoughts in complete privacy. You can even create a complete diary kit by pairing a journal book with a pretty pen or set of sketching pencils!
3) Cross Cut-Out Dog Tag Necklace
Give your favorite young man a gift they'll cherish for years to come — a fashion-forward cross cut-out dog tag necklace from Steve Madden.
Crafted from durable stainless steel, this two-tone black and silver dog tag necklace looks great on any teen, and it's easy to wear outside or inside any shirt. It comes complete with a comfortable chain that pairs well with any style.
4) Silver Plated Pewter Cross Necklace
If you're looking for a classic cross necklace, take a look at this teen-friendly one by Mom & Three Daughters. It comes packaged in a beautiful gift box complete with a dainty elastic silver ribbon, so you won't have to buy any extra gift packaging or wrap! It's a truly thoughtful gift that's perfect for any daughter, granddaughter, niece or cousin who wants to keep God close to their heart.
5) Chocolate Bunny
If your family's Easter traditions include chocolate Easter bunnies, don't forget to grab one for your teens!
Chocolate bunnies are to Easter what Santa is to Christmas, so be sure to include a chocolate bunny in your teen's Easter basket this year. There's plenty of options to choose from including flavored chocolate, and chocolate that's mixed with crispy rice cereal. Whatever you do, don't overlook the importance of the bunny!
6) Chocolate Eggs
Chocolate eggs are another one of those must-have Easter treats in many families, and there's a huge variety of sizes and flavors to choose from.
There's always the classic foil-wrapped eggs that you'll often find decorating the bottom of Easter baskets. These little eggs are perfect for teens who love to toss a few into their pocket when they're heading out to school, while larger, candy-filled chocolate eggs are also a great choice.
7) Bunny Lip Balm
Teens love lip balm, so why not toss a few Easter-inspired gloss bars into their Easter basket this year!
Available in a wide range of colors and flavors, these adorable lip balm gloss bars are topped with a cute bunny, complete with ears! This makes a great gift for teens who may be too young to wear regular lipstick, or anyone who appreciates a bit of whimsy!
Lip balm is also a good alternative to sweets for teens who might be watching their weight, or who have to pass on the chocolates due to medical reasons.
8) Reese's Peanut Butter Eggs
In some families, Easter just isn't Easter unless there's Reese's peanut butter Easter eggs!
These individually-wrapped peanut butter eggs are coated in milk chocolate, making for a truly indulgent Easter treat that's sure to be a hit with your teen.
9) Peeps
Peeps marshmallow treats are another one of those timeless Easter traditions that teens love. Classic Peeps come in yellow, but there's now some unique, teen-friendly flavors to choose from. The Hot Tamales – Fierce Cinnamon Peeps make a great addition to any teen's Easter basket, and be sure to toss in a package of Chocolate Pudding marshmallow Peeps to score a two-thumbs-up from the teen on your Easter shopping list.
10) DIY Chocolate Easter Bunnies
The only thing that's more fun than eating a chocolate Easter bunny is making one yourself!
Instead of buying a pre-made chocolate bunny, why not put together a DIY chocolate Easter bunny kit? All you'll need is a 3-D food safe mold, some confectioner's chocolate wafers and a double-boiler or microwave-safe bowl to melt the chocolate in. You can even get creative by adding in nuts or dried fruits!
11) DIY Easter-Themed Hand Soaps
Soap-making is a fun and affordable craft that's perfect for teens. It's easy to do, and unlike chocolate, handmade soaps are calorie-free and make ideal gifts for loved ones who need to avoid sugary holiday treats.
Simply choose a few silicone Easter-themed molds and pair them with a melt-and-pour soap base and your choice of essential oils to create a customized, Easter-themed soap making kit! You can even toss in some ground-up oats to make exfoliating soap, or add some natural color with ground raw carrots, cocoa powder or coffee!
12) Smartphone Case
While a phone case might not be the first thing that comes to mind when you're considering teen Easter gifts, the fact is that it's the perfect choice for the tech-savvy teen in your life. Just be sure to buy a case that fits the exact make and model of smartphone your teen has! Look for a case in their favorite color, or one that features their favorite movie character, musician or sports team.
13) Bath Bombs
Encourage your teen to indulge in a little self-care this Easter season by tossing a few bath bombs into their Easter basket. Bath bombs are great for guys and girls alike, and bath bombs now come in a huge variety of shapes, colors and scents so it's easy to find ones that are perfect for your teen.
14) Fuzzy Bunny Socks
Your teen will grin from ear to ear when they see these cute and cozy bunny slipper socks! They're great for hanging out, and the thick fleece makes them super-comfy! The only problem will be convincing your teen to take them off!
15) Gift Cards
Let's face it — teens love to pick out their own presents!
If you're looking to top up your teen's Easter basket but you're not sure what else to buy, consider adding in a gift card to their favorite shop, movie theater or restaurant. You can even buy Amazon gift cards so they can shop online without using mom or dad's credit card! With a gift card you can't go wrong, and it's a great way to give your teens some independence.
---

Other Easter Posts: