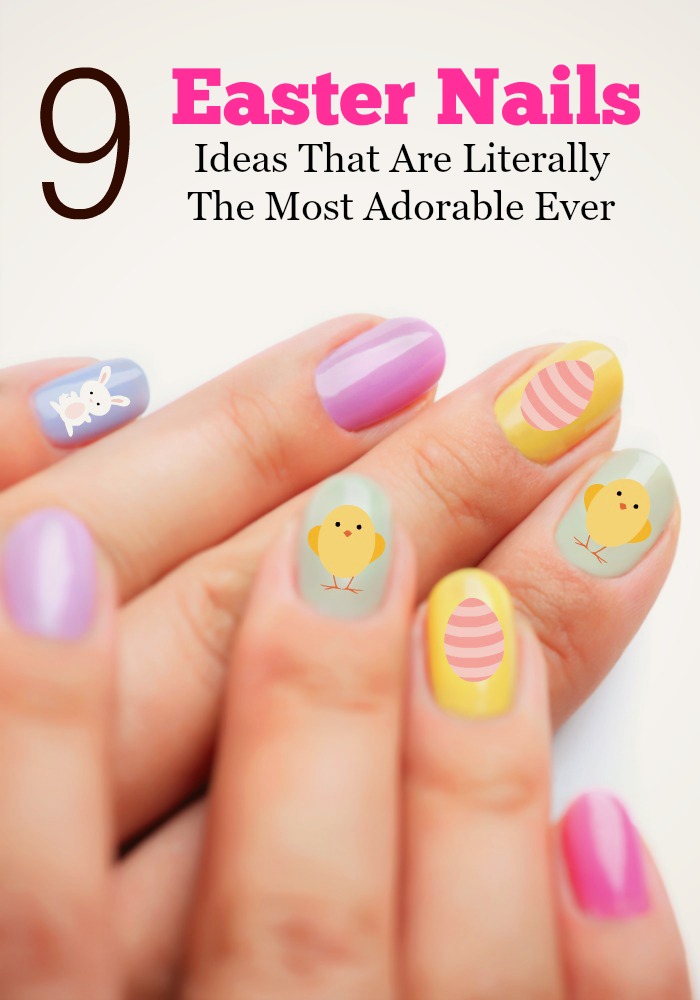 Easter is on the way which means it is time to find the perfect Easter nails to have for spring. Are you still figuring out your Easter nails look? We have you covered with some adorable nails you have to check out that are a super sweet Easter treat. These nails are a great chance to show off your cutesy side with colorful bunnies, chicks, and eggs. One of these designs has to be your one true pairing, so let's find out together. Check out my ideas for fab Easter nails!
Ideas For Easter Nails That Are Literally The Most Adorable Ever
Modern Bunny Fun
https://www.instagram.com/p/1JwkuIQjZW
Ohh!!! I totally <3 this design. I will have to take this one to my nail tech because the combination of polka dots, chevron eggs, hearts and a peeking bunny is JUST my style for Easter. These are going to be mine. I literally just can't.
Hello, Peeps!
https://www.instagram.com/p/BCbjKvjRHO0
Aww, check out these funny chick and bunny "Peeps" nails. Though I don't care to eat Peeps myself (they taste like…. Pink!) I would wear them on my nails for this cute look! I love the colorful stripes they added to the center nails, they look like Easter eggs without being obvi.
Easter On Point
https://www.instagram.com/p/BCg1VNpBXbM
I love this Easter nail art design on point pair of coffin nails! Cute bunnies, cute chicks, adorable eggs, check check check! The cartoon feel to this design is great for a fun look.
Sunny Yellow
https://www.instagram.com/p/1JRoB2iUmD/
Yellow is not a color I would think to put on as an all over color on my nails, but these Easter nails totally work. I think I need to grab my yellow polish, this look is fun!
Carrots!
https://www.instagram.com/p/1OMnsTKuSj
Carrots are not only good for your eyes; they make some adorable Easter nails! I love even more that the bunny accent nail seems to be totally focused on one thing, and we all know it's gotta be those carrots.
Hatching
https://www.instagram.com/p/1GgHXOyeyQ/
Oh my Lanta, these are some adorable chicks. I would have never thought to do a progressive hatching look, but I love it! Those chicks look like they are playing a little Easter game. I might just name each chick!
Bunny Step By Step
https://www.instagram.com/p/BChXukNDZoy
I love all of these cute designs, but sometimes I need a little extra help creating them. This bunny art is simple enough that I know between my bestie and me, we will both be flashing cute bunny nails in no time. How many bunnies do I want with the cute bow?!?
Easter Eggs
https://www.instagram.com/p/1WktdIG9zg
I suppose these cute nails give you double the goals. First make some Easter cookies, and then paint your nails with this cute easter egg designs to match, it's a true OTP.
Floral Bunny And Chick
https://www.instagram.com/p/1GhUhYvNyt
So while we have already seen a few bunnies, that is a super adorable chick on this set of nails that is a different style then some of the others I have seen. I like how this look is paired with flowers for a girly look. Love!
Do you have a favorite pair of Easter nails? Tell me about your favs in the comments!