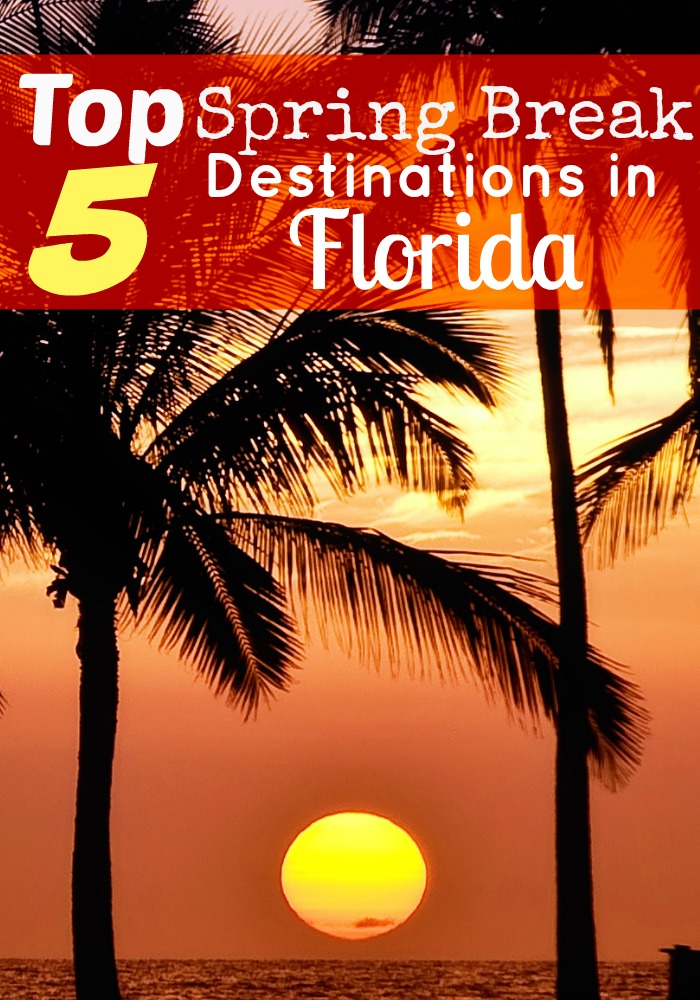 If you are looking for an amazing destination this year for spring break but are tired of the same old, same old, I have your top 5 spring break destinations in Florida!  Don't worry, Daytona Beach is not on my list, I think everyone has been there once or twice.  This is a new list to help get you started on your planning.  From beaches to amusement parks, let's begin in the panhandle!
Top 5 Spring Break Destinations in Florida
Panama City Beach: Why have you not been to the #1 Spring Break destination in Florida?!  Because Panama City Beach is Spring Break-friendly, there are so many special events that sponsors hand out freebies, anyone from Victoria's Secret to Banana Boat (who doesn't like free?)  There are 27 miles of sandy beautiful sandy beach to play on as well. You won't want to go home!  School what?
Orlando: If attractions are more your thing, you want to stay in Orlando.  Disney World (which includes Magic Kingdom, Animal Kingdom, Hollywood Studios and Epcot just in case you forgot), Universal Studios, Islands of Adventure, SeaWorld and so much more for you to explore during your Spring Break.  There are plenty of hotels nearby that are wallet-friendly and still close to the parks.  You can still enjoy some water fun at Wet n' Wild park too!  Downtown Disney is full of awesome shopping and food, just spend a day strolling around.  If you are looking for a more club-like scene, you can enjoy Universal's CityWalk and Jimmy Buffet's Margaritaville plus a few more places!  You won't even think about the beach with all the fun you'll have.  
St. Pete-Clearwater: I would never have thought to Spring Break on the west coast, but Clearwater is home to some of the most beautiful beaches in Florida.  Caladesi Island is voted America's numero uno beach with white sandy beaches.  You don't have to beach it every day, though, drive 30 minutes and take advantage of Tampa's Busch Gardens or The Florida Aquarium.  If you are up for it, just 90 minutes from Orlando and Disney World, Universal Studios, and SeaWorld.  Not a bad place to shack up for Spring Break and still be so close to Central Florida attractions!
Miami's South Beach: No doubt you have heard of Miami's South Beach, and there is a reason: it is the place to see (and be seen) in the sunshine state.  You might catch a celebrity or 2 here as well; we all know the Kardashians love Miami!  Rollerblade or sunbathe by day and club hot by night.  
The Keys: I love The Keys!  I haven't been in years, but I used to frequent there as a kid (we had family down there).  It is so laid back and chill.  It is as diverse as the people who inhabit the islands from young to old and everything in between.  Enjoy the sunset celebrations that go on all over the islands.  Have fun, but follow the rules (rules?!)  Yes, the beaches close at 11:00 pm and that is strictly enforced.  But that doesn't mean you have to go back to the hotel for lights out.  You could easily hit the town for a bustling night life, contact Limo Find and prepare to party. Bring plenty of sunscreens (the average temp is 82 degrees!) and be ready to try just about anything!
As you can see, Florida is full of so many different places to spend your Spring Break. You  will wish you could change your flight back home and stay just a bit longer in the sun! I seriously need to add all of these top 5 Spring Break Destinations in Florida to my vacation goals list. Whether you choose to lay on the beach and or want to tap into your thrill-seeking side, you won't be disappointed you chose Florida!
Share with us below in the comments! Have you spent time in other areas of Florida?  What is your favorite destination you would add to our list of the top 5 spring break destinations in Florida?