I love an awesome party, and I knew Amazing Race themed party ideas could be epic from the first time I saw the show.
The show The Amazing Race has couples race against each other around the world in the most awesome scavenger hunt ever.
Why not have your friends compete in your own Amazing Race?
Not only would this be a super fun birthday party idea, but it would also be fun for groups such as sports teams, youth groups, camps or any other group event.
Here are some ideas to get you started planning your fun party.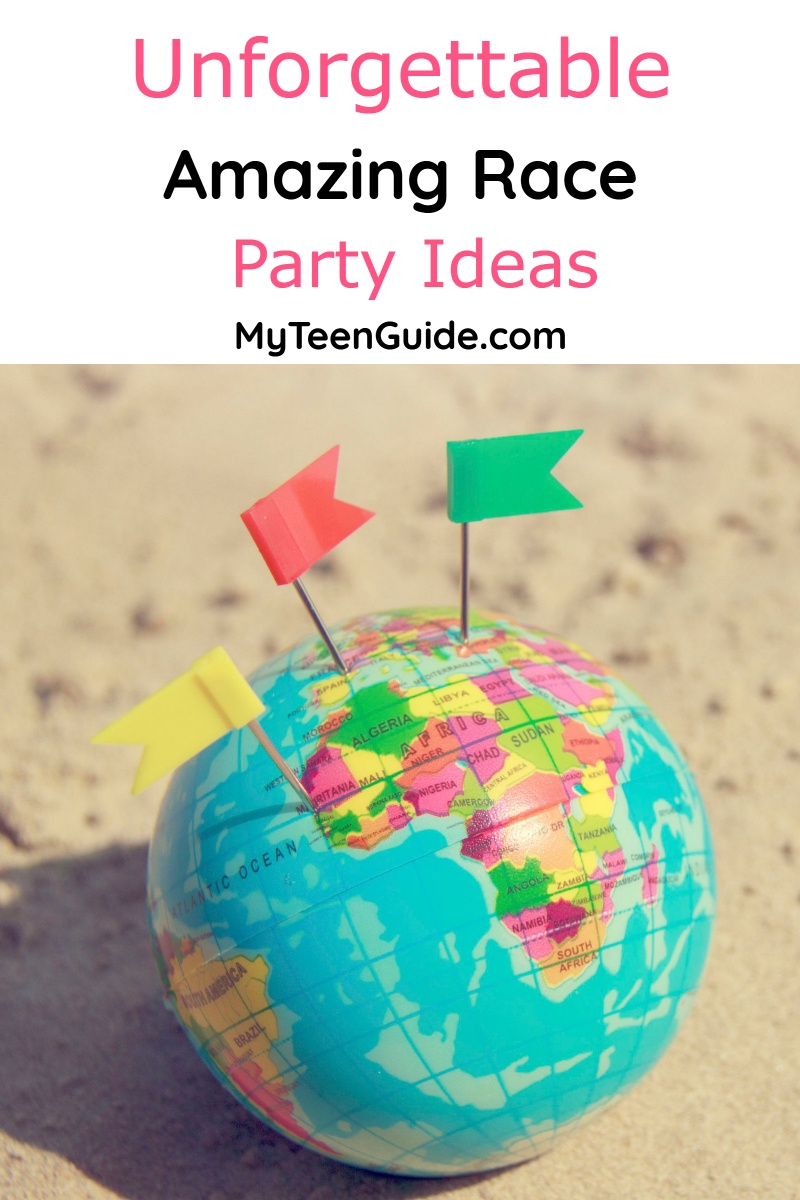 The Most Unforgettable Amazing Race Party Ideas
Keep reading for everything from the best Amazing Race party snacks, games and even some cool party favors to give out as prizes!
This post contains affiliate links. If you make a purchase through these links, we earn a small commission at no extra charge to you.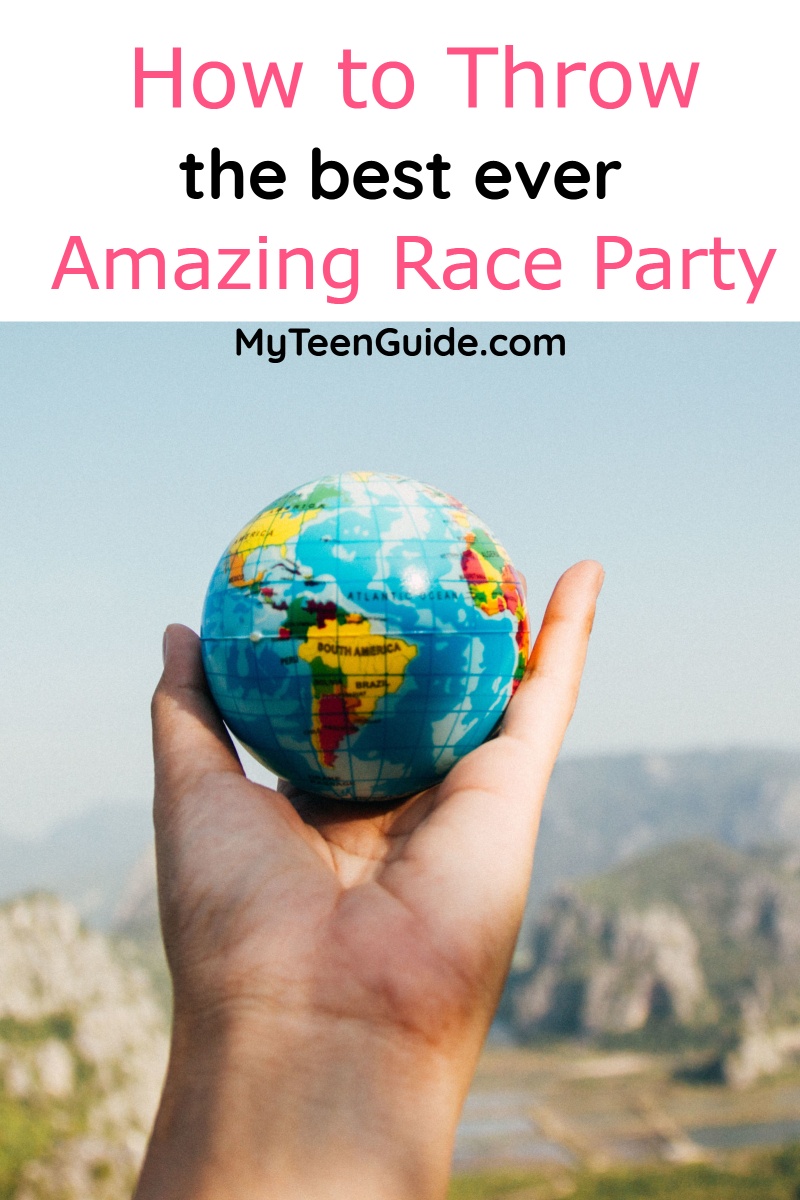 1- Stock Up On Bandanas
[amazon fields="B06XGV3S31″ value="thumb" image_size="large" image_alt="Karaoke Machine – Singsation All-In-One Karaoke System & Party Machine – Performer Speaker w/Bluetooth Microphone Sing Stand – No CDs! – Kids or Adults. YouTube your Favorite Karaoke Videos & Songs"]
You can choose to split your group in half, or to split your group into teams depending on how large your group is.
You want to have plenty of colored bandanas so you can show your Amazing Race spirit.
2- Play The Game
This one seems pretty obvi right?
This is where the Amazing Race party ideas get interesting!
Plan an awesome race from one spot to the next for your friends.
There are several different types of tasks you want to plan to give your race a more authentic feel.
It is more fun if you print these tasks out and seal them in envelopes for your race.
Check out the video below for some inspiration, then keep reading for more ideas!
Route Information Tasks
Route Information tasks on the show usually lead you from one place to the next after completing a task.
Here are some tasks you can have your friends do before they get their clue to the next spot.
Carry an egg on a spoon for a certain distance
Put one penny in each side of a pair of tights. The team must retrieve both pennies before continuing.
Cut the fronts off several boxes of breakfast cereal into puzzle pieces for teams to assemble.
If you need some more route game ideas, check out our favorite Minute to Win It party games.
Detour Tasks
Detours usually involved each team picking between two tasks.
One task should be tedious to do while the other one is more physically tough.
Here are some examples of detour activities:
Detour #1- Fluffed or Stuffed?
Guess the number of cotton balls in a large jar.
Teams write their guesses down and run to a judge, who confirms their answer.
If they are wrong, they must run back to the jar and try again.
OR
Stuff a large bowl of cotton balls into an empty disposable water bottle.
Detour #2 – Jumping Jack or Stack?
Flip over ten playing cards. For each card, you must jump, do jumping jacks, or touch your toes for the number on the card.
OR
Stack cards in a house of cards that must be at least three levels tall.
Roadblock Tasks
On the show, the team picks one player to complete the roadblock task. Challenges should be fun but tough.
Here are some examples of roadblock ideas:
Mark several paper cups with a sticker in the bottom, and then fill many cups with a treat. Teams must guess where the sticker is by eating through each cup one at a time until they find a cup with a sticker.
Fill a bowl with beads. Racers must transfer the beads from one bowl to another only using a pair of tweezers. If a bead falls, it goes back in the first bowl.
Check out the video below if you want to do the hay bale task!
3- Winning The Race
Now it's prize time! Let the winning team pick first from the prizes.
The second team picks second, and down the line until everyone has a prize.
Prizes depend on your budget. A few ideas include:
Gift cards in different amounts ($20, $10, 5, for example)
Funko Collectibles
Makeup kits (full kits for grand prize, mini kits for 2nd and 3rd place)
Funky socks
4- Post-Race: Pit Stop Snacks
Don't forget the snacks!
Hang up some yellow and red balloons and accent with black and white race checkered banners or even napkins.
I also like to add posters from around the world, maps or even globes near my snack table.
You might also want to add a fun Amazing Race photo booth in your "pit stop" area to capture all those great memories. I love these props!
Amazing Race Party Favors
Send your guests home with a little something to remember the big day! Some fun Amazing Race themed ideas include:
Yes, they're wedding favors, but they're perfect for your Amazing Race party, too!)
These are SO cute! The set comes with 12 peppermint-flavored balms.
Who doesn't need a little stress relief, right?
This mix has a good selection of European candy. You could also go with a Japanese-themed candy box, though.
Simple and inexpensive, yet still cute & fun!
So lovelies, talk to me in the comments. What other Amazing Race party ideas or challenges would you add?