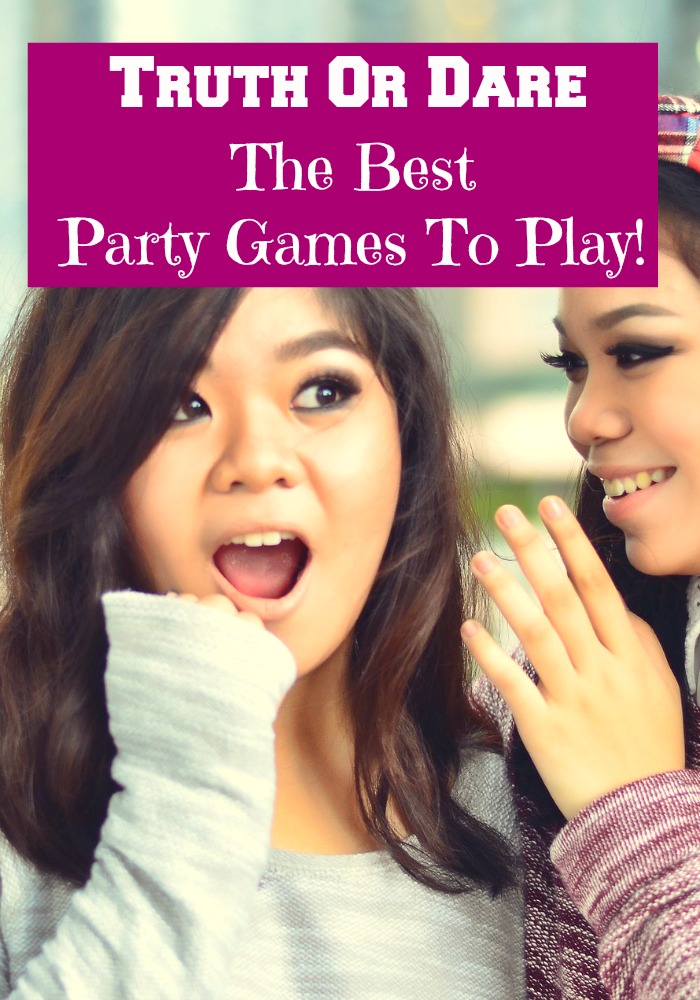 So about a week ago I went to a party with no planned games (though we had glowsticks, so that was fun!), so we all ended up playing truth or dare party games instead. How hard is it to find teenage party games indoors to play when it's raining/snowing/acting miserable out? As we were playing, we realized it can be tough to come up with questions on the fly. So we started writing some of our own questions down!
As a public service announcement, I decided to post our questions on the blog. The next time you need to come up with truth or dare party games and questions on the fly, you should head back to this post. Then you can worry about more important stuff planning your party. Seriously, you need to play… and you're welcome!
Spill Your Secrets! Truth Or Dare Party Games
Truth Questions
Who was your very first crush? (My absolute fav truth or dare party games question of ALL TIME!)
Have you ever lied to your boyfriend/girlfriend?
If you could be born all over again, what would you like to be?
Where did your first kiss take place?
Have you ever cheated off a classmate's test?
If you could choose to be stranded in an elevator with anyone in the room, who would it be and why?
Have you ever stolen anything before?
What is your greatest fear in life?
What type of pajamas do you wear to bed?
Have you ever had a crush on anyone in the room? (This works best with a mixed crowd!)
If you were granted one wish, what would you ask for?
What was the last lie you told your parents? (Ohh, here's a juicy truth or dare question for your games!)
Have you ever peed in a swimming pool?
If you could have one superpower, what would it be and why?
Indoor Dares To Try!
Sing the Hokey Pokey song, complete with actions.
Play a random song on the radio and imitate the Chicken Dance to the song.
Smell the armpits of the person sitting to your right. (OMG this was grossssssss!)
Chug an entire glass of milk in less than two minutes.
Have a 60-second conversation with the kitchen table.
Take a selfie with a pan on your head and post it to your social media accounts.
Stuff your mouth with crackers, and then attempt to whistle. (This was another one that was hilarious!)
Walk around the room five times, acting and sounding like a monkey.
Update your Facebook status, using only words that begin with the letter C.
Smear a pickle slice with peanut butter and eat it all.
Peel a banana without using your hands at all.
Eat three tablespoons of mustard.
So the next time you suddenly need teenage party games indoors (because who wants to play Candy Land with their kid sister AGAIN!), head back to our list of questions! I guarantee you and your friends will have a blast and make some juicy memories!
Which trust or dare question is your absolute fav? Are there other teenage party games for indoors that you like to play with your friends? Tell me in the comments stat, I need more ideas! 😉 
*Image via Pixabay