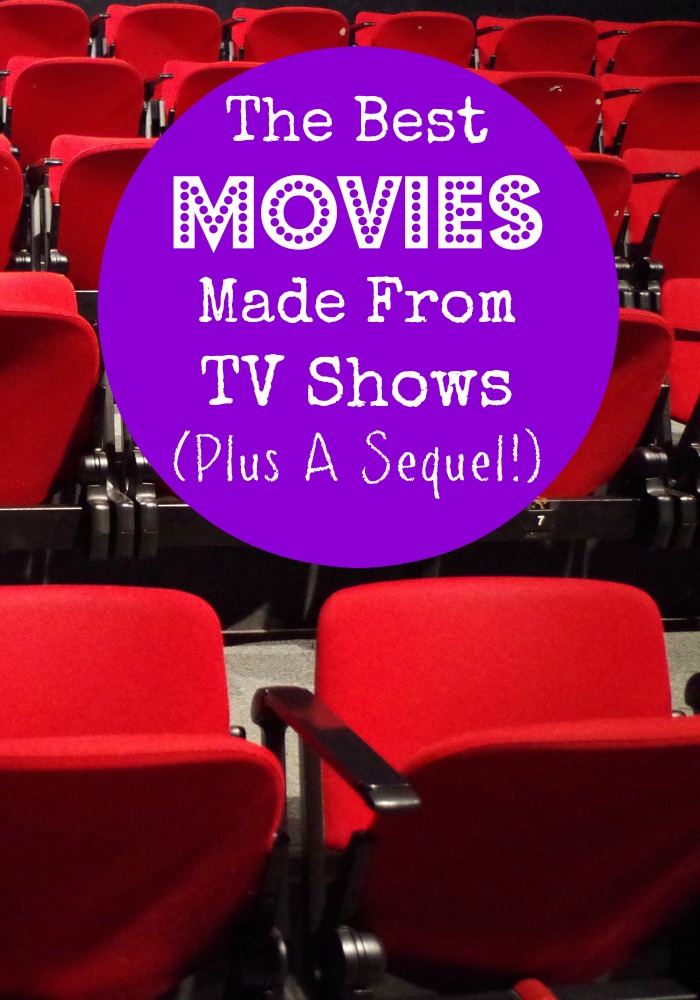 Did you know that some tv shows hit the big screen as movies every now and then? Though not all of them have been the best movies, there are a few good ones that have found amazing success in theaters. Need some new movie inspiration? Here are the best movies made from tv shows that I could dig up. Don't miss the newest movie at the end, plus there is a bonus sequel thrown in the mix!
The Best Movies Made From TV Shows (Plus A Sequel!)
Starsky & Hutch
Starsky & Hutch TV show aired from 1975-1979 starring David Soul as Hutch and Paul Michael Glaser as Starsky. Starsky & Hutch are police detectives that drive a Ford Gran Turino, bright red in color. The film is a 2004 crime comedy action starring Owen Wilson as Hutch and Ben Stiller as Starsky. Ben Stiller and Owen Williams have made their mark in comedies, so you know it is going to be pretty funny.
The Addams Family
The Addams Family TV series aired from 1964-1966 starring John Astin as Gomez Addams, Carolyn Jones as Morticia Addams, Jackie Coogan as Uncle Fester Addams, Ted Cassidy as Lurch, Blossom Rock as Grandmama Addams, Lisa Loring as Wednesday Addams and Ken Weatherwax as Pugsley Addams. The family is close-knit and have supernatural abilities and grim interests. The film is a 1991 fantasy comedy movie starring Raul Julia as Gomez, Anjelicia Huston as Morticia, Christopher Lloyd as Uncle Fester, Carel Struycken as Lurch, Judith Malina as Grandmama, Christina Ricci as Wednesday and Jimmy Workman as Pugsley. Total bonus is getting to see Christina Ricci in her childhood acting prime as Wednesday Adams! A second movie was made in 1993 called Adams Family Values, and was a loose sequel based on the first movie, but has its own story. This movie terrified me when I was a kid but is now on my list of best movies ever! Both movies are hilarious and are also perfect for a Halloween themed party.
21 Jump Street
The 21 Jump Street TV show aired from 1987-1991 starring Johnny Depp as Officer Tom Hanson, Holly Robinson as Sergeant Judith Hoffs. Peter DeLuise as Officer Douglas, Steven Williams as Captain Adam Fuller and Richard Grieco as Detective Dennis Booker. The show focuses on police detectives that have appearances that are young-looking, allowing them to go undercover at high schools and colleges. The film is a 2012 action comedy movie starring Jonah Hill as Morton Schmidt, Channing Tatum as Greg Jenko, Dave Franco as Eric Molson, Brie Larson as Milly and Rob Riggle as Mr. Walters. Watch this one when you need a good laugh.
Get Smart
Get Smart TV series aired from 1965-1970 starring Don Adams as Maxwell Smart, Barbara Feldon as Agent 99, Richard Gautier as Hymie the Robot, Dave Ketchum as Agent 13, Robert Karvelas as Agent Larabee and Edward Platt as The Chief.  The show focuses on agents who work as part of a secret U.S. government counter-intelligence agency. The film is a 2008 adventure action comedy movie starring Steve Carell as Maxwell Smart, Anne Hathaway as Agent 99, Patrick Warburton as Hymie the Robot, Bill Murray as Agent 13, David Koechner as Agent Larabee and Alan Arkin as The Chief. Whooo, Steve Carell, I loved him in The Office! He's seriously funny alongside Anne Hathaway!
Can you think of any other great tv shows that Hollywood turned into movies? Tell me in the comments!