Craving more mystical TV shows like Merlin?
We've got you covered! Merlin was one of my favorite shows, and I've been missing it so much since it ended.
Read on to find out how I filled the gap! Plus, learn about the cast of Merlin and find out what happened in the final season!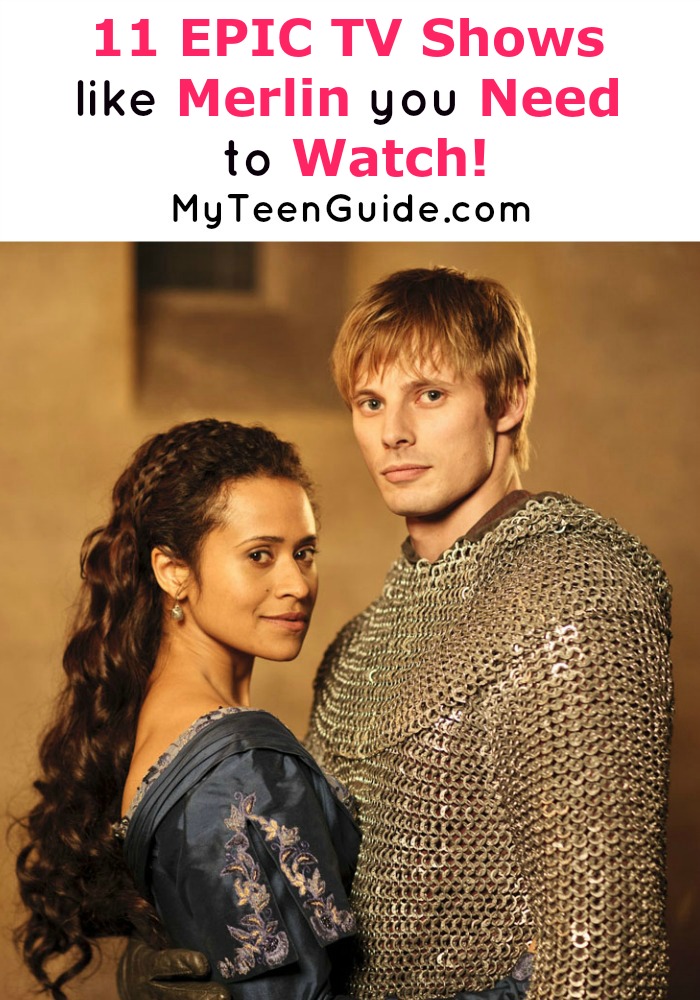 Related: 80+ TV Shows Like the One You Just Finished Binging! (Plus Free PDF)
MERLIN- OVERVIEW
SPOILER ALERT! The sections on the cast of Merlin and the Season 5 episode guide contain spoilers.
If you haven't watched the rest of the series yet, you may want to skip right down to the shows like Merlin!
If you haven't seen Merlin, you should really give it a shot!
It aired for 5 seasons, with 13 episodes per season, for a total of 65 episodes. So, it will take some time for you to watch, but well worth it, in my opinion!
Think you know the story of the world's most famous wizard? Think again!
While most of us know him as the robe-wearing, wand-waving older guy with a long white beard, we don't really know much about his beginnings.
Merlin was young once, too!
The BBC series follows Merlin's early years in Camelot- a city where magic wasn't just outlawed, it was punishable by death.
Anthony Head (aka Giles of Buffy the Vampire Slayer) is the king, and Arthur is still years away from inheriting the kingdom.
Merlin comes to Camelot to study under Gaius (pronounced kind of like "guy-us") and to work as a servant to Arthur.
He quickly learns that both he and Arthur have epic destinies that he needs to protect at all costs…all without getting caught using magic!
MERLIN- CAST
While Merlin had an array of guest and recurring characters throughout its 5 seasons, there were really only 6 main characters in the series.
Merlin, Arthur and Gaius appeared in all 65 episodes,
While Gwen appeared in 61 episodes
And Morgana appeared in 58 episodes.
Uther Pendragon only appeared through the start of season 4 (with a few exceptions as a spirit), but his character was a catalyst for the whole show.
Let's learn a bit about each cast member!
Colin Morgan as Merlin
Merlin is the show's hero and lead character.
He is a young sorcerer and the only remaining Dragonlord.
He left behind his home in the village of Ealdor
He moved to the kingdom of Camelot, where he became the servant to Camelot's Prince (and later, King)- Arthur and also guided Arthur on his journey to the throne.
In addition, Merlin is also the apprentice and ward of Gaius- the Court Physician- and the best friend of Arthur.
Merlin possesses an array of special abilities, including expert skills with crossbows and swords, immortality, magical powers that extend beyond the realm of a normal sorcerer and skills as a Physician.
Merlin is known to be caring, intelligent, noble and protective.
If you can't get enough of Colin Morgan (Merlin), he is currently playing the lead role of Leo Elster on AMC's sci-fi television series- Humans.
Bradley James as Arthur Pendragon
Arthur is the former Prince and former King of Camelot, the half-brother of Morgana- sharing the same father- Uther.
He is also the husband of Gwen and the best friend of Merlin.
Arthur is an expert sword fighter.
He is known to be courageous, dutiful and honorable.
Richard Wilson as Gaius
Gaius is a former sorcerer, the current Court Physician and Merlin's friend, guardian and mentor.
He is extremely knowledgeable in the world of sorcery and its legends.
Gaius is known to be brave, loyal and sensible.
Angel Coulby as Guinevere "Gwen" Pendragon
Gwen is the Queen of Camelot, married to King Arthur.
She is also the former best friend and half-sister-in-law of Morgana.
Gwen is extremely knowledgeable when it comes to armor and also possesses great Seamstress skills.
She is known to be confident, fast-thinking and unafraid.
Katie McGrath as Morgana Pendragon
Morgana is Uther's illegitimate daughter and Arthur's half-sister.
She is also Gwen's half-sister-in-law.
Morgana starts off as a kind, caring and thoughtful character, but eventually becomes Merlin's nemesis and the show's main villain.
She possesses magical abilities (which, remember, are illegal) and combat skills.
As the show progresses, she goes from sweet and caring to cold, calculating, ruthless and vengeful.
It may sound odd to say this, but Morgana has always been a favorite of mine. I feel like she's one of the most misunderstood characters of the entire King Arthur mythology.
Anthony Head as Uther Pendragon
Uther Pendragon is Arthur's father, and the King throughout much of the series.
He is a bitter, judgmental, and angry man who despises magic so much that even possessing magical traits is punishable by death.
It's easy to see where Morgana gets her ruthless streak!
His hatred of magic is the catalyst that turns Morgana from one of the show's kindest characters into the most deadly.
Now that you know about the characters and cast of Merlin, let's find out what happened in the last season!
MERLIN SEASON 5 EPISODE GUIDE
Affiliate links included below. If you make a purchase through these links, we earn a small commission at no extra charge to you.
During the final season of Merlin, we really start to see the story that we all know begin to emerge.
Uther Pendragon is long gone, after his death early on in season 4 and Prince Arthur is now King Arthur.
Morgana has taken up her mantle as one of the most powerful villains in the Arthur mythology (although I still insist she's just misunderstood!).
It really is quite the epic season in the truest sense of the word!
Episode 1- Arthur's Bane: Part 1
Sir Gwaine, Sir Percival and other Knights of Camelot have not returned from one of their missions in the frozen tundra of Ismere. It is discovered that Morgana is behind the men's disappearance, as Arthur and Merlin set out to rescue the men.
Episode 2- Arthur's Bane: Part 2
Arthur and Merlin are briefly taken hostage by the Saxons but manage to escape. Later, Mordred is made a Knight after he saves Arthur when Morgana tries to kill him.
Episode 3- The Death Song of Uther Pendragon
When Arthur tries to communicate with his father's spirit, he discovers that the spirit world is a dangerous place!
Episode 4- Another's Sorrow
After King Rodor of Nemeth is captured by King Odin of Cornwall, Arthur, Gaius, Merlin and Princess Mithian of Nemeth, set out to rescue the King.
Episode 5- The Disir
A trio of Soothsayers- known as The Disir Court- threaten to destroy Camelot unless Arthur legalizes sorcery.
Episode 6- The Dark Tower
Morgana holds Gwen captive in the Dark Tower- a fearful and menacing place!
Episode 7- A Lesson in Vengeance
Gwen and Morgana conspire to kill Arthur and Merlin realizes that Morgana must have done something sinister to Gwen!
Episode 8- The Hollow Queen
A young Druid boy- Daegal- asks for Merlin's help on a dangerous mission, but it is a trap that was set up by Morgana.
Episode 9- With All My Heart
Merlin knows that he needs to do something and fast before Morgana's deviant control over Gwen gets any worse!
Episode 10- The Kindness of Strangers
Morgana is desperate to find out who Emrys is so she sets out to find Alator- the High Priest of the Old Religion and a magical warrior- believing he will reveal Emrys identity.
Episode 11- The Drawing of the Dark
When Mordred feels that Arthur has betrayed him, he joins forces with Morgana to reveal Emrys true identity.
Watch Now
Episode 12- The Diamond of the Day: Part 1
After it is revealed that Merlin is Emrys, Morgana and Mordred team together to destroy Camelot!
Episode 13- The Diamond of the Day: Part 2
As Morgana and Mordred put their plans into action, Merlin is faced with his greatest challenge yet!
Now that you've finished Merlin, you'll be looking for more great magical, mystical, or heroic shows to sink your teeth into!
Read on for our top picks!
---
11 TV SHOWS LIKE MERLIN
If you liked Merlin or are just a fan of the supernatural and magicalness you are in the right place.
I wouldn't say this show is quite as intense or bloody as Game of Thrones, but I'd say it's up there as far as the best things on TV to watch.
Check it out all the magical TV shows below!
1. Atlantis
Atlantis is a British fantasy-adventure television series that aired on BBC One for two seasons, from September 28, 2013, to May 16, 2015.
It was inspired by Greek mythology, more specifically, the Legend of Atlantis.
The series centers on Jason, who finds himself mysteriously washed up on the Atlantis Kingdom shores, a kingdom ruled by King Minos and Queen Pasiphae.
Atlantis stars Jack Donnelly, Alexander Siddig, and Sarah Parish.

2. Legend of the Seeker
Legend of the Seeker is a fantasy adventure television series that aired on ABC for two seasons, from November 1, 2008, to May 22, 2010.
It is based on the epic fantasy book series titled The Sword of Truth by Terry Goodkind.
The series showcases the journeys of Richard Cypher, the Seeker of the Truth, along with Kahlan Amnell, a Confessor, Zeddicus, a wizard and Cara Mason, a Mord-Sith, as they set out on a quest to find and eliminate Darken Rahl.
Legend of the Seeker stars Craig Horner, Bridget Regan, Bruce Spence and Tabrett Bethell.
The shows quickly became one of my top shows to watch, and after it had ended I read the first couple Legend Of The Seeker "The Sword of Truth" books too!
I didn't make it through all seventeen books, though, but the first couple were excellent reads!
Related: Wild Cards TV Show: Will it be as successful as Game Of Thrones?

3. Primeval
Primeval is a science fiction drama television series that aired on ITV for five seasons, from February 10, 2007, to June 28, 2011.
The series follows the investigations of Professor Nick Cutter, colleague Stephen Hart, student Connor Temple and zookeeper Abby Maitland, as they locate and capture an array of creatures from both past and future.
Primeval stars Douglas Henshall, James Murray, Andrew-Lee Potts and Hannah Spearritt.

4. Warehouse 13
Warehouse 13 is a science fiction-fantasy television series that aired on Syfy for five seasons, from July 7, 2009, to May 19, 2014.
The series chronicles the lives of Myka Bering and Pete Lattimer, United States Secret Service Agents who are assigned to Warehouse 13, a covert area in South Dakota.
They soon discover that Warehouse 13 is home to some supernatural objects that possess magical powers.
Warehouse 13 stars, Joanne Kelly and Eddie McClintock.

5. Haven
Haven is a supernatural drama television series that aired on Syfy for five seasons, from July 9, 2010, to December 17, 2015.
It is somewhat based on the 2005 novel titled The Colorado Kid by Stephen King.
The series centers on Audrey Parker, an FBI Special Agent who is sent to the small and strange town of Haven, Maine to locate an escaped prisoner.
She soon discovers the town is not what it seems, as she learns the truth about her true identity.
Haven stars Emily Rose.

6. Eastwick
Eastwick is a drama, fantasy television series that aired on ABC for 1 season, from September 23, 2009 to December 30, 2009.
It is based on the 1984 book- The Witches of Eastwick by John Updike.
The series centers on a mysterious man- Darryl Van Home- who awards 3 women- Joanna, Katherine and Roxanne- with special unique magical powers.
Eastwick stars Paul Gross, Lindsay Price, Jamie Ray Newman and Rebecca Romijn.
7. Reign
Reign is a drama, fantasy television series that aired on The CW for 4 seasons, from October 17, 2013 to June 17, 2017.
The series follows the early life of Mary, Queen of Scots.
While it definitely takes some creative liberties with the true story, the main events of Mary's life are portrayed fairly accurately.
Reign stars Adelaide Kane, Megan Follows, and Toby Regbo.

8. Sleepy Hollow
Sleepy Hollow is an action, adventure, drama, fantasy television series that aired on Fox for 4 seasons, from September 16, 2013 to March 31, 2017.
It is loosely based on the 1820 short story- The Legend of Sleepy Hollow by Washington Irving.
The series focuses on Ichabod Crane- an American Revolutionary War Soldier- who is resurrected 232 years after his death to solve a strange mystery.
Sleepy Hollow stars Tom Mison.

9. Smallville
Smallville is an action, adventure, drama television series that aired on The CW for 10 seasons, from October 16, 2001 to May 13, 2011.
It is based on the superhero character- Superman- from the DC Comics.
Here's an interesting fact for you- Smallville was actually the influence for Merlin. Cool, eh?
The series follows the early years of Clark Kent, before he became known as Superman.
Smallville stars Tom Welling.

10. The Musketeers
The Musketeers is an adventure, drama television series that aired on BBC One for 3 seasons, from January 19, 2014 to August 1, 2016.
It is based on the 1844 book- The Three Musketeers by Alexandre Dumas.
The series takes place in Paris, France during the 17th century and centers on Aramis, Athos, Porthos and later, d'Artagnan- highly trained soldiers who are tasked with protecting King Louis XIII.
The Musketeers stars Santiago Cabrera, Tom Burke, Howard Charles, Luke Pasqualino and Ryan Gage.

11.  The Shannara Chronicles
The Shannara Chronicles is a drama, fantasy television series that aired on MTV and Spike for 2 seasons, from January 5, 2016 to November 22, 2017.
It is based on The Sword of Shannara Trilogy books (1977, 1982 & 1985), by Terry Brooks.
The series is set the fictional world- Four Lands- and focuses on Allanon- the last Druid of Paranor, Amberle- an Elven Princess, Eretria- a Rover and Wil- a Half-Human/ Half-Elf, as they embark on a journey to save the Four Lands from evil.
If you pay attention throughout the show, you'll quickly realize that the fictional land isn't quite as fictional as it appears!

So have you seen any of these tv shows like Merlin?
Which series are you excited to add to your watch list?
Tell me in the comments!