Looking for the best 4th of July party games to play while you're waiting for the fireworks to go off?
You're totally in luck because we've rounded up some of your favorites!
We promise, you and all your friends will have an amazing time at your patriotic party!
Plus, check out some of our favorite 4th of July party decorations and tips!
Let's check them out!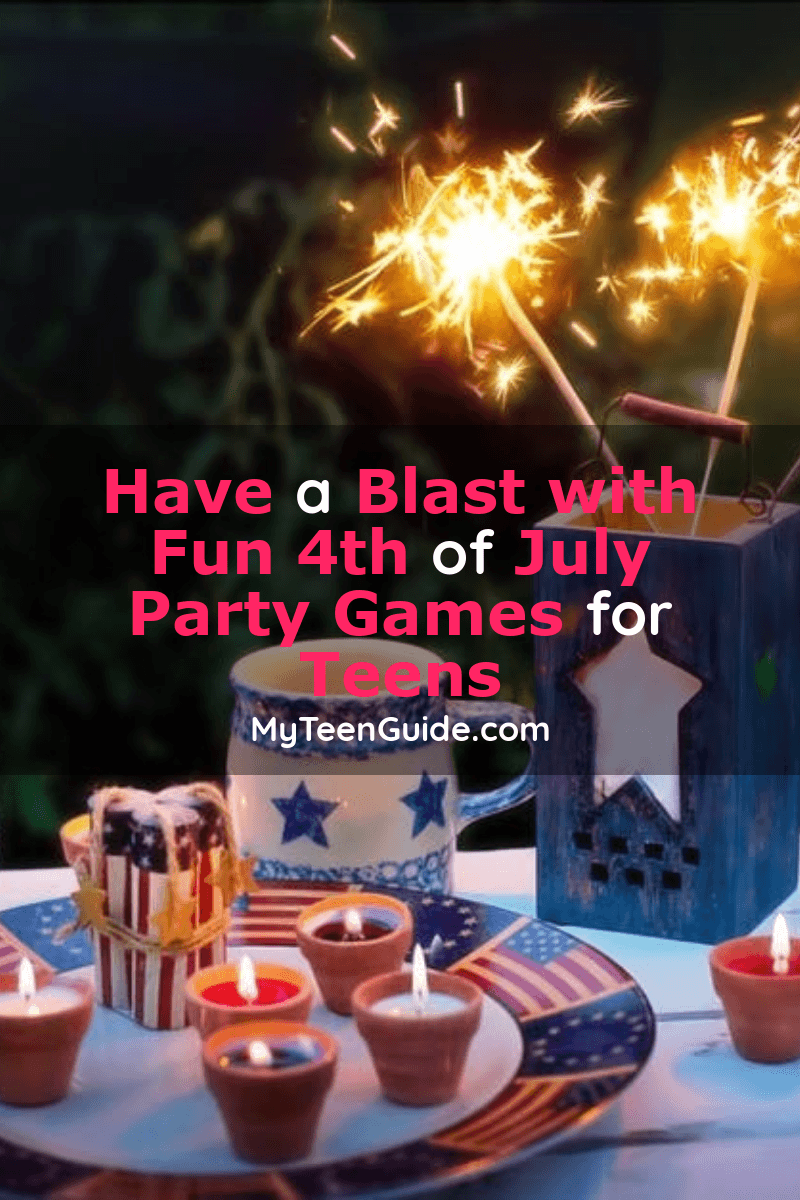 Related: Fun Party Games that Even Your Parents Will Love
4th of July Party Games for Teens
Affiliate links included below. If you make a purchase, we earn a small commission at no extra charge to you.
1. Red, white and blue scavenger hunt
https://www.instagram.com/p/BHcU6rjBToB/?tagged=4thofjulygames
Put a patriotic spin on an old classic! You can play this game with individuals or with teams.
Give everyone a basket and a list of items to find.
The list can have them 4 red things, 4 white things and 4 blue things.
Or you can have more specific items like find a red ribbon, find a white flower and find a blue crayon.
The first person or team to find their list of items first is the winner.
Make the game harder by using your neighborhood as your hunting ground.
If you live far from civilization, ask a parent or non-player to hide the items before the game begins.
Related: Spectacularly Fun Mystery Scavenger Hunt Ideas
2. Musical banner game
This game works on the similar concept as musical chairs.
You want to hang flags or other patriotic pictures around the party area, ensuring you hang one less than the number of guests playing.
Then, play songs like God Bless the USA and the Star Spangled Banner. When the music stops, guests must find a picture to stand under.
The person that isn't standing under a picture is out of the game and the last person standing is the winner.
3. Balloon game
This is one of my favorite 4th of July party games for teen because it really gets everyone laughing and having fun.
Let each person choose a balloon (go with red, white and blue for a patriotic theme!).
The object of the game is for everyone to blow up their balloon, tie it and sit on it so that it pops.
The first person to successfully do this is the winner.
Trust me, it's a lot harder than it sounds!
Related: Party Games for Teens Stuck Indoors This Summer
4. Patriotic Water Games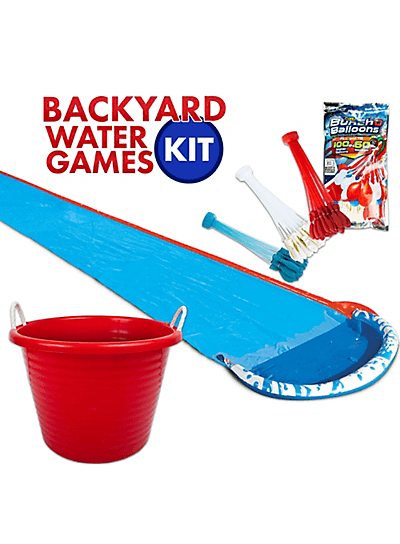 Party City has an awesome patriotic water games kit that I absolutely love. It comes with a water slide, a bucket, and plenty of water balloons.
Set up the water slide and fill up the balloons before the party. Then fill up the bucket with the ammo and get ready to battle!
Take turns throwing water balloons at the person racing down the slide, or just have an all out water balloon fight!
5. Patriotic Bingo
https://www.instagram.com/p/BWFbVjLA1Sn/?tagged=4thofjulygames
If your party gets rained out, patriotic bingo is one of the most fun indoor 4th of July party games to play!
Make up some fun bingo cards ahead of time with patriotic and summer icons! You can laminate the cards and let guests use dry-erase markers, or use pennies as markers.
Then, print and cut out all of the icons for your "bingo wheel." You can just toss them all into a jar and pull them out randomly.
First guest to get 5 in a row wins!
Or you can make the games last longer by challenging guests to fill the entire card or make a pattern!
4th of July Party Decorations & Essentials
Party Decorations
https://www.instagram.com/p/BkEYvspFtSr/?tagged=4thofjulyparty
You don't have to go crazy with expensive 4th of July party decorations.
As long as you focus on a red, white, and blue theme, you can do as little or as much as you want.
I love the look of the table above, it's simple yet colorful! To recreate it, you'll need:
Red, White, & Blue Party Plates & Cups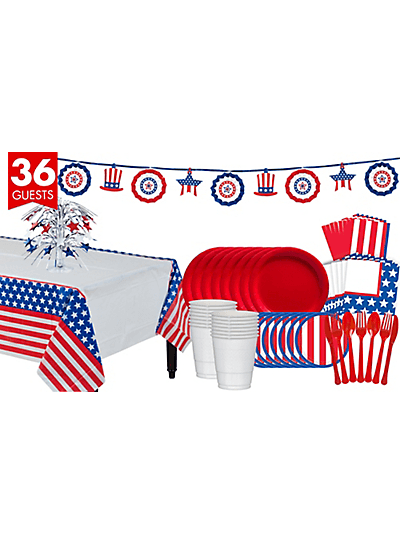 If you want to really bring home the patriotic theme, Party City has some amazing kits that have everything from party plates to party cups in one convenient package.
There are a few different options to choose from. My favorite is the Ultimate Red, White and Blue Stars pack one pictured above. I like it because it has a fun mix of patterns as well as some solid colored items to break it up a bit.
If you're having a smaller party, they also have Deluxe American Classic party pack for 16 guests.
Of course, you could put a simpler DIY "party pack" together by buying some red plates,
blue utensils
, and white cups
(or any other combo of the three).
Another idea that I LOVE: instead of buying a ton of throw-away cups, use mason jars
for glasses, like above! Fill them with red & blue mocktails, or serve a clear drink like Sprite and add colorful ice cubes or fruit.
Awesome Party Lights
If you're having your party outdoors at night, you'll want some lights so guests can see! I love the star string lights above, aren't they fun?
You can also use colorful candles if you don't have a way to plug in the lights. Here are some we love:
Party Tents
https://www.instagram.com/p/BiAMdqsgtHQ/?tagged=partytent
If you're planning on having your party in your backyard or at a park, a party tent is a must. July is one of the wettest months in many states!
I know in my area, storms roll through pretty much every day. It rains for five or ten minutes, then it's gone.
If you have the budget for it, I recommend getting a nice big tent
that all your guests- and your food and decor- can fit under! It's on the pricey side, but a great investment if you're planning on hosting a lot of parties!
Can't really afford a $400+ tent? There are cheaper options under $200-ish if you want to go with a full-size tent with sides, or even cheaper tarp canopy tents without sides. Check out a few of my favorite options in all price ranges:
Patriotic Party Favors
https://www.instagram.com/p/Bj02L72DeSN/?tagged=4thofjulyparty
Want to send your guests home with some fun reminders of your bash? You'll need some patriotic party favors!
Here are a few of my favorites:
4th of July Cookies! Either bake and decorate them yourself, or order them from a local bakery. Send each guest home with one or two!
Patriotic colored candy in a fun treat bag.
Red, white and blue beach balls for loads of summer fun!
Patriotic glow stick necklaces: these are fun for guests to wear during the party.
Patriotic reusable tumblers: If you want a more eco-friendly party, give them out when your guests arrive and skip the plastic cups!
These are just a few fun 4th of July party games and ideas to help get your party started and keep the fun going until the sun sets.
We all know that's when the magic really happens! Kick back with your friends on the lawn and watch those fireworks. You just never get too old for that!
Do you have any favorite 4th of July party games for teens?
Share in the comments!