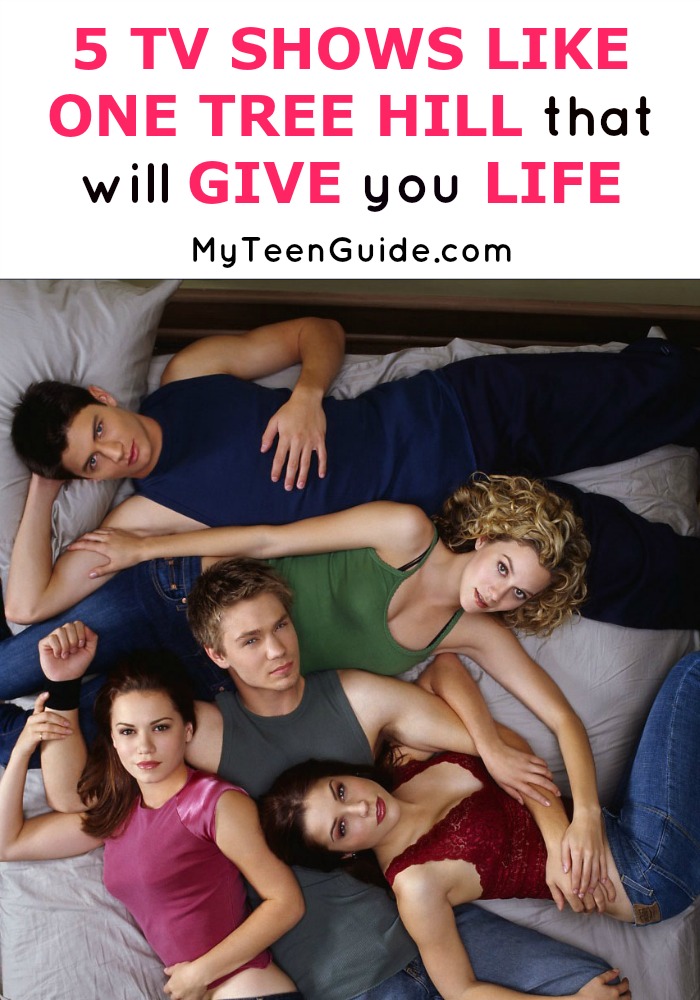 Whether you are a fan or just a binge TV watcher looking for shows, these shows like One Tree Hill should be on your list. Small town life brings it's own style, right? The hit TV show One Tree Hill  brought us week after week of intense drama that was "warm, safe and loved." Ok maybe it wasn't all rainbows and sunshine or it would be boring. Of course, you had some characters backstabbing each other with crazy unexpected twists, but for the most part this show made me sob like a big ol'baby. Even when things were completely unrealistic, I still ending up TV show sobbing in the good way! If you like the combo of Gilmore Girls meets Juno style drama, then you have to see what these small towns bring on these shows like One Tree Hill. Check them all out below!
Related: The Best Shows Like Pretty Little Liars And Gossip Girl Because Secrets Are More Fun
5 TV Shows Like One Tree Hill That Will Give You Life
https://www.instagram.com/p/BH58tP9gkNi/?taken-by=onetreehillfans
One Tree Hill is a television drama series that began on The WB on September 23, 2003, and ended on The CW on April 4, 2012, after nine seasons. The series is set in the fictional North Carolina town of Tree Hill and is set around the lives of two half-brothers, Lucas and Nathan Scott. They start off as enemies in the beginning but eventually form a bond through hard times and struggles. One Tree Hill stars Chad Michael Murray, James Lafferty, Hilarie Burton, Bethany Joy Lenz and Sophia Bush. Here are some similar TV shows to watch, are you ready?
Related: The Best Shows Like Switched At Birth For When You Need A Family Drama Story
Dawson's Creek
https://www.youtube.com/watch?v=7xuADRAQlVk
Dawson's Creek is a teen drama television series that aired for six seasons on The WB, from January 20, 1998, to May 14, 2003. The series chronicles a circle of friends, Dawson Leery, Joey Potter, Pacey Witter, Jen Lindley, Jack McPhee and Andie McPhee, as they go through high school and eventually the start of college. Dawson' Creek stars James Van Der Beek, Katie Holmes, Joshua Jackson, Michelle Williams, Kerr Smith and Meredith Monroe.
Related: 5 TV Shows Like Gossip Girl That Put All The Drama On The Line
Everwood
Everwood is a television drama series that aired for four seasons on The WB, from September 16, 2002, to June 5, 2006. The series features Doctor Andy Brown, a widowed brain surgeon, who moves from Manhattan, New York to Everwood, California, with his two kids, Ephram and Delia. Everwood stars Treat Williams, Gregory Smith, Viven Cardone, Emily VanCamp, Debra Mooney, John Beasley, Tom Amandes and Chris Pratt.
Life Unexpected
Life Unexpected is a television drama series that aired on The CW for two seasons, from January 18, 2010, to January 18, 2011. The series chronicles the life of Lux Cassidy, a teenager who was placed for adoption when she was born and locates her birth parents. Life Unexpected stars Britt Robertson, Shiri Appleby, Kerr Smith and Kristoffer Polaha.
Younger
Younger is a is a comedy-drama television series that is based on the 2005 book of the same name by Pamela Redmond Satran. The series premiered on TV Land on March 31, 2015. Season 3 of the series is set to air on September 28, 2016. The series focuses on Liza Miller, who is a 40-year old divorced mother of one daughter. When she is mistaken for being 20 years younger than she really is, she uses this opportunity to boost her career and her love life, as a 26-year old. Younger stars Sutton Foster, Tessa Albertson, Nico Tortorella, Debi Mazar, Hilary Duff and Miriam Shor. This show has been on my list of TV shows to watch for a while to finish all the seasons. The first season was good!
The Secret Circle
The Secret Circle is a supernatural teen drama that is based on the supernatural young adult book series by L. J. Smith. It aired for 1 season on The CW from September 15, 2011, to May 10, 2012. The series showcases the life of Cassie Blake, who discovers she is actually a hereditary witch and after moving to a new town, joins a secret coven of other hereditary witches. The Secret Circle stars Britt Robertson, Thomas Dekker, Shelley Hennig, Jessica Parker Kennedy, Phoebe Tonkin and Louis Hunter.
So my lovelies, which of these shows like One Tree Hill is giving you the feels? I want to know down in the comments!
Image via Wikia