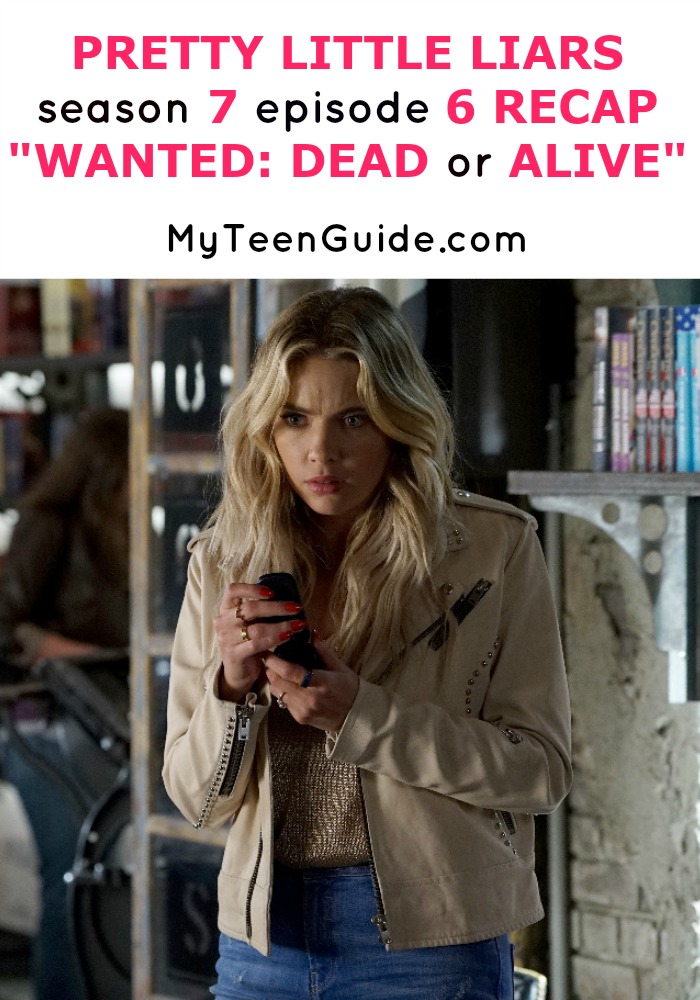 Someone dies, someone broke up, and  someone got engaged on this week's Pretty Little Liars Season 7 Episode 6 recap! Tonight's episode is titled Wanted: Dead or Alive and was action packed with answers from last week's episode five! In the end, it left me with more questions AHHH, how do they do that every time? I felt like I was holding my breath for almost every scene. If I say any more, I'm going to spill all the juicy spoilers too soon! So check out the full recap for Pretty Little Liars Season 7 Episode 6 below for all of the details!
Pretty Little Liars Recap Season 7 Episode 6 Wanted: Dead Or Alive
Alison walks into The Brew, where The Liars are, showing off THE red jacket, telling them it was a present from A.D. Needless to say that Alison is less than pleased that The Liars, in order to save Hanna, instead sold her out to a maniac.
Hanna receives a phone call from Archer's burner phone. It featured a creepy voice with a British accent that said, "Next time you bury someone, make sure they're dead." WOW! Does this mean Archer is not dead? Or is someone just trying to mess with Hanna?
Spencer follows Alison back to her house so she can explain to Alison why they did what they did. Spencer also chatted with Marco Furey about the progress of the Elliott Rollins case. Spencer soon discovers that this cop is one smart cookie. He says that he believes the train ticket and the use of his credit card are actually a cover-up as to where Archer really is. But, he thinks that Archer is the one who planned the whole scheme and had no idea about The Liars involvement. Whew!
Related: The Best Shows Like Pretty Little Liars And Gossip Girl Because Secrets Are More Fun
Sara and Jenna have been acting extremely shady, which should also cause The Liars to be a bit worried. Emily was delivering drinks to Jenna's room at The Radley. While there, Emily sees a folder on the computer labeled Charlotte DiLaurentis and a search for car rentals.
In a flashback, it is revealed that Jenna and Charlotte were best friends. And that Jenna is the one who helped Archer create a fake identity to stay with Charlotte, his love. Jenna was also helping Charlotte locate her birth mother, who we know is Mary Drake.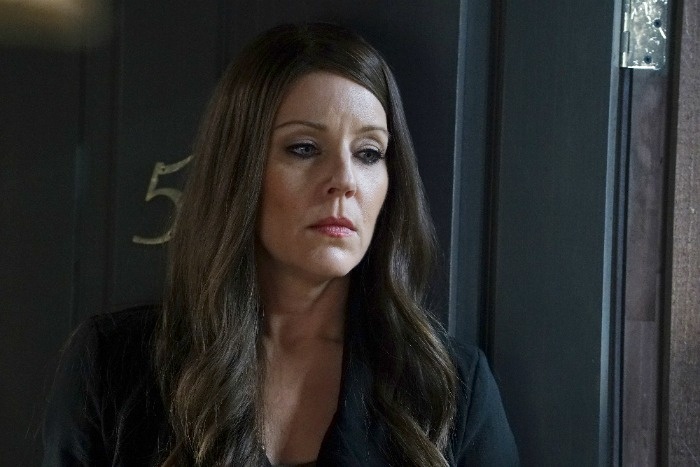 However, Mary insists to Alison that she doesn't know who Charlotte is or that her name was even CeCe Drake. She tells Alison, "Jessica took my child from me. She took my baby, just like she took everything else." Hmmm…it was pretty emotional and somewhat believable, but I don't know if Mary can be trusted just yet.
Related: How To Recreate All Of The Pretty Little Liars Makeup Looks
So, remember the last episode when Ezra proposed to Aria? Well, she said YES! Aria also decides to start her new life with a clean slate and tells Ezra every dirty detail about The Liars and Archer.
https://www.instagram.com/p/BIoJrXqj34V/?taken-by=dailyezria
Caleb is back in Rosewood, but he and Spencer's relationship is over for good. When Spencer tells Hanna the news, Hanna tells her that she and Jordan are no longer together. Spencer encourages Hanna to tell this to Caleb, possibly for the two of them to reunite. I kind of liked Caleb better with Hanna anyways.
So, while that is going on, a guy pretending to be a police officer, breaks into Alison's house and attacks her. She eventually scares him off, but not after giving him a pretty good beating. Alison definitely has the fight in her.
Hanna and Spencer go and dig up Archer's grave to be sure he isn't still out there somewhere and lo and behold Archer is still in the ground. However, the person with the police mask watches the two dig up the grave. The camera then pans to a box that has writing on it: Charlotte's Things.
Usually, it is kind of hard to keep track of who is actually alive and who is really dead on this show. However, tonight it wasn't hard to figure out the status of Sara Harvey. Wasn't hard at all because is dead. Her body was discovered by a maid in the bathtub of Jenna's room at The Radley. Before that, we see Sara quickly packing to leave town. Then, someone knocks on her door; we don't know who it is but Sara seems to know the person. Whoever the person is kills Sara!
Ahhhh! I can barely hold together all the feels, OMG!
So lovelies, what did you think of this week's Pretty Little Liars Season 7 Episode 6 recap? How much more can they add to stop our hearts before the end of the season? Can you believe Sara Harvey is really gone? Spill in the comments!