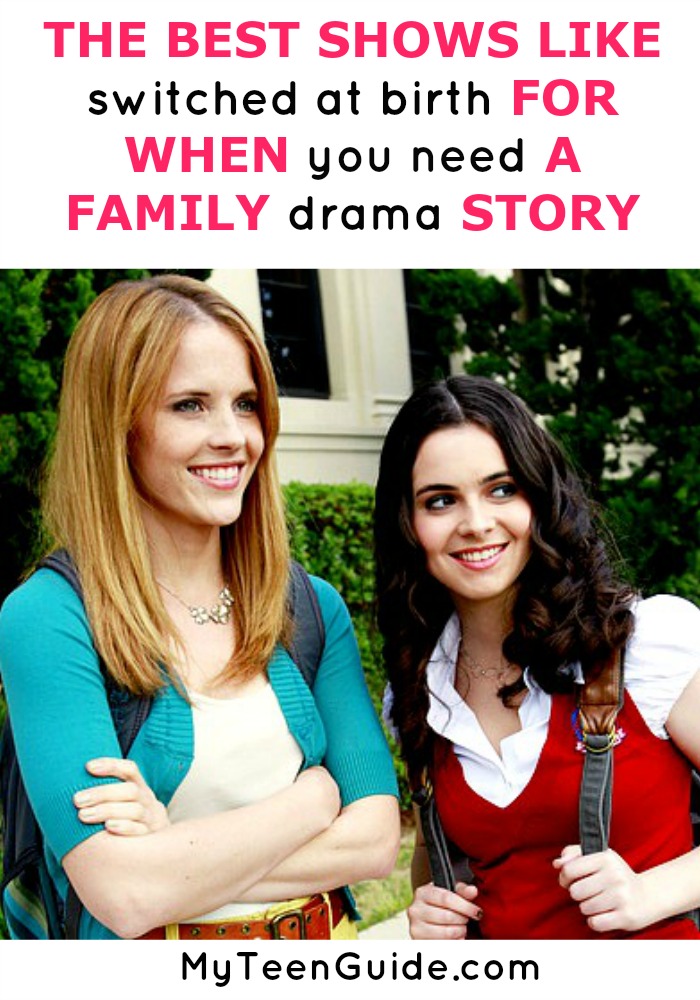 I just finished watching the smash hit TV series Switched At Birth and now I really need the best shows like Switched at Birth to help me fill the void. This show, it's good! If you haven't seen it, this tv show is about two girls who are switched at the hospital right after being born. What sets this show apart is that one of the two teens is deaf, and sign language is integrated into the show. You also have the drama of finding out you were switched, which is crazy! Switched At Birth is on Netflix, and because I'm an addict, I made sure to try to include shows like Switched At Birth on Netflix. You're welcome. Check out a few more details about Switched As Birth below, as well as my picks for similar dramas about teens finding their true family, be it biological or foster.
Related: 15 Shows similar to Hart of Dixie
The Best Shows Like Switched At Birth For When You're Feeling The Family Drama
More About Switched At Birth
Switched at Birth was a teen, family drama television series that premiered on June 6, 2011. The series stars Sean Berdy as Emmett Bledsoe, Katie Leclerc as Daphne Vasquez, Lucas Grabeel as Toby Kennish, Vanessa Marano as Bay Kennish, Constance Marie as Regina Vasquez, D.W. Moffett as John Kennish and Lea Thompson as Kathryn Kennish. Switched at Birth centers on two teenage girls who find out that they were switched when they were born. If you enjoy watching Switched at Birth, here are some TV shows like it.
Our List of The Best Shows Like Switched At Birth
The Fosters
The Fosters was a family drama television series that premiered on June 3, 2013. The series stars Teri Polo as Stef Adams Foster, Sherri Saum as Lena Adams Foster, Hayden Byerly as Jude Adams Foster, David Lambert as Brandon Foster, Maia Mitchell as Callie Jacob, Danny Nucci as Mike Foster and Cierra Ramirez as Mariana Adams Foster. The Fosters showcases the life of Callie Jacob, a teenager who lives in a foster home that is headed by a lesbian couple and the foster home also features the couple's biological, foster and adoptive children. This also happens to be one of my favorite shows like Switched At Birth currently on Netflix!
Finding Carter
Finding Carter was a teen drama television series that aired from July 8, 2014 to December 15, 2015. The show starred Kathryn Prescott as Carter Stevens, Cynthia Watros as Elizabeth Wilson, Anna Jacoby-Heron as Taylor Wilson, Alex Saxon as Max and Zac Pullman as Grant Wilson. Finding Carter follows the life of Carter Wilson, a teenager who discovers she was abducted at the age of three years old and makes the decision to return to her biological family.
Life Unexpected
Life Unexpected was a television drama series that aired from January 18, 2010, to January 18, 2011. The show starred Britt Robertson as Lux Cassidy, Shiri Appleby as Catherine Cassidy, Kristoffer Polaha as Nate Bazile, Austin Basis as Matthew Rogers and Kerr Smith as Ryan Thomas. Life Unexpected showcased the life of Lux Cassidy, a teenager who has spent her life in various foster homes until she decides to search for her biological parents. Good news! This interesting series like Switched At Birth is on Netflix too!
So lovelies, have you seen any of the very best shows like Switched At Birth? Do you know of any other great family drama shows that have stories of foster homes or finding your biological family? Tell me what you think down in the comments!
Image via Wikia