Get ready for all the Venom movie quotes, trivia, and cast info you can handle!
On October 5th , fans everywhere will get the chance delve deep into the backstory of one of Marvel Comics' baddest baddies.
If you love a good origin story as much as I do, you'll be first in line to catch Venom when it releases!
Until then, read on to learn everything about the movie…and the talent behind it!
RELATED: Can You Ever Forgive Me- Cast, Quotes and Trivia Guide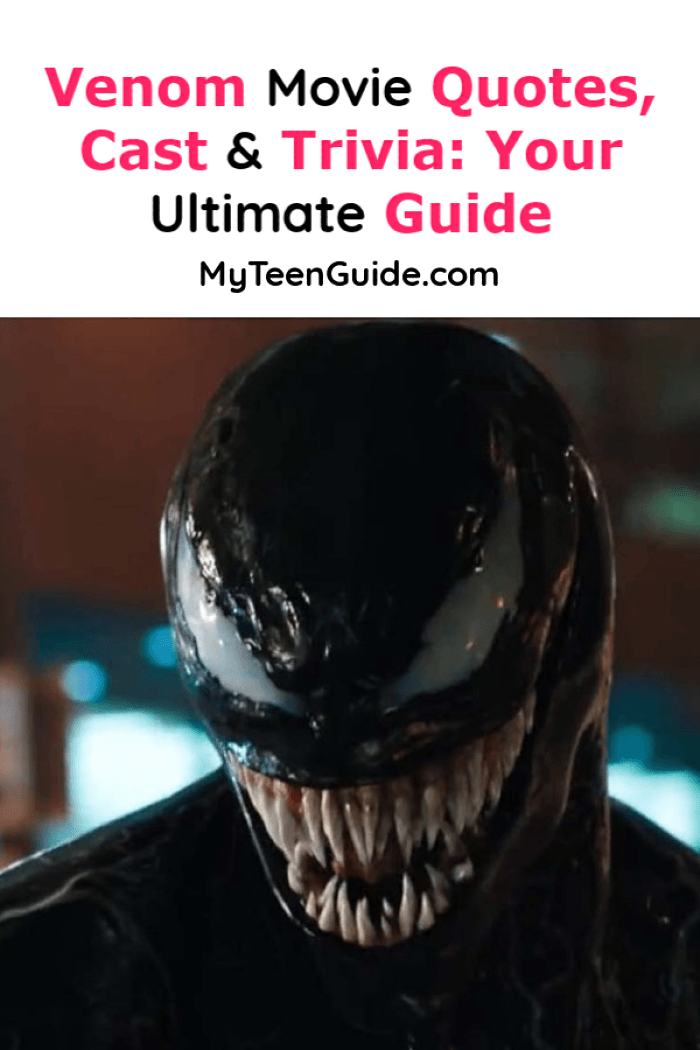 Venom Movie Quotes, Cast, & Trivia Guide
This post contains affiliate links. If you make a purchase through these links, we earn a small commission at no extra charge to you.
Venom is an upcoming action, horror, sci-fi, superhero movie that is based on the Venom character from Marvel Comics. The movie focuses on Eddie Brock, a journalist who comes into contact with an alien, parasitic Symbiote and the two bond together, creating Venom, a grotesque and repulsive vigilante.
I have to say, Venom always gave me the creeps! While Redditors are pretty vocal about Green Goblin ranking as the #1 arch-nemesis of Spidey, with Doc Ock following as a close second, you really can't count Venom out of the race.
Read on to learn about the cast of Venom, then check out some great quotes & trivia! Don't forget to sign up for a Fandango Fan Alert so you can be the first to grab tickets!
Venom Movie Cast
Tom Hardy as Eddie Brock/Venom.
Eddie is an investigative journalist who is looking into the harmful human experiments of the scientific company- The Life Foundation. Who doesn't love Tom Hardy? He is one of my favorite actors.
Hardy has won 2 British Independent Film Awards for Best Actor. First, for his role as Michael Gordon Peterson/Charles Bronson in the 2008- Bronson.
Second, for his role as identical twins Ronnie and Reggie Kray in the 2015- Legend.
Michelle Williams as Anne Weying
Anne is Eddie's girlfriend, who is employed by a firm that has ties to The Life Foundation.
Williams has won a few awards for Best Actress for her role as Marilyn Monroe in the 2011- My Week with Marilyn.
These include a Golden Globe Award, an Independent Spirit Award and a Hollywood Film Festival Award.
She also played in Brokeback Mountain, one of my absolute favorite movies, and she did such an amazing job playing the role of Alma in that movie.
Riz Ahmed as Dr. Carlton Drake
Blake is the head of The Life Foundation; a scientist who dislikes humankind and has a fascination with symbiotes.
Ahmed is well-known for his role as Naz Khan in the 2016 television miniseries- The Night Of.
In fact, he has won a few Best TV Lead Actor awards for his role, including a Gold Derby Award, an Online Film & Television Association Award and a Primetime Emmy Award.
(I have never seen any of his work, but judging from the movie trailers, he seems like he has a great deal of talent. What do you guys think)?
Jenny Slate as Dora Skirth
Skirth is a scientist working at The Life Foundation.
Slate is probably best known for her voice role as Tammy Larsen in the animated television sitcom- Bob's Burgers.
Also, she won the Critics' Choice Movie Award for Best Actress in a Comedy, for her role as Donna Stern in the 2014- Obvious Child.
(She is another one whose works I haven't seen, but again, from the looks of the movie trailers, she looks like a pretty good actress).
Venom Movie Quotes
1. From the 1st movie trailer- April 23, 2018–
Dr. Carlton Drake, as a voiceover in the movie trailer:
Dr. Drake- "Thank you for bringing us collectively to this moment. It is a moment that so many have dreamed of claiming. History starts today."
2. Eddie Brock, as a voiceover in the movie trailer:
Eddie- "I am a reporter. I follow people that do not want to be followed."
3. Dora Skirth, talking to Eddie:
Dora- "We found something. We call them symbiotes. Carlton Drake believes that the union between human and symbiote is the key to our evolution."
4. From the 2nd movie trailer- July 31, 2018–
Eddie Brock, as a voiceover in the movie trailer:
Eddie- "I'm Eddie Brock. I'm a reporter and I always seem to find myself questioning something the government may not be looking at. I found something really bad and I have been…taken."
5. Dr. Carlton Drake, as a voiceover in the movie trailer:
Dr. Drake- "Look around at the world, who do you see? A planet on the brink of collapse. Human beings are disposable! But man and symbiote combined? This is the new race, a new species, a higher lifeform."
6. Conversation between Eddie and Venom:
Eddie- "What do you want from me?"
Venom- "You'll find out."
7. Conversation between Eddie and Venom:
Eddie- "We cannot just hurt people."
Venom- "Look into my eyes, Eddie. The way I see it, we can do whatever we want. Do we have a deal?"
8. Conversation between Eddie and Anne Weying:
Eddie- "That power, it's not completely awful."
Anne- "You have no idea how much you're scaring me right now."
Venom Movie Trivia
If the trailers are any indication, this is going to be a sell-out movie!
The trailers have an epic number of views!
Venom's first movie trailer, released on April 23, 2018 by Sony Pictures Entertainment has received 68,515,411 views to date.
The second movie trailer, released on July 31, 2018, also by Sony Pictures Entertainment, has received 34,600,766 views to date.
It could be the biggest movie of October…ever
According to Box Office Pro predictions, Venom could potentially gross between $60 million and $85 million at the box office on its opening weekend.
This would make it the biggest domestic movie opening in the month of October.
Currently, that title belongs to Gravity, released on October 4, 2013 with a domestic gross of $55,785,112, according to The Numbers.
Give props to the original Venom, please!
Tom Hardy isn't the first actor to play the role of Eddie Brock/Venom.
Topher Grace played the role in the 2007- Spider-Man 3. Grace also played Eric Forman, the main character in That '70s Show.
Fun fact, there are only two degrees of separation between Topher and the cast of Venom, according to the Oracle of Bacon. He played in a movie with at least one actor who, in turn, played in a movie with each of the four main characters.
Head's up, if you visit the 6-Degrees generator, be prepared to go down the rabbit hole! I can spend hours finding links between actors, trying to stump the Oracle!
Not the first time playing a super hero!
This is the second superhero-themed movie that both Tom Hardy and Jenny Slate have appeared in. Both were in DC Comics Batman films.
Talk about an award-winning cast!
The Venom cast includes 2 Academy Award nominees- Tom Hardy and Michelle Williams.
Hardy has received 1 nomination for Best Supporting Actor for his role as John Fitzgerald in the 2015- The Revenant.
Williams has received 4 nominations. She received 2 for Best Actress for her roles as Cindy Heller in the 2010- Blue Valentine and as Marilyn Monroe in the 2011- My Week with Marilyn.
She received 2 for Best Supporting Actress awards for her roles as Alma Beers Del Mar in the 2005- Brokeback Mountain and as Randi Chandler in the 2016- Manchester by the Sea.
Are you crazy excited for this Marvel villain movie? Have you heard any other great Venom movie quotes or trivia? Share below!