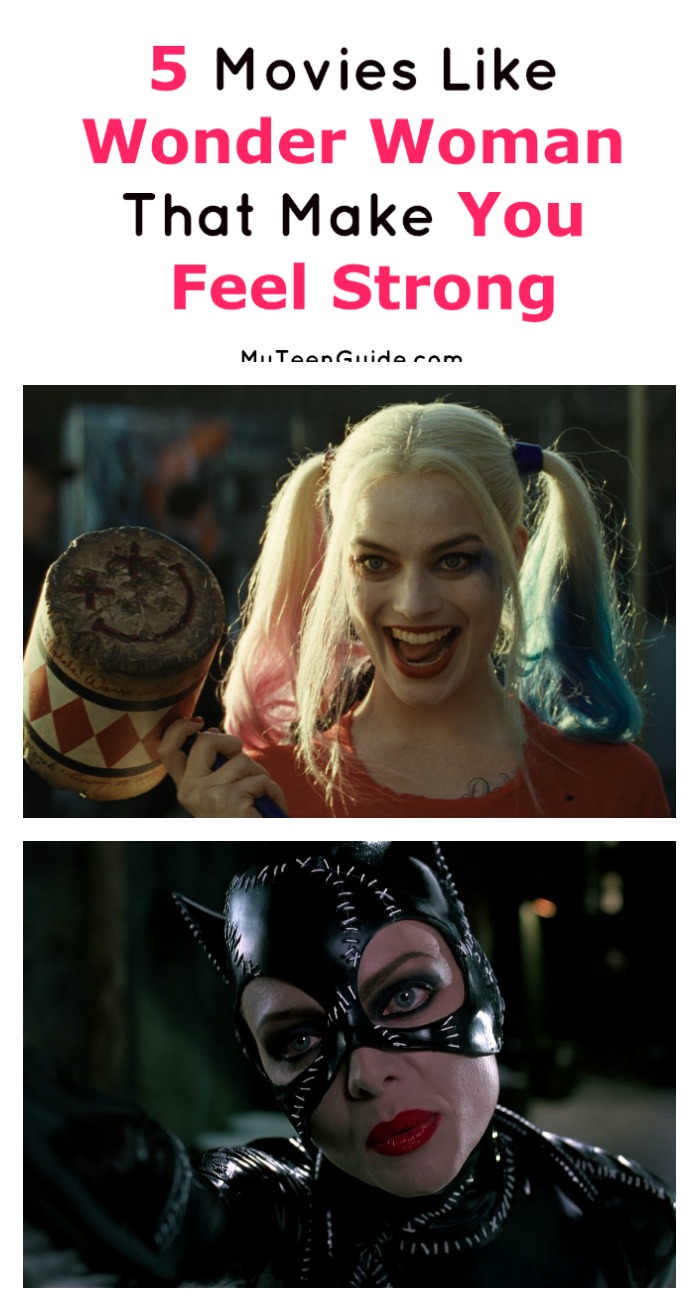 We all need more movies like Wonder Woman in our lives to make us feel spectacular! Today, we're sharing five more flicks that feature strong female leads! If you haven't already heard, Wonder Woman is a superhero movie that is set to hit theaters on June 2, 2017. The movie features the character, Wonder Woman, from DC Comics. Check out more movies that we think you'll love.
Movies Like Wonder Woman
Affiliate links included below.
X-Men
X-Men
is a 2000 superhero movie that is based on the superhero team, of the same name, by Marvel Comics. It is the 1st movie in a series of 10: 2003- X2, 2006- X-Men: The Last Stand
, 2009- X-Men Origins: Wolverine, 2011 X-Men: First Class, 2013 The Wolverine, 2014- X-Men: Days of Future Past, 2016- Deadpool, 2016- X-Men: Apocalypse and 2017- Logan. At the X-Mansion, a special private academy for mutants, the resident team of superheroes must fight off a terrorist organization. X-Men stars Patrick Stewart as Charles Xavier/Professor X, Hugh Jackman as Logan/Wolverine, Ian McKellen as Erik Lehnsherr/Magneto, Halle Berry as Ororo Munroe/Storm, James Marsden as Scott Summers/Cyclops and Rebecca Romijn as Raven Darkholme/Mystique.
Catwoman
Catwoman
is a 2004 superhero movie that is loosely based on the character, of the same name, by DC Comics. Patience Phillips is a shy, graphic designer who develops reflexes, senses and speed of a cat, allowing her to become Catwoman, a superhero crime fighter. Catwoman stars Halle Berry as Patience Phillips/Catwoman.
Daredevil
Daredevil is a 2005 superhero movie that is based on the character, of the same name, by Marvel Comics. Matt Murdock, a lawyer who was blinded by toxic waste, that also enhanced his senses, fights crime at night as Daredevil, a superhero with acrobatic martial arts skills. Daredevil stars Ben Affleck as Matt Murdock/Daredevil.
The Avengers
The Avengers
is a 2012 superhero movie that is based on the superhero team, of the same name, by Marvel Comics. It is the 6th movie in the Marvel Cinematic Universe, out of 24 movies, with 10 of them being upcoming movies. A team of superheroes come together to fight off the evil Loki and his army, from taking over the world. The Avengers stars Robert Downey Jr. as Tony Stark/Iron Man, Chris Evans as Steve Rogers/Captain America, Mark Ruffalo as Bruce Banner/Hulk, Chris Hemsworth as Thor, Scarlett Johansson as Natasha Romanoff/Black Widow, Jeremy Renner as Clint Barton/Hawkeye and Tom Hiddleston as Loki.
Suicide Squad
Suicide Squad is a 2016 superhero movie that is based on the antihero team, of the same name, by DC Comics. It is the 3rd movie in the DC Extended Universe, out of 19 movies, 16 which are upcoming; 6 without a current release date. A top-secret government agency, recruits a group of Belle Reve Prison inmates, to form super villains known as Task Force X, to team up together and save the world from a powerful threat. Suicide Squad
stars Will Smith as Floyd Lawton/Deadshot, Jared Leto as The Joker, Margot Robbie as Harleen Quinzel/Harley Quinn, Jay Hernandez as Chato Santana/ El Diablo, Jai Courtney as George Harkness/ Captain Boomerang, Adam Beach as Christopher Weiss/Slipknot and Cara Delevingne as June Moore/Enchantress.
While some of these movies like Wonder Woman focus on other superheroes, they all feature at least one amazingly strong female lead. Daredevil, for example, wouldn't be the same without Elektra! Or can you imagine X-Men without Rogue, Storm or even Mystique?
What are your favorite movies like Wonder Woman? Share below!