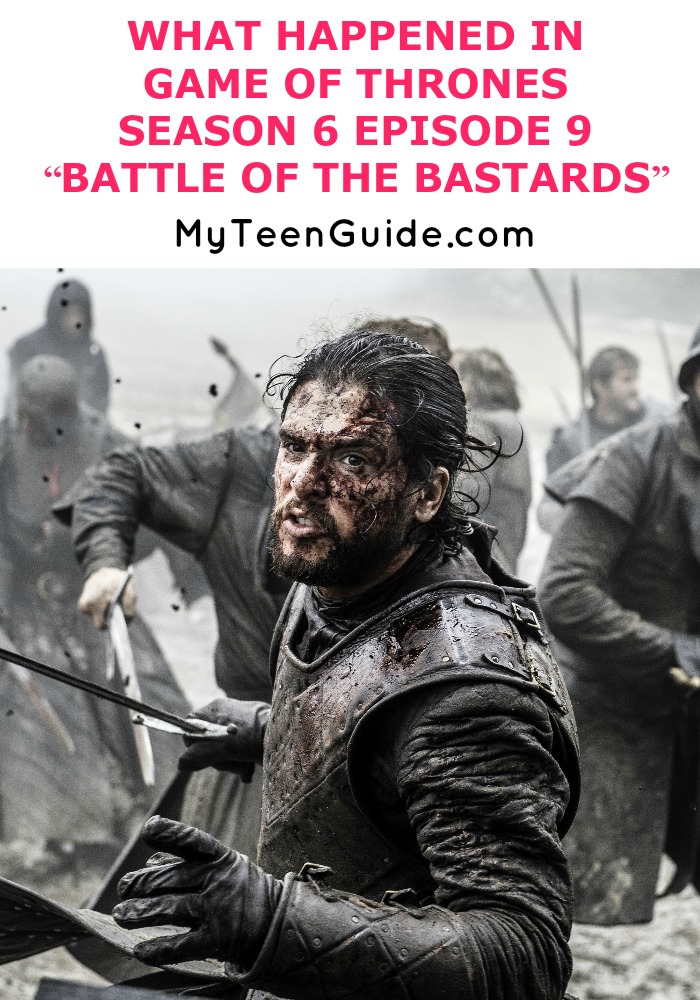 The Game of Thrones producers promised us an eventful and action-packed episode, and they weren't kidding! I had to watch it several times to give you all the nitty gritty details of what happened in Game of Thrones Season 6 Episode 9 "Battle Of The Bastards." While we see a lot of political movement happening in this episode, TBH that's not why we are all watching. Things are about to get bloody, and we might just see someone axed again in true Game of Thrones style plus a surprise victor emerges from the battle of the bastards. Also after this episode, I'm going to be even nicer to my dog. If you missed last weeks episode, you can catch up here! Otherwise, check out below to see what happened in Game of Thrones Season 6 Episode 9!
What Happened In Game Of Thrones Season 6 Episode 9 "Battle Of The Bastards"
The attack on the city of Meereen continues from the slavers while Daenerys watches over the city. Tyrion tries very hard to defend himself and his actions and seems worried that she will be disappointed. Daenerys explains her plan, which is essentially burn and kill them all. Tyrion counters her plan by explaining what her father wanted to do when he was killed by his brother (burn them all!) and suggestions he can propose an alternative.
Daenerys and her council meet with the slavers to discuss the terms of surrender for the slavers. Her dragon appears, and she gets on him as two other dragons join her. The Dothraki arrive and help in fighting off the slavers as the dragons attack the bombarding ships. Tyrion informs the slavers following the new conditions that one of them must die as punishment. Two offer up one to save themselves, however, Grey Worm executes the two who insisted on the one being killed. Tyrion tells the survivor to tell the others what happened.
Related: What Happened in Game of Thrones Season 6 Episode 5 "The Door"
At Winterfell, Jon Snow arrives and meets with Ramsay. Ramsay insists that Sansa is turned over to him, and all is forgiven. Jon suggests a one on one fight with Ramsay rather than a battle. Ramsay insists on battle rather than combat directly with Snow. Before parting, Sansa tells Ramsay he is going to die tomorrow.
Back at Jon's camp they discuss strategy for defending and attacking. They realize that they are heavily outnumbered but plan to let Ramsay attack them first. After the others leave, Sansa shares her view and disagrees with Jon's plan. Sansa explains the cold hard truth that Rickon is going to die regardless since he is the last son (known to be) alive of their father and his claim to Winterfell and the North would threaten Ramsay.
Jon finds Melisandre and asks her for advice, and she, in turn, gives perhaps the best advice ever possible… by telling him "don't lose." Jon then tells her that if he should die, not to try and bring him back. Melisandre refuses to comply and says she will at least try. They then discuss the god of light she believes in, and his possible master plan for Jon.
Theon and his sister arrive before Daenerys and Tyrion to ask for assistance. Tyrion brings up the time he met Theon (which was at Winterfell back in season one), and they proceed to discuss terms of assistance by comparing families, claims, and similarities between them. Daenerys agrees, and they make a pact to help one another. Daenerys will help them reclaim the Iron Islands in return for their ships and help support Daenerys' claim to the throne of the seven kingdoms.
The rest of this episode covers the battle between the Snow and Bolton armies for Winterfell. The following morning, Snow's army stands outside of Winterfell seemingly ready to attack. On the Ramsay side, people are seen burning upside down on crosses (which is what the Bolton house sigil resembles). Ramsay appears from his army with Rickon bound and escorted with rope. There is a tense moment where Ramsay holds a knife up in the air seeming like he will kill him. However, he sets him free saying if he can make it over to Jon, he can live. As Rickon begins running, Ramsay takes out a bow and arrow and begins to take aim on Rickon and fires. The first few shots miss Rickon, but the last strikes Rickon and kills him. Angered by his brother's murder directly in front him, Jon attacks first against the Ramsay army.
Related: Movies To Be Excited About! The Huntsman: Winter's War Trivia And Quotes
Ramsay orders his cavalry to attack against Jon, and there is a brief epic moment where Jon looks like he is going to take them on by himself. Just before his Jon's additional men arrive open combat breaks out between the two armies. As the battle progresses, it's obvious that Snow's army is at a loss and Ramsay has no problem killing his men with arrow volley fire.
It is not long Ramsay's army surrounds the very obviously outnumbered Snow army. His men begin killing them slowly before Snow's army begins, trying to break the line which is enforced by shields and pikes. Their effort appears to have little effect and only diminishes the Snow army even further. The Bolton army continues to push further and as a result, Snow gets trampled by his men trying to flee over a mound of dead bodies.
Just as it seems all hope is lost, a horn can be heard in the distance. The Vale's army arrives and takes Ramsay by surprise led by Littlefinger and Sansa by his side. The sides quickly turn as the Vale's calvary overwhelms the Bolton army. The face on Ramsay at the sight is simply priceless. Ramsay flees after a few moments, and he is chased into Winterfell. Ramsay claims he doesn't need an army since they have Winterfell and can survive by waiting it out. However, the giant manages to breach the gate shortly before being killed by Ramsay.
Winterfell is quickly swarmed by Jon and the Vale's army. Ramsay as a last hope, takes up the offer of one on one combat with Jon, and the two engage directly. Jon quickly takes down Ramsay and begins beating him to death. Jon nearly kills Ramsay but after seeing Sansa, he stops his epic and much-deserved beatdown on Ramsay.
The House Bolton flags are torn down and replaced with Stark flags. Winterfell has been recaptured. Sansa wishes to see Ramsay, who is badly injured and kept in a cell. The two briefly exchange words. Ramsay's hounds are shown and Sansa shares her intention to let them eat Ramsay who claims they are loyal and won't. The hounds begin to smell Ramsay and then begin eating him alive. Sansa walks away while the hounds eating can be heard and Ramsay's screams become less and less. It's safe to say his death pleases GOT fans as much, if not more then when Joffrey's character was killed off.
You can also check out the teaser for next week's season 6 episode 10! Spoiler, it looks amazing!
So GOT fans, what did you think of what happened in Game Of Thrones Season 6 Episode 9? Were you happy with how this bloody battle ended? OMG the scene with Sansa was so incredibly powerful! Tell me your thoughts down in the comments!
Image via Wikia