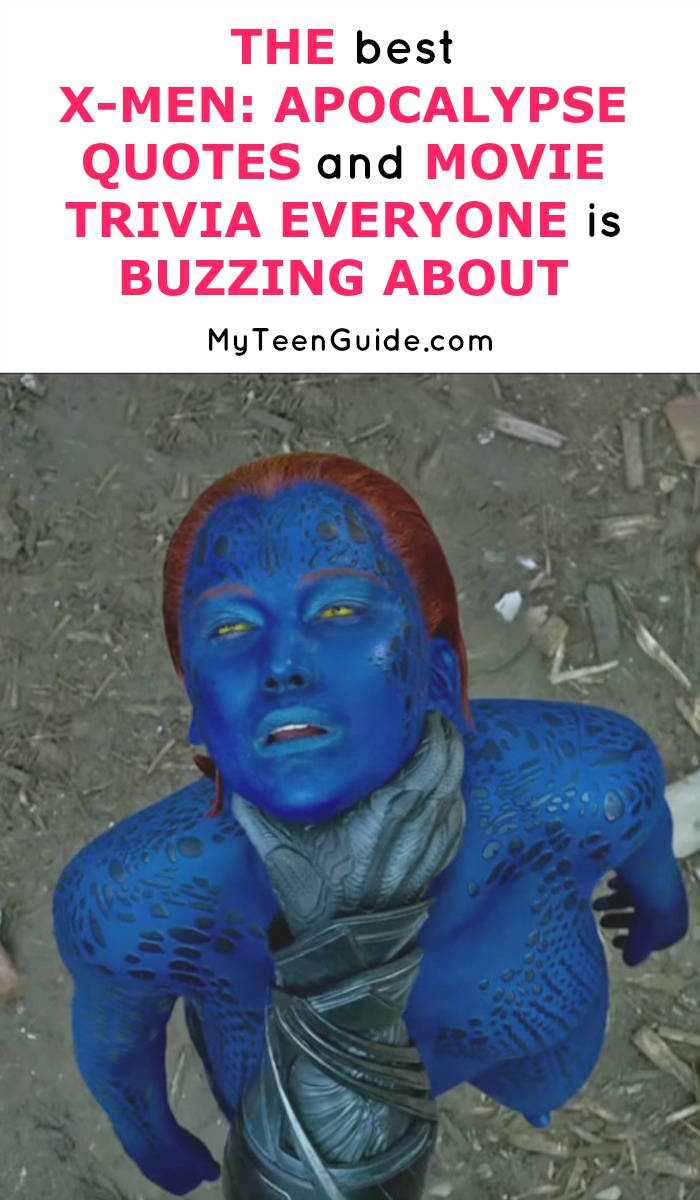 Ohh I love when a good movie is about to hit theaters! I have been rounding up all of the best X-Men: Apocalypse quotes and X-Men: Apocalypse trivia, because by now you know I like to look boss at the theater knowing all the X-Men Apocalypse facts that no one else knows. This X-men movie set in the nineties is going to give us a much closer look at how some of our favorite X-Men characters originated. Check out a little more about the movie through these fab X-Men Apocalypse trivia I found so you can look like a boss with your squad too! Then have an inside peek at your fav characters with the X-Men Apocalypse quotes. This new movie? Seriously fantastic!
The Best X-Men: Apocalypse Quotes And Movie Trivia Everyone Is Buzzing About
https://www.youtube.com/watch?v=j2VipiNWMWQ
X-Men: Apocalypse is a 2016 superhero movie that is scheduled to hit theaters on May 27, 2016. It will be the 9th movie in the X-Men series, and is based on Marvel Comics X-Men characters. In this installment of the series, Apocalypse, an ancient mutant, plans to take over the world and the X-Men must team to stop him.
X-Men Apocalypse Trivia
The movie was to originally be titled X-Men: Age of Apocalypse but the title was later changed to just X-Men: Apocalypse. The reason for this is that the director did not want to have the movie compared to Transformers: Age of Extinction and Avengers: Age of Ultron.
Sophie Turner was cast to play the role of Jean Grey, but there were several other actresses that were considered for the role including Daisy Ridley, Elle Fanning, Chloe Grace Moretz, Lily Collins and Hailee Steinfeld.
Apocalypse is the 4th X-Men movie that was directed by Bryan Singer. Singer also directed the 2000 X-Men, the 2003 X2: X-Men United and the 2014 X-Men: Days of Future Past.
Related: Fantastic Movies The Cast Of Captain America: Civil War Starred In
X-Men Apocalypse Quotes
Conversation between Erik Lensherr/Magneto and Charles Xavier/Professor X:
Erik- "Doesn't it ever wake you up in the middle of the night, the feeling that one day they'll come for you and your children?"

Charles- "I feel a great swell of pity for the poor soul that comes to my school looking for trouble."
Conversation between Scott Summers/Cyclops and Raven Darkholme/Mystique:
Scott- "Not all of us can control our powers."

Raven- "Then don't. This is war."
Conversation between Jean Grey and Charles Xavier/Professor X:
Jean- "I saw the end of the world. I could feel all this death."

Charles- "Jean, it was just a dream."
Conversation between Hank McCoy/Beast and Raven Darkholme/Mystique:
Hank- "The world needs the X-Men."

Raven- "That's why I'm here. To fight!"
So are you super excited for this movie? Which of the X-Men: Apocalypse quotes did you live? Was there X-Men: Apocalypse trivia that you hadn't heard before? Tell me your thoughts down in the comments!
Image via Wikia