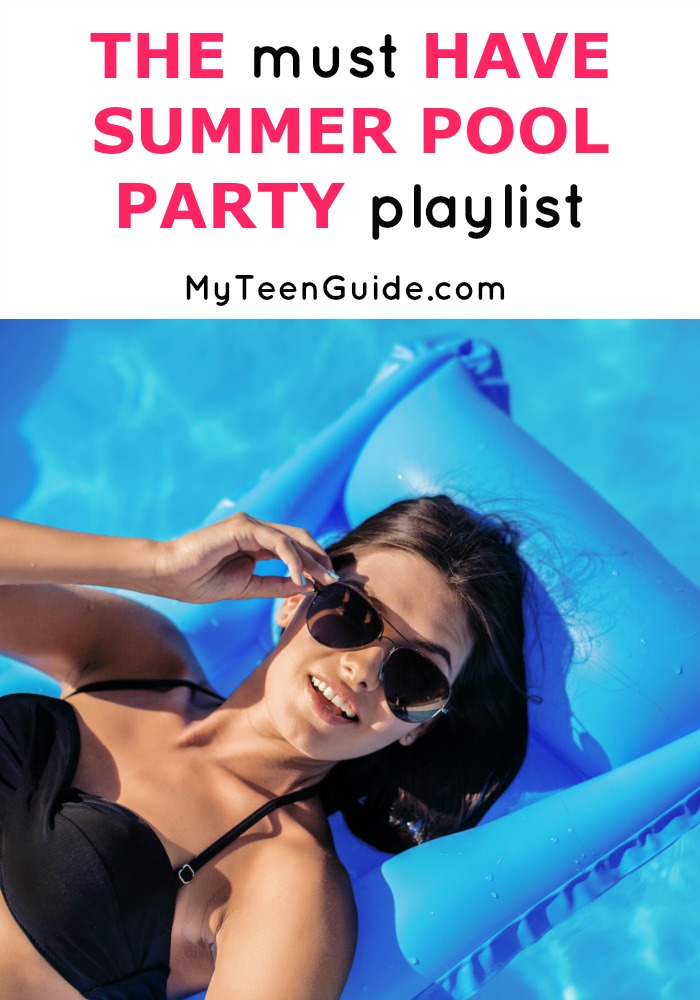 Want to have the best pool party Ev-Ah? I have the ultimate music guide to make your summer pool party for teens a total splash! These tunes will have you and your crew soaking up the sun, splashing in the pool and dancing on the deck. This playlist features some new tracks and some old time favorites. Get ready for a summer pool party for teens that you won't soon forget. Call your besties, grab some yummy snacks and get the speakers out because IT'S TIME TO PARTY!
The Must Have Summer Pool Party For Teens Playlist
1. One Dance (feat. Wizkid & Kyla) – Drake
2. This Is What You Came For (feat. Rhianna) – Calvin Harris
3. Don't Let Me Down (feat. Daya) – The Chainsmokers
4. Summer of '69 – Bryan Adams
5. Love Yourself – Justin Bieber
6. Wild Things – Alessia Cara
7. Twist and Shout – The Beatles
8. Dangerous Woman – Ariana Grande
9. Work (feat. Drake) – Rhianna [Clean Version]
10. New Romantics – Taylor Swift
11. Me & My Girls – Selena Gomez
12. Surfin' USA – The Beach Boys
13. 7 Years – Lukas Graham
14. Hold Back the River – James Bay
15. My House – Flo Rida
16. Summer – Calvin Harris
17. Cheap Thrills (feat. Sean Paul) – Sia
18. Freedom (feat. Kendrick Lamar) – Beyoncé
19. Stayin' Alive – Bee Gees
20. Stars – Demi Lovato
Grab your pool floaties and get ready for the best pool party ever! There are plenty of super cute pool floaty designs nowadays such as swans, donuts, pizza, and watermelons! Taylor Swift is known for her swan pool floaties, check them out below!
https://www.instagram.com/p/4sVltxjvKI/?taken-by=taylorswift&hl=en
These floaties, paired with some yummy snacks (might I suggest a BBQ or even a backyard summer bonfire?) and some awesome tunes will make your party one to remember! Whether you're having a pool party with a few of your closest girls or you're inviting the whole squad, this music is sure to please! There's truly something for everyone. The upbeat feel will keep everyone dancing, excited and entertained. With new tracks from Drake and Rhianna, fan favorites from Taylor Swift and Selena Gomez and old time classics from The Beatles and The Beach Boys it's sure to be an absolute blast!
Related: 7 Summer Beauty Tricks Every Girl Should Know
This is also the perfect event to showcase your summer swimwear and summer wardrobe. Pair your swimsuit with high waisted shorts and a cute tank or an oversized flowy dress. Opt for a soft, loose side braid or flowy beachy curls . Accessorize with some bangles, simple necklaces, and chokers!
Do you have a favorite song on this playlist? What are your must listen to pool party tracks? What are your favorite games at pool parties for teens? Please let us know in the comments below. We love hearing from you!
Copyright: Vector Image by StockUnlimited