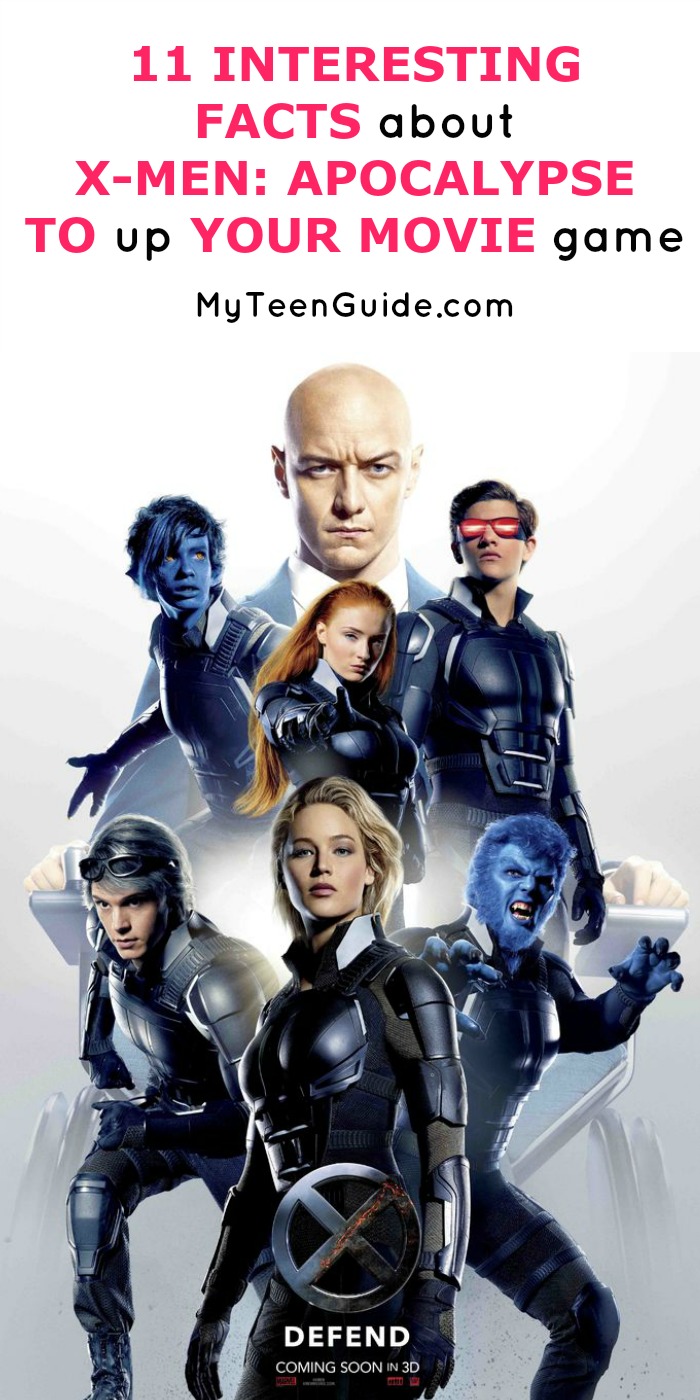 Superhero fans, it's time to get our facts about X-Men: Apocalypse straight! This new movie is hitting theaters on May 27th, 2016 and it is a big one! This film brings together storylines from five other films and gives us an intense look at the origins of the mutant powers. Plus it has Jennifer Lawrence among many talented actors and actresses, so you better believe I'm going to see it! I've put together some facts about X-Men: Apocalypse so you will look like a movie trivia star with your squad.
Related: Fantastic Movies The Cast Of Captain America: Civil War Starred In
11 Interesting Facts about X-Men: Apocalypse To Know And Up Your Movie Game
*Every movie trailer for any X-Men movies is under to contract to showcase Xavier's School for Gifted Youngsters. Apocalypse is no different, as one of the movie trailers opens with Professor X teaching students, and the second trailer also includes the school. See one of the summer 2016 movie trailers below!
*Apocalypse's real name is En Sabah Nur, which translates as The First One.
*X-Men: Apocalypse movie takes place in 1983, and it set to wrap up an X-Men trilogy that started with X-Men: First Class in 2011, continued with X-Men: Days of Future Past in 2014 and ending with X-Men: Apocalypse.
*Filming for X-Men: Apocalypse started in Montreal, Canada on April 27, 2015, and completed filming on September 4, 2015, with additional footage being shot in January of 2016. I know someone who tried out to be an extra, but they didn't make the cut. 🙁
*Hugh Jackman, who plays the role of Wolverine in the X-Men film series, will have his 8th appearance in X-Men: Apocalypse as Wolverine in the film series. Two of those movies, Jackman only had a cameo appearance including the 2011 X-Men: First Class and this 2016 X-Men: Apocalypse.
*Bryan Singer, the Apocalypse movie director, announced the X-Men: Apocalypse movie on Twitter in December of 2013.
*X-Men: Apocalypse will feature the younger lives of three of the X-Men including Jean Grey, Storm, and Cyclops.
*According to the movie director, Bryan Singer, the Apocalypse movie is "kind of a conclusion of six X-Men films, yet a potential rebirth of younger, newer characters; the truth birth of the X-Men."
*It is rumored on set that Patrick Stewart, the actor who plays Charles Xavier jokingly told director  Bryan Singer that should Jennifer Lawrence decide not to play Mystique, he would be up for the role. He said, "I am so ready to be naked, painted blue, and the world is ready for it too." Buwahaha
*According to one of the movie producers, Simon Kinberg, Apocalypse is the darkest villain in the entire X-Men series. Kinberg says about Apocalypse, "He doesn't distinguish between mutants and humans like other villains do, only between the weak and the strong."
*Hugh Jackman, who has been playing the role of Wolverine since 2000, stated that he will make two more appearances as Wolverine: the 2016 Apocalypse as a cameo appearance and his final portrayal of Wolverine will be in the 2017 Untitled Wolverine Movie Sequel. Ahh, what will we do without Wolverine after that?
Do you know any other interesting facts about Xmen: Apocalypse? Are you as excited as I am to see this movie? Leave me a comment down below!
Image via Wikia