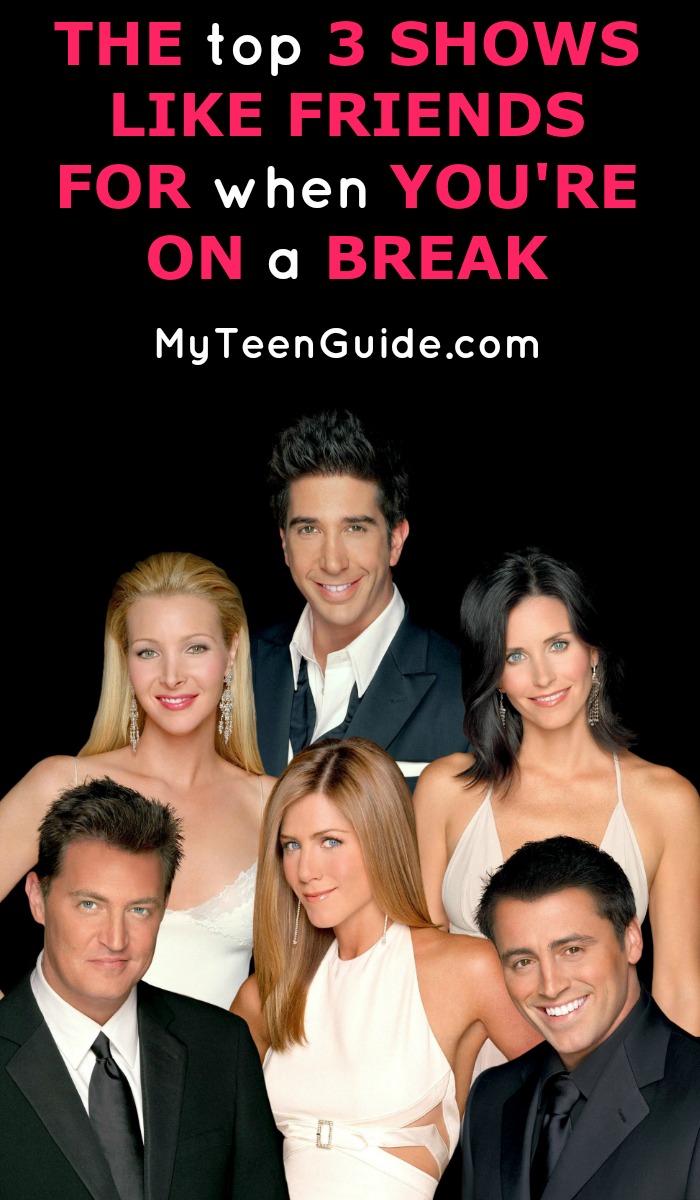 Friends was one of the most memorable tv sitcoms of all time, so it's no surprise that many people are looking for the best shows like Friends to watch. I don't think we'll ever completely replace Friends. It was on for over a decade. That's like, almost classic TV now right? Haha Ok Maybe it's not The Andy Griffith Show classic, but Friends is headed that way! There are other shows have a ragtag bunch of friends that give me the giggles, so I listed my favs for you! I also noted below which of these shows are also on Netflix for those of you looking for the best shows on Netflix! Let's check out the list!
The Top 3 Best Shows Like Friends For When You're On A Break
Friends was a television sitcom that aired from September 22, 1994, to May 6, 2004. The show had an all-star cast featuring Jennifer Aniston as Rachel Green, Lisa Kudrow as Phoebe Buffay, Matt LeBlanc as Joey Tribbiani, Matthew Perry as Chandler Bing, David Schwimmer as Ross Geller and Courteney Cox as Monica Geller. Friends follows the lives of six friends who reside in Manhattan. If you like watching Friends you can watch it on Netflix or check out some of the best shows like Friends below.
Rules of Engagement
https://www.youtube.com/watch?v=ESo2aa2nl6w
Rules of Engagement is a television sitcom that aired from February 5, 2007, to May 20, 2013. The show starred Patrick Warburton as Jeff Bingham, Megyn Price as Audrey Bingham, Oliver Hudson as Adam Rhodes, Bianca Kajlich as Jennifer Morgan and David Spade as Russell Dunbar. Rules of Engagement follows the lives of two married couple, Jeff and Audrey Bingham and Adam and Jennifer Rhodes, and their single friend Russell Dunbar- Patel. This show has lots of laughs and is full of one-liners that will have you rolling. I think this is one of the best shows on Netflix for when you need something quick and peppy just to laugh.
Community
Community is a television sitcom that aired from September 17, 2009, to June 2, 2015. The show starred Joel McHale as Jeff Winger, Gillian Jacobs as Britta Perry, Danny Pudi as Abed Nadir, Alison Brie as Annie Edison and Ken Jeong as Ben Chang. Community showcases the life of Jeff Winger, a lawyer who was disbarred, then forced to enroll as a student at the local community college. Jeff joins a study group full of misfits who all become friends as they try to handle classes, friendships and all the craziness that happens at this college. Personally, I enjoyed the first few seasons a lot, and totally binge watched this show, which is why I added it to the list. The later seasons the storyline gets very creative and go some ways I didn't expect! This show, unfortunately, isn't on Netflix yet. Boo, hiss! It's still totally worth watching Community.
The Office
The Office is a television comedy series that aired from March 24, 2005, to May 16, 2013. The show starred Rainn Wilson as Dwight Schrute, John Krasinski as Jim Halpert, Jenna Fischer as Pam Beesly, Leslie David Baker as Stanley Hudson, Brian Baumgartner as Kevin Malone, Angela Kinsey as Angela Martin and Phyllis Smith as Phyllis Vance. The Office focuses on the happenings of a group of office workers, employed at Dunder Mifflin Paper Company in Scranton, Pennsylvania. The actors in this show are almost all hilarious, and they created some super memorable characters on this show. There was also a UK version of The Office that is the original, though the American version starts up different storylines after the first few seasons. Both shows are some of the best shows on Netflix in the funny comedy tv show category.
So are you a fan of any of these shows? What would be on your list of the best shows like Friends? Share your thoughts down below in the comments!
Image via Wikia