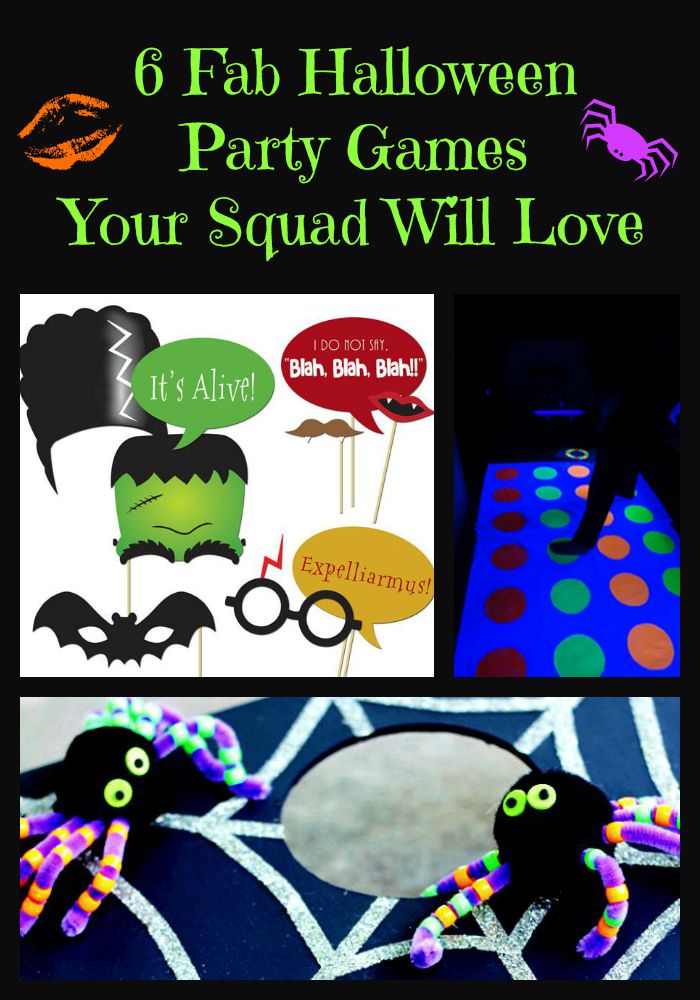 Boo! Ahhhhhhhhh! Hello lovelies, are you as excited about Halloween as I am?
The costumes, the makeup, the snacks and the parties are all so much fun this time of year.
Usually, I use my creative skills just to plan an ah-mazing costume but this year I decided to throw a party.
I want to give my party an extra dose of #spooky, so I have rounded up some of my fav ideas for the ultimate Halloween party games so your party is on point.
6 Fab Halloween Party Games for Teenagers
This post contains affiliate links. We earn a commission if you make a purchase, at no extra cost to you.
Glow In The Dark Twister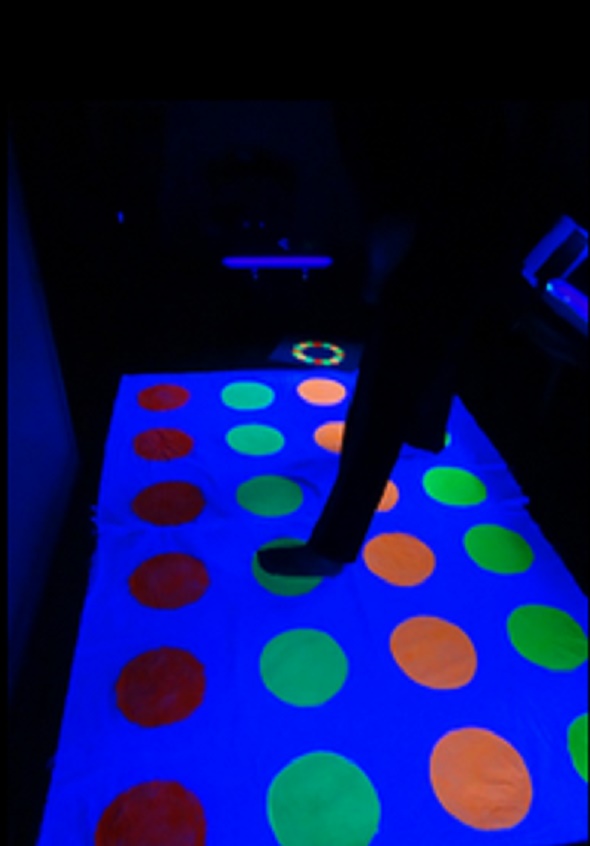 Throw a spin on the classic game of Twister and instead make your own Glow In The Dark Twister Game.
You can see the full directions over on Hubpages for how to make this fun game from scratch.
You can also paint a classic Twister Game
with glow in the dark paint
, just make sure to seal it with a clear fabric sealant.
Halloween Selfie Station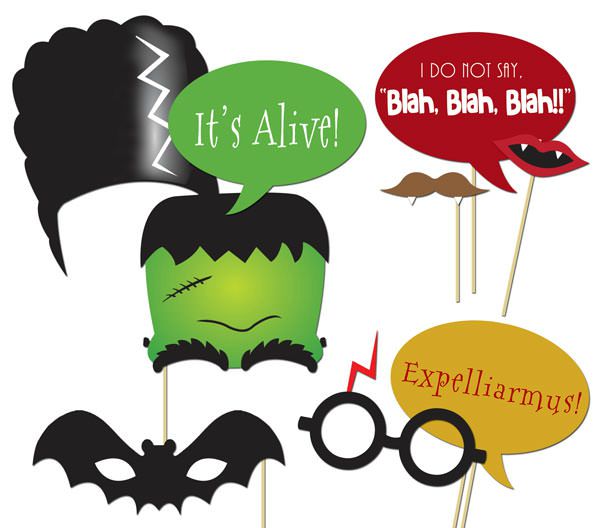 I love photo booths, but sometimes it can take people a little time to warm up.
Get the party rolling with these free printable Halloween Photo Booth Props from One Creative Mommy.
A few snips with some scissors and you will have an adorable photo booth set-up for fun selfies with your friends.
Related: 9 Wicked & Fun Halloween DIY Ideas
Donut Tree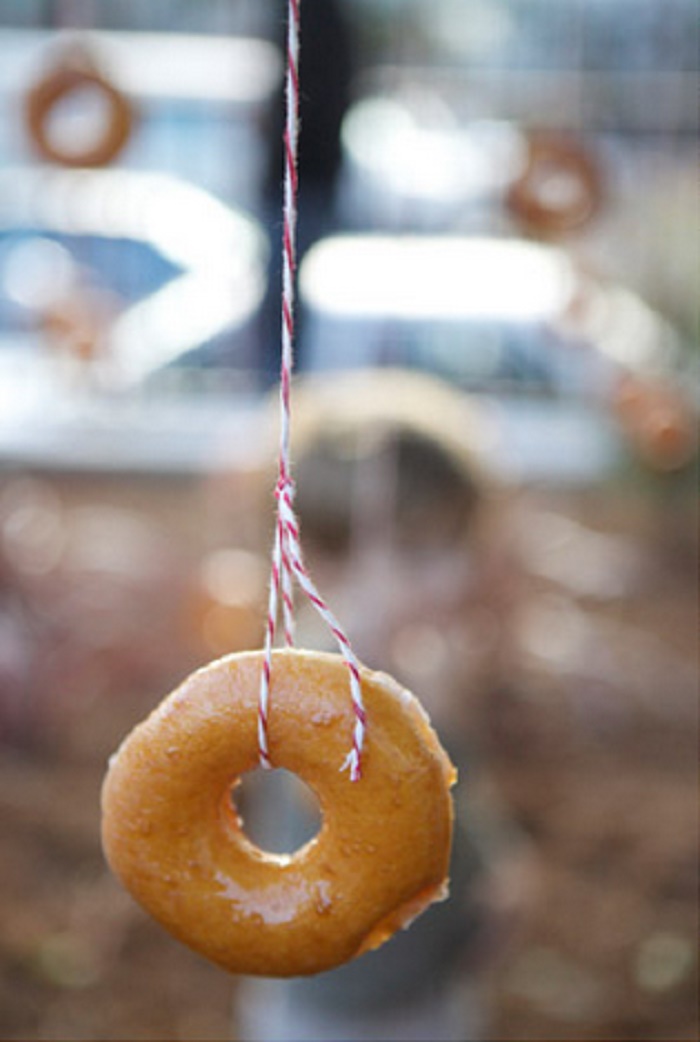 Om nom nom! Donut Tree (also known as Donut On a String) is a super hilarious game that your friends will love love LOVE for Halloween.
You tie donuts to a string and then attach it to either a tree or a pole.
Players must then race to eat their donut the fastest without dropping the donut or using their hands!
Pumpkin Bowling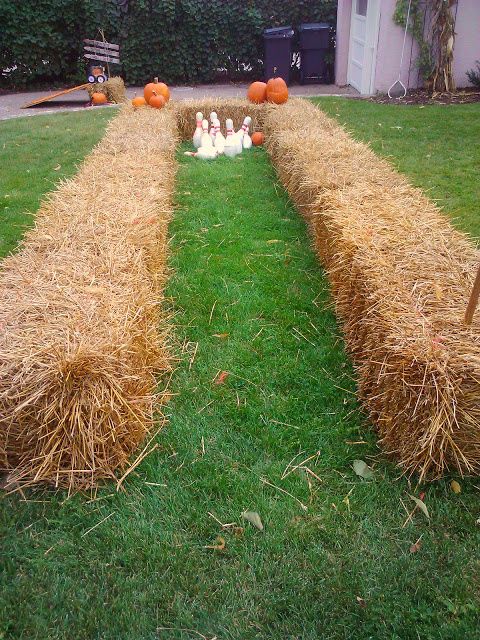 Over at The Polohouse, I spotted a Fall Bowling Alley you have to see!
Framed with hay bales that are perfect for a crisp Halloween party hanging outside.
I might try using small pumpkins instead of a bowling ball, but other oddly shaped squash might be fun to roll down the alley too!
Halloween Cornhole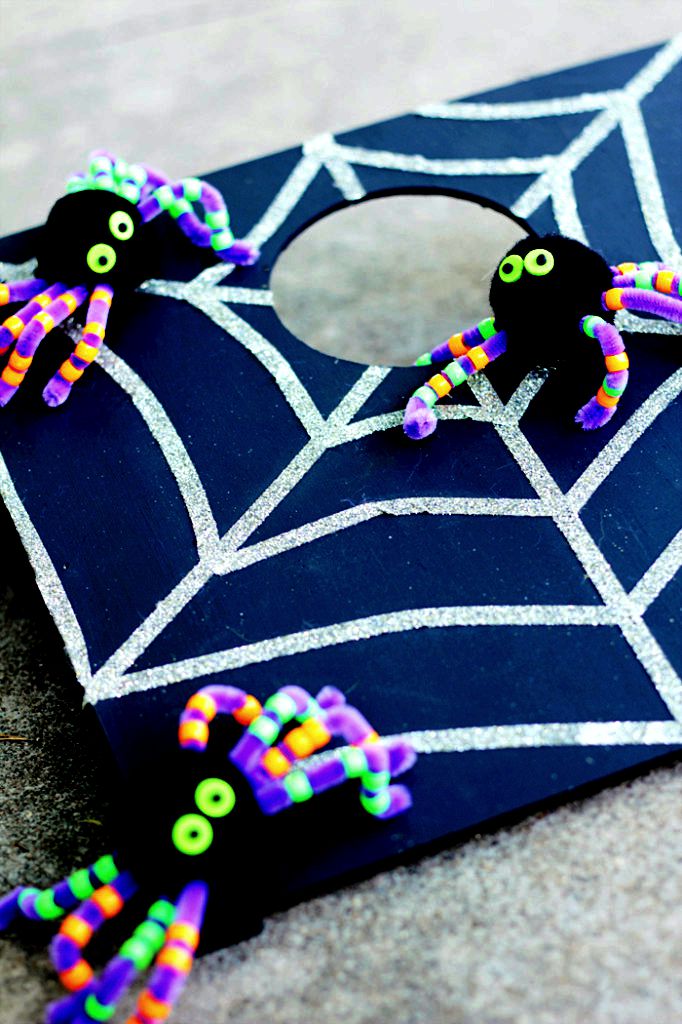 OMG, have you ever played Cornhole?
It is one of THE games to play during football season while you tailgate or throw a party.
Make a fun Halloween Cornhole and watch your friends compete in the ultimate competition. You can decorate your existing board by covering it with a poster board or make a brand new board for your party.
I would make sure my toss items are at least as heavy as a bean bag to make the game fair and fun. Line two boards facing each other for a little more competition!
Fear Factor Style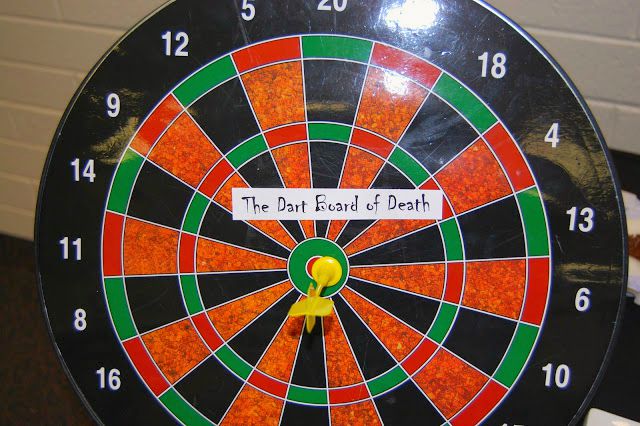 Over at Cook create Consume, they created a fun game I am dying to play.
Though Fear Factor is not really a TV thing anymore, you can easily adapt this Dartboard of Death for your Halloween party.
Depending on where the darts land, players then have to choose from a variety of gross foods with icky labels to eat. The blog mentions a couple other simple but creepy games also.
This game is creeping me out!
Related: Faction Focused Divergent Party Ideas
My squad is going to have so much fun. I cannot wait to see everyone's costumes and to play a few of these fun games at my party.
Yeeeeettt! I cannot wait for my party!
So lovelies, what is your fav Halloween party games to play? What game am I missing that I must add?