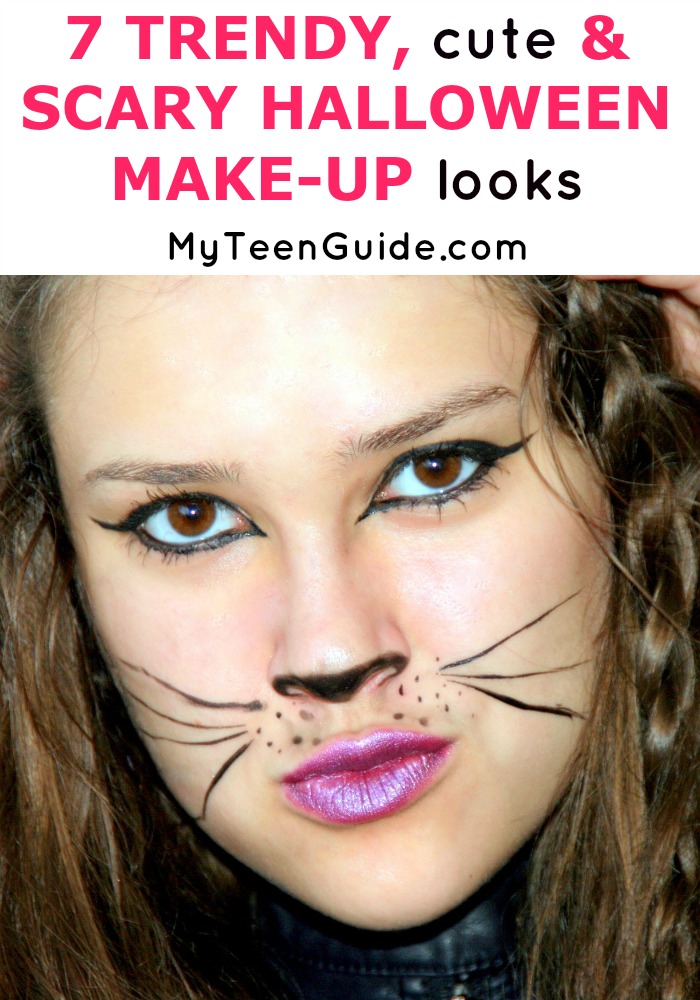 Halloween is right around the corner! It's time to start thinking about Halloween beauty ideas including costume, make-up and hairstyle ideas. Whether you're looking for a scary makeup look to prank your friends or a cute look for girls night – we've got you covered! Check out our favorite looks below!
Related: 5 Halloween Costumes You Can Make By Raiding Your BFF's Closet
All The Halloween Beauty Ideas To Try!
1. Spider Web Eyeshadow – This is a super cute look for the Halloween dance or party. The look allows you to be creative and play with different colors. You could opt for silver and black or throw some gold sparkle in too. You could also experiment with brighter colors. The possibilities are endless! Pair this outfit with a cute black body suit or jumpsuit.
https://www.instagram.com/p/-A_2BJrAQP/?tagged=spiderwebeyeshadow
2. Glass Doll – If you're looking for a scary look this is the one for you! Whether you're going trick or treating or dressing up for school, this is a great one to try! Pair this look with a cute, flowy dress and knee socks.
https://www.instagram.com/p/9jKAsVwijg/?tagged=creepydollmakeup
3. Cute Cat – This look is a classic and is relatively simple to create. Try a cute black skirt and bodysuit to complete the look. Add a little face paint and you're good to go!
https://www.instagram.com/p/BJXAvplDwnV/?tagged=catmakeup
4. Modern Witch – I love this look! It's a great modern take on the classic witch for Halloween. Experiment with different colors and get your eyeliner ready! Now all you need is your hat.
https://www.instagram.com/p/BJypdiFDzAf/?tagged=witchmakeup
5. Scarecrow- This is an awesome, creative and different make-up look for Halloween! Grab some face paint, black eyeliner, and your straw hat! This is an awesome look for trick or treating or your school's dress up day. Put on some overalls to complete the look!
Related: 8 Spooktacular Halloween Nail Art Ideas
https://www.instagram.com/p/9BHo_KoOJZ/?tagged=simplehalloweenmakeup
6. Fairy – This look is definitely a cute one! This is the perfect look for a Halloween party with your friends. The silver sparkles around the eyes really complete the look. Don't forget your flower crown and a flowy sundress!
https://www.instagram.com/p/BJ99UAlDcao/?tagged=fairymakeup
7. Candy Corn Eyeshadow – This look is simple yet cute! The candy corn eyeshadow is stunning with the bold black lip for Halloween. It's the perfect combination if you're looking for a subtle way to be festive. If the black lip isn't for you just replace it with a plain gloss to add shine.
https://www.instagram.com/p/BJ3CLd-DPzp/?tagged=candycornmakeup
These seven looks are great for your Halloween needs whether it's a party, a dance, or trick or treating. Which look is your favourite? Is there one of these Halloween beauty ideas that you would like to try? Please let us know in the comments below. We love hearing from you!
Image Via Pixabay