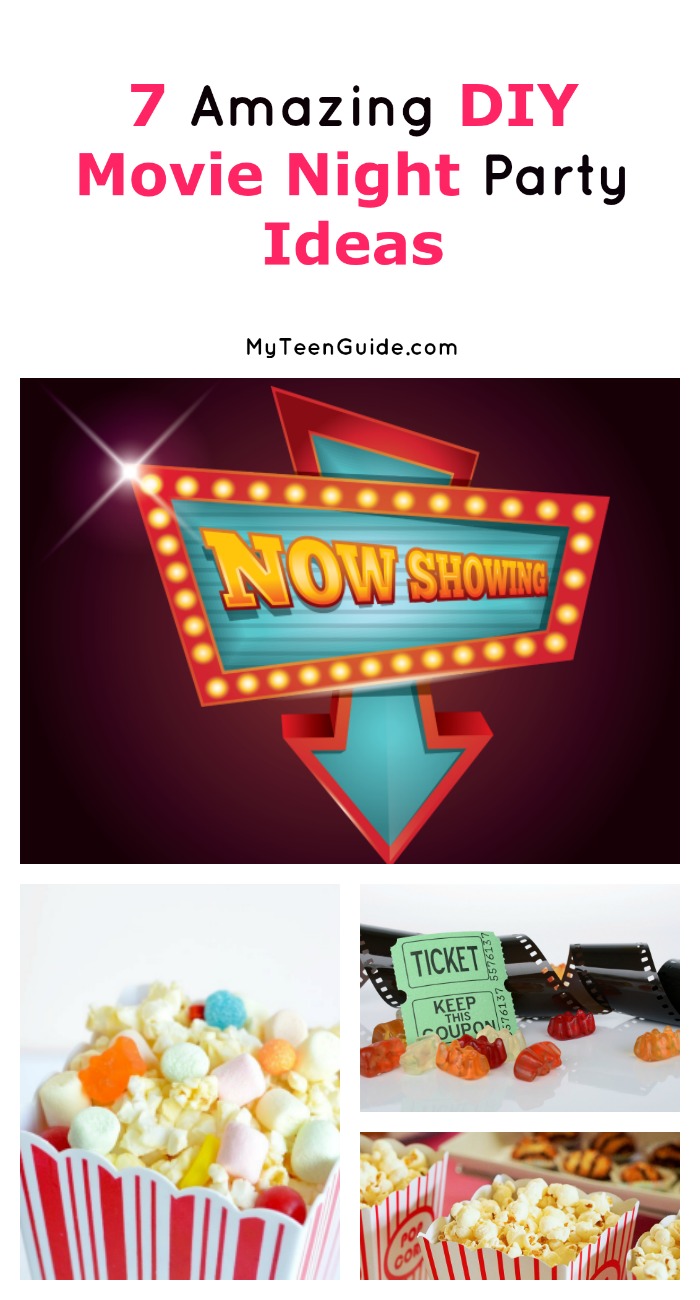 Plan a chill night in with the girls with these amazing DIY movie night party ideas! Though going to the mall for some retail therapy and hanging out in the city are great ways to spend time with your girlfriends, sometimes the most exciting hangouts can happen right at home! Who doesn't like watching movies, eating popcorn and doing girly things? DIY movie nights are the perfect way to relax, snack and have fun with your closest friends. Of course, to make this movie night memorable, you'll want to add your own special touches. Here are 7 fun DIY movie night party ideas that will take your party from fun to super amazing.
Movie Night Party Ideas
Affiliate links included below. Thanks for your support!
1. DIY movie ticket invitations
What's a party without an invitation? To set the theme, send out invitations that look like movie tickets
! Be sure to include the when and where on your invitations. You can find tutorials online or use your creative side to come up with your own design. Of course, don't forget to use plenty of glitter!
2. Popcorn bar
Everyone likes to eat popcorn while watching movies, but sometimes plain butter can get boring. Pop normal popcorn and then set up a popcorn bar where your friends can add toppings to their popcorn like caramel, salt, sprinkles, white chocolate and more!
3. Trail mix bar
If you want your DIY party night to be unique, skip the popcorn and go for a trail mix bar. Be sure to include peanuts, chocolate, raisins and even cereal. The more options, the better!
4. DIY marquee sign
To announce the movies you'll be playing, you can easily create a marquee sign. All you need is thick black paper, white lights
, and a white marker. Punch holes into the paper, add the lights in each hole and write the movie name on the sign. Viola!
5. Indoor lanterns
If your movie night will be held inside, spice up the space by creating lanterns. All you need are empty mason jars and flameless candles or even glow sticks. Add a source of light in the mason jar and you've got cute lanterns that will last all night!
6. Create snack boxes for each guest
Snack boxes are perfect for keeping your guests full and entertained. Decorate boxes or purchase inexpensive ones
from the store and fill them with candy, chips, popcorn, soda and other items that are must haves for the movie!
7. BYOS (Bring Your Own Seat)
Unless you have a massively huge couch or a ton of really comfy lawn chairs
(as in comfy enough to sit on for two hours!), you might want to ask your guests to bring their own seat. For indoor parties, ask them to bring along a cushion or comfy pillow to sit on. That way, you can take advantage of floor space.
Now all you need to do is pick the movie! Make sure you choose something that all your guests will love. A few great picks include these movies that were better than the book or epic fantasy movies like Lord of the Rings.
Have you ever thrown a DIY movie night? What did you incorporate to make it exciting for you and your friends?