One of the best things about fall (besides the candy, of course): watching scary movies like Halloween!
Yes, I know that you can watch horror movies any time of the year, but there's just something about Halloween that makes watching thrillers so much more, well, thrilling!
With the latest Halloween movie due out in theaters on October 19, 2018, you'll have to wait a few weeks to find out what Michael Myers is up to this time around.
So, to keep you occupied until then, let's talk about some other horror, slasher movies you can watch.
I bet there are at least a few you haven't seen yet!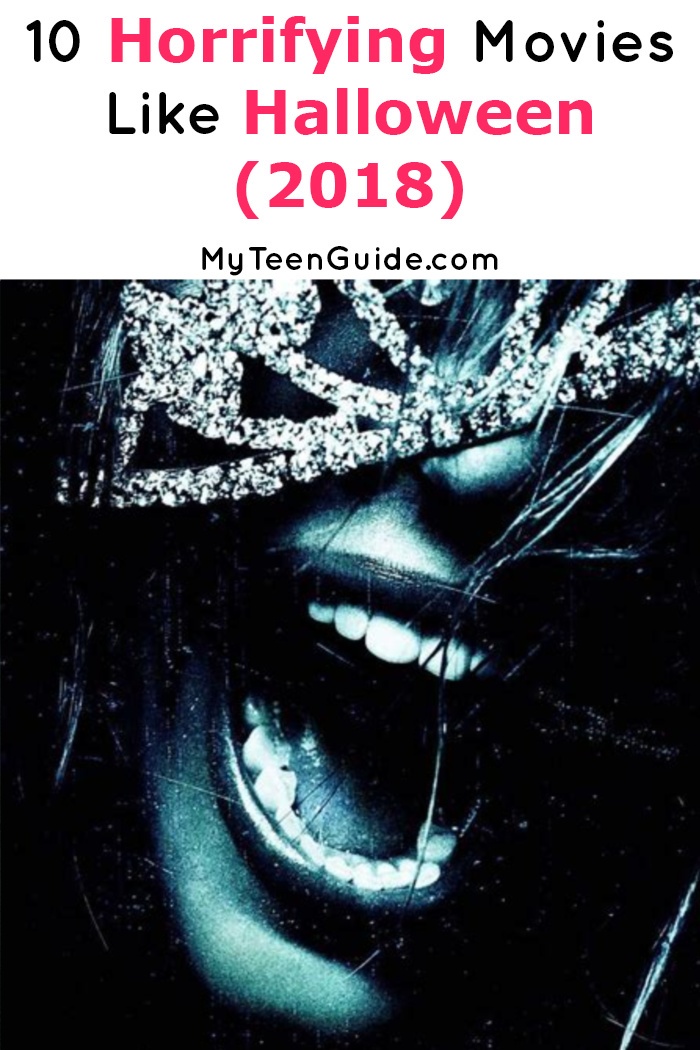 Scary Slasher Movies Like Halloween
This post contains affiliate links. If you make a purchase through these links, we earn a small commission at no extra charge to you.
Now, I'm not going to include movies like Friday the 13
th, Nightmare on Elm Street
, Scream
or Texas Chainsaw Massacre
.
Why? Because those are obvious films that you've probably already seen!
Instead, we're going to talk about other great movies that you may not have seen. So, grab some popcorn, turn off all the light and settle in on the couch for some great movies like Halloween.
1. Dark Ride
Dark Ride is a 2006 horror, thriller movie. Ten years ago, twin sisters were brutally murdered at an amusement park attraction known as Dark Ride.
The attraction has now been reopened and a group of six friends are excited to check it out.
Little do they know, the psychopath, Jonah (David Warden), who murdered the twins, has just escaped from a mental institution and plans to seek refuge at the attraction.
Dark Ride also stars Jamie-Lynn Sigler, Jennifer Tisdale, Patrick Renna, David Clayton Rogers, Alex Solowitz and Andrea Bogart.

2. Prom Night
Prom Night is a 2008 horror, mystery, slasher movie that is a loose remake of the 1980 movie.
It has been 3 years since Donna Keppel (Brittany Snow) witnessed Richard Fenton (Jonathon Schaech), her former teacher, murder her parents and younger brother.
Now, it is the night of Donna's senior prom and she learns that Richard has escaped from prison.
He is headed straight to Donna's prom and will kill anyone who stands between him and his reunion with Donna. (Well, I have to say that I am glad that my senior prom was nothing like this movie…LOL)!

3. My Bloody Valentine 3D
My Bloody Valentine 3D is a 2009 horror, mystery, slasher, thriller movie that is a reboot of the 1981- My Bloody Valentine
.
On Valentine's Day 1998, a serial killer goes on a murderous rampage, taking the lives of 22 people.
Fast-forward to 2008 and as Tom Hanniger (Jensen Ackles) returns to his hometown after being away for 10 years, the killings begin all over again.
When Tom becomes the prime suspect in both killing sprees, the only person who believes in his innocence is his ex-girlfriend- Sarah Mercer (Jaime King). (Gee, I always thought that Valentine's Day was about love and romance).

4. My Super Psycho Sweet 16
My Super Psycho Sweet 16 is a 2009 teen, drama, horror, slasher movie that is based on the reality television series- My Super Sweet 16
.
The movie is the prequel to the 2010- My Super Psycho Sweet 16: Part 2 and the 2012- My Super Psycho Sweet 16: Part 3.
Madison Penrose (Julianna Guil), a spoiled teenager, begs her parents to re-open the Roller Dome, a former popular roller skating rink, for her Sweet 16 birthday party.
The Roller Dome was once owned by Charlie Rotter (Alex Van), who had murdered a handful of people at the rink a decade ago. Charlie was presumed dead after a prison van crash, but Charlie isn't dead, and he has plans to return to the seen of the crime to cause chaos at Madison's party.

5. Sorority Row
Sorority Row is a 2009 horror, mystery, slasher movie that is a remake of the 1983- The House on Sorority Row
.
After covering up the accidental death of a fellow sorority sister, the 5 remaining sorority sisters are stalked by a mysterious killer on the night of their college graduation.
Sorority Row stars Briana Evigan, Leah Pipes, Rumer Willis, Jamie Chung and Margo Harshman.
(Wow…I surely hope that after the hard of college years, no one ever has to go through this mess on their graduation night. Wouldn't you agree)?

6. You're Next
You're Next is a 2011 horror, slasher, thriller movie that centers on the Davison family, specifically, the anniversary getaway of Paul (Rob Moran) and Aubrey (Barbara Crampton).
The family soon find themselves under attack by a gang of masked, ax-wielding assailants.
You're Next also stars Nicolas Tucci, A.J. Bowen, Joe Swanberg, Sarah Myers and Amy Seimetz.

7. Axeman
https://www.youtube.com/watch?v=Q8XtXCgA73U
Axeman is a 2013 horror movie that is the prequel to the 2017- Axeman 2: Overkill.
The movie focuses on a group of vacationing young adults, who are staying in a cabin that was previously owned by a family who were brutally murdered.
The family was murdered by The Axeman (Scott Pollard), an axe-wielding serial killer. Now, the group of young adults find themselves terrorized by The Axeman. Axeman also stars Elissa Dowling, Chantelle Albers and Stephen Eith.

(Is it me or is an axe-wielding madman a common them in horror, slasher movies? I mean, I just listed 2 and then there's others, like Friday the 13
th
,
The Shining
and
American Psycho
. Not that I am condoning serial killers or anything because I am certainly not, but maybe they need to get a bit more creative and use things like a flashlight, a frying pan, a glass bottle or a screwdriver, right? What other some other items you can think of)?
8. Mischief Night
Mischief Night is a 2013 drama, horror, thriller movie that centers on Emily Walton (Noell Coet), who suffers from psychosomatic blindness, caused by a car accident that killed her mother.
On Mischief Night, Emily finds herself terrorized by a hooded, mysterious killer.
If you haven't seen this movie, it should be on your must-watch list. While it is a horror movie, one of my favorite things about this movie is how Emily doesn't act like the helpless victim, but she is brave, confident and empowered in the face of evil.

9. Hush
Hush is a 2016 horror, slasher, thriller movie that focuses on Madison Young (Kate Siegel), a young author who cannot hear or speak and lives a solitary live in a house in the woods.
One night, Madison finds herself terrorized by a masked intruder/killer known as The Man (John Gallagher).
Like Mischief Night, Hush also features a main character- Madison, who is courageous, poised and strong during a time of extreme danger.
So, just how good is Hush? Good enough for Stephen King- The King of Horror- to sing its praise on his Twitter page.

10. Happy Death Day
Happy Death Day is a 2017 horror, mystery, slasher, thriller movie that is the prequel to the upcoming 2019- Happy Death Day 2U.
The movie centers on Theresa Gelbman (Jessica Rothe), a college student who was murdered on her birthday by a masked, hooded madman.
Later, Theresa finds herself relieving her birthday over and over again. Does this remind you of a non-horror movie? Yep- it's the 1993- Groundhog Day, where the main character- Phil Connors relieves Groundhog Day over and over.
Now, Theresa must find out who her killer is in order to stop the time loop.

Wondering where the ratings are? Look, I'm going to be honest with you: none of these movies exactly killed it with the critics! Slasher horror movies rarely do. They're not exactly "thinkers," after all.
While there are a few exceptions (Happy Death Day pulled off a 70%, and You're Next managed a 77%), most horror movies are lucky to pull down average ratings. It's kind of a minor miracle that Halloween (2018) already scored an 80% with Rotten Tomatoes critics! If you're wondering, the original scored a 93%!
Do you have any other favorite horror movies like Halloween? Share below!