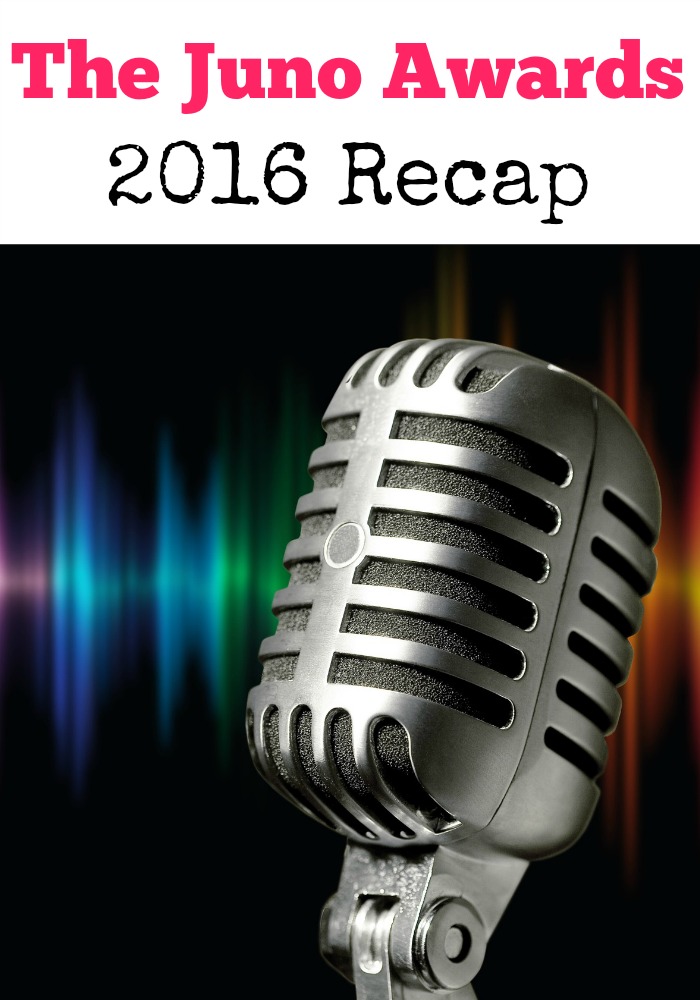 If you love the best music in the industry with half the drama for your mama, then you need to see our 2016 Juno Awards recap. Canadian artists know their music. I bet you recognize more than a few of these artists, and if you don't then you have some music to catch up! I simply love the sounds happening in music this year. I literally can't even. Sure there is Justin Bieber saying "sorry' a lot (A little Canadian joke! The Biebs should be saying sorry after how he treats Selena Gomez!). Look past the Biebs and you find an amazingly talented group of nominees like Shawn Mendes, The Weeknd, Alessia Carr and one of my favs Walk Off The Earth (fangirl squeal!) who were simply slaying the Juno Awards last night.
The Full 2016 Juno Awards Recap
Ready for the full 2016 Juno Awards recap? Let's go, because this music is epic. I dare you to make it through this recap without adding something to your playlist. At the end of the post, I listed all of the 2016 Juno Awards nominees and winners. If you're dying to see if your fav won, I won't judge you if you skip ahead first then skip back to read the recap. 😉 Let's get on with the details for the 2016 Juno Awards recap!
The 2016 Juno Awards Recap: The Hosts And Preshow Awards
The 2016 Juno Awards were held live last night at the Scotiabank Saddledome in Calgary, Alberta, Canada. The show's hosts were Juno Award winner Jann Arden and the host of The Amazing Race Canada, Jon Montgomery. Most of the awards were presented on April 2, 2016, at the Juno Gala Dinner and Awards, hosted at the Calgary TELUS Convention Center. Also, awards were also presented for the Walt Grealis Special Achievement Award to Rosalie Trombley, and the Allan Waters Humanitarian Award is awarded to Arcade Fire for their contributions to several non-profit organizations. At the gala dinner before the event, there was also a couple of excellent performances such as Young Empires singing "The Gates," Jazz All-Stars performing "Mr. Clean," and the Afiara Quartet & Skratch Bastid sharing a musical cross between orchestra and electronic with "Through The Invisible." My favorite performance was Fortunate Ones singing "Wherever You Go." 
The 2016 Juno Awards Recap: The Main Event
The show opened with newcomer Alessia Cara singing two songs: Here and Wild Things. She did a simply fab job. I have heard her song Wild Things before but this was my first time hearing Here live, beautiful song!
The hosts of tonight's show, Jann Arden, and Jon Montgomery took the stage. Jann commented, "One of the reasons I took this job was to increase my Twitter Canada followers." Ha, aren't we all Jann.
Scott Helman takes the stage to perform his song, Bungalow. After his amazing and bright performance, he presented the award for Group of the Year to Walk Off the Earth. Their acceptance speech included, "If you have a dream, go out and go for it." Walk Off The Earth are the cutest ever, and have an awesome sound.
Buffy Sainte-Marie is onstage to perform a spoken word piece for her hit song, Carry It On. This piece was full of passion and focused on the environment, urging all to take care of Mother Nature.
The award for Single of the Year was presented by Buffy Sainte-Marie, to The Weeknd for his song Can't Feel My Face. His speech was short, but he did say, "I want to thank my fans, you've been with me since day one!"
Shawn Hook takes the stage for his song Sound of Your Heart. Great performance and man, can he play the piano. Next performance is LIGHTS performing her song Running with the Boys along with local performer Sam Spensley. The performance was to promote MusiCounts, Canada's charity for music education that is partnered with The Canadian Academy of Recording Arts and Sciences. It was truly a beautiful, heartwarming performance. Two more performances were up next: country singer Dean Brody with Bring Down the House and Coleman Hell with his song, Two Heads. Brody reminds me of a cross between Eric Church and Jason Aldean. He wears the sunglasses like Church does and the cowboy hat like Aldean. Both great performances.
Jus Reign, the creator of Much Digital Studios and Kardinal Offishall, Canada 150 Ambassador, present the award for Best Country Album to Dean Body for his album, Gypsy Road. Congrats to him, well-deserved!
Then we had four more performances back to back. Shawn Mendes killed it with Stitches, married couple duo Whitehorse performed Tame as the Wild Ones, The Weeknd slayed the song Acquainted and lastly Might Not and Dear Rouge with I Heard I Had.
Alan Doyle and Melanie Joly, Minister of Canadian Heritage, present the award for Breakthrough Artist to the well-deserving and talented Alessia Cara. During her speech, she said, "I'm just a regular girl who lived the most normal life, and I released a song and it hasn't been the same since." Keep an eye on Alessia Cara; she has a big future ahead.
Canadian rockers from Alberta, Nickelback, inducts Burton Cummings into the Canadian Music Hall of Fame. During his speech he stated, "This belongs to all of you. I will always try to honor the music, thank you so much."
Rock legend and icon, Bryan Adams, takes the stage for a performance of his newest song, Go Down Rockin'. Let me tell you at age 56, this guy can still rock the stage. Loved it!
The final two awards of the night are presented: Fan Choice Award was presented to Justin Bieber (I think he was at the iHeart Music Awards tonight) and Album of the Year was presented to The Weeknd for his album Beauty Behind the Madness. The Weeknd was presented with his award by the mayor of Calgary, Naheed Nenshi.
The show closes with a fitting tribute to Burton Cummings, featuring Shawn Hook and Jann Arden singing Break It to Them Gently, The Tenors singing Stand Tall and Burton Cummings and his band, The Carpet Frogs, singing My Own Way to Rock!
The 2016 Juno Awards Recap: The Big List Of Nominees & Winners
JUNO FAN CHOICE AWARD
Alessia Cara
Carly Rae Jepsen
Cœur de pirate
Dean Brody
Drake
Justin Bieber- WINNER
Shawn Hook
Shawn Mendes
The Weeknd
Walk Off the Earth
SINGLE OF THE YEAR
Here, Alessia Cara
Hotline Bling, Drake
What Do You Mean? Justin Bieber
Clothes Off, Ria Mae
Can't Feel My Face, The Weeknd- WINNER
INTERNATIONAL ALBUM OF THE YEAR
25, Adele- WINNER
Hozier, Hozier
Title, Meghan Trainor
Four, One Direction
Dream Your Life Away, Vance Joy
ALBUM OF THE YEAR
If You're Reading This It's Too Late, Drake
À Paradis City, Jean Leloup
Purpose, Justin Bieber
Handwritten, Shawn Mendes
Beauty Behind the Madness, The Weeknd- WINNER
ARTIST OF THE YEAR
City and Colour
Drake
Justin Bieber
Shawn Mendes
The Weeknd- WINNER
GROUP OF THE YEAR
Hedley
Marianas Trench
Metric
Three Days Grace
Walk Off the Earth- WINNER
BREAKTHROUGH ARTIST OF THE YEAR
Alessia Cara- WINNER
Coleman Hell
Francesco Yates
Scott Helman
Tobias Jesso Jr.
BREAKTHROUGH GROUP OF THE YEAR
Dear Rouge- WINNER
Half Moon Run
Milk & Bone
The Elwins
Young Empires
SONGWRITER OF THE YEAR
Abel Tesfaye- WINNER
Béatrice Martin
Buffy Sainte-Marie
Dallas Green
Tobias Jesso Jr.
COUNTRY ALBUM OF THE YEAR
Anchor, Autumn Hill
Pick Me Up, Brett Kissel
Gypsy Road, Dean Brody- WINNER
County Line, High Valley
Frontier, Paul Brandt
ADULT ALTERNATIVE ALBUM OF THE YEAR
If I've Only One Time Askin', Daniel Romano
The Park Avenue Sobriety Test, Joel Plaskett
In My Dreams, Mo Kenney
Goon, Tobias Jesso Jr.
Leave No Bridge Unburned, Whitehorse- WINNER
ALTERNATIVE ALBUM OF THE YEAR
Deep in the Iris, BRAIDS- WINNER
Poison Season, Destroyer
Are You Alone? Majical Cloudz
Half Free, U.S. Girls
Viet Cong, Viet Cong
POP ALBUM OF THE YEAR
Hello, Hedley
Purpose, Justin Bieber- WINNER
Augusta, Scott Helman
Handwritten, Shawn Mendes
Sing It All Away, Walk Off the Earth
ROCK ALBUM OF THE YEAR
Get Up, Bryan Adams
The Physical World, Death from Above 1979- WINNER
Chaotic Neutral, Matthew Good
No Fixed Address, Nickelback
Future Nostalgia, The Sheepdogs
VOCAL JAZZ ALBUM OF THE YEAR
New, Alex Pangman
Live from the Cellar, Dan Brubeck Quartet
Clear Day, Emilie-Claire Barlow- WINNER
This Bitter Earth, Jaclyn Guillou
Some Version of the Truth, Tara Kannangara
JAZZ ALBUM OF THE YEAR: SOLO
It's About Time, Al Muirhead
Dialectics, Curtis Nowosad
Abeng, Rich Brown
Movin' Forward, Robi Botos- WINNER
Duets, Tara Davidson
JAZZ ALBUM OF THE YEAR: GROUP
Forest Grove, Allison Au Quartet- WINNER
Over My Head, Brad Turner Quartet
What I Hear Now, Jerry Granelli Trio
Stealing from My Youth, Mark Kelso & The Jazz Exiles
Sheer Tyranny of Will, Peripheral Vision
INSTRUMENTAL ALBUM OF THE YEAR
Spin Cycle, Afiara Quartet, and Skratch Bastid
Never Were the Way She Was, Colin Stetson, and Sarah Neufeld- WINNER
Orchestral Powwow, Cris Derksen
Lost Voices, Esmerine
Legacy Live, Jens Lindemann and Tommy Banks
FRANCOPHONE ALBUM OF THE YEAR
22h22, Ariane Moffatt
Zulu, Galaxie
À Paradis City, Jean Leloup- WINNER
Les grandes artères, Louis-Jean Cormier
Si l'aurore, Marie-Pierre Arthur
CHILDREN'S ALBUM OF THE YEAR
Greatest Hits, Big Block Singsong
Dirty Feet, Bobs & LoLo
Forest Friends' Nature Club Album, Ginalina
Songs from the Boot, Splash'N Boots
More Sheep, Less Sleep, The Swinging Belles- WINNER
CLASSICAL ALBUM: SOLO OR CHAMBER ENSEMBLE
Liszt: Piano Sonata & Sonnets, Angela Hewitt
Chamber Works by Jerzy Fitelberg, ARC Ensemble
Mendelssohn: Op. 44 nos. 1, 2, Cecilia String Quartet
Berlin Sonatas, Elinor Frey
Franck & Strauss: Violin Sonatas, James Ehnes- WINNER
CLASSICAL ALBUM: LARGE ENSEMBLE OR SOLOIST(S) WITH LARGE ENSEMBLE ACCOMPANIMENT
Vivaldi: Four Seasons, James Ehnes with the Sydney Symphony
Mahler 10, Orchestre Métropolitain
Symphony and New Works for Organ and Orchestra, Orchestre Symphonique de Montréal with Olivier Latry and Jean-Willy Kunz- WINNER
Tomasi, Desenclos, Jolivet: French Trumpet Concertos, Paul Merkelo, Orchestre Symphonique de Montréal
Rachmaninov: Piano Concertos 2 & 3, Stewart Goodyear with the Czech National Symphony
CLASSICAL ALBUM: VOCAL OR CHORAL PERFORMANCE
Vivaldi: Sacred Music, Vol. 4, Claire de Sévigné, Maria Soulis, and Aradia Ensemble
Sacred Reflections of Canada – A Canadian Mass, Canadian Chamber Choir
Peter-Anthony Togni: Responsio, Jeff Reilly with Andrea Ludwig, Charles Daniels, John Potter, and Suzie
Leblanc
Las Ciudades de Oro, L'Harmonie des Saisons- WINNER
Chansons Perpétuelles, Marie-Nicole Lemieux
CLASSICAL COMPOSITION OF THE YEAR
Two Pop Songs on Antique Poems, Dinuk Wijeratne- WINNER
Piano Quartet, John Burge
The Afar, Jordan Pal
Centennials, Michael Oesterle
Bookburners, Nicole Lizée
RAP RECORDING OF THE YEAR
Sour Soul, BADBADNOTGOOD & Ghostface Killah
If You're Reading This It's Too Late, Drake- WINNER
Kardi Gras Vol. 1: The Clash, Kardinal Offishall
Can't Fly Without Gravity, k-os
For The Town, SonReal
DANCE RECORDING OF THE YEAR
We All Fall Down ft. Jamie Lidell, A-Trak
Badman (Torro Torro Remix), Autoerotique & Max Styler
At All, Kaytranada
Save Me ft. Katy B, Keys N Krates- WINNER
Be Right There, Sleepy Tom & Diplo
R&B/SOUL RECORDING OF THE YEAR
Four Pink Walls, Alessia Cara
The Fall Out, August Rigo
Déjà Vu, Dru
Butchy's Son, Patrick Lehman
Beauty Behind the Madness, The Weeknd- WINNER
REGGAE RECORDING OF THE YEAR
The French Sessions, Dubmatix
Hello Mama, Exco Levi
Nah Complain Ft. Daddy U Roy, Kafinal- WINNER
Sexy Gal ft. T.O.K., Kreesha Turner
Escape from the Mongoose Gang, Lyndon John X
ABORIGINAL ALBUM OF THE YEAR
The One, Armond Duck Chief
Come and Get Your Love: The Tribe Session, Black Bear
Power in The Blood, Buffy Sainte-Marie- WINNER
Rumble, Derek Miller
Refined, Don Amero
CONTEMPORARY ROOTS ALBUM OF THE YEAR
So Let's Go, Alan Doyle
Power in The Blood, Buffy Sainte-Marie- WINNER
The Bliss, Fortunate Ones
Indian Ocean, Frazey Ford
Beautiful Scars, LeE HaRVeY OsMOND
TRADITIONAL ROOTS ALBUM OF THE YEAR
The Chance, J.P. Cormier
Jayme Stone's Lomax Project, Jayme Stone
Domestic Eccentric, Old Man Luedecke
A Wanderer I'll Stay, Pharis and Jason Romero- WINNER
Songs in The Dark, The Wainwright Sisters
BLUES ALBUM OF THE YEAR
Faded but Not Gone, Big Dave McLean
Brothers in This World, Blackburn
Vicksburg Call, David Gogo
This Is from Here, Harrison Kennedy- WINNER
Sliding Delta, Michael Jerome Browne
CONTEMPORARY CHRISTIAN/GOSPEL ALBUM OF THE YEAR
Brave New World, Amanda Cook
Where The Light Is, Dan Bremnes- WINNER
Saints & Sinners, Matt Maher
We Are, The City Harmonic
TREES – Chapter 2, Tim Neufeld
WORLD MUSIC ALBUM OF THE YEAR
Healer, Alex Cuba
Neo-Reconquista, Boogat- WINNER
Revuelta Danza Party, Gypsy Kumbia Orchestra
Moorka, Lemon Bucket Orkestra
Resistance, The Souljazz Orchestra
PRODUCER OF THE YEAR
Bob Ezrin- WINNER
Dallas Green
Henry "Cirkut" Walter
Steve Webster & Emilie-Claire Barlow
Thomas "Tawgs" Salter
RECORDING ENGINEER OF THE YEAR
Gus Van Go,
Liam O'Neil
Noah "40" Shebib
Serban Ghenea
Shawn Everett- WINNER
RECORDING PACKAGE OF THE YEAR
CLUB MEDS, Dan Mangan + Blacksmith – Cam Dales and Ben Clarkson
LOST VOICES, Esmerine – Clyde Henry Productions: Chris Lavis and Maciek Szczerbowski, Constellation: Ian Ilavsky- WINNER
ELEMENTS, Long Distance Runners – Duncan Major, Joel Upshall
WEST TRAINZ, West Trainz – Erik West Milette
LES GRANDES ARTÈRES, Louis-Jean Cormier – Sarah Marcotte-Boislard
VIDEO OF THE YEAR
Virgins, Eva Michon (Death from Above 1979)
Dark Days, Jeremy Schaulin-Rioux and Chandler Levack (Pup)
For the Town, Peter Huang (Sonreal)
Avalanche, Philip Sportel (Kalle Mattson)
Hello, Xavier Dolan (Adele)- WINNER
ELECTRONIC ALBUM OF THE YEAR
A Life Well Lived, AM Static
Concubine, Concubine
The Midas Touch, Discrete
Noontide, Humans
The Other Day, Pomo- WINNER
HEAVY METAL ALBUM OF THE YEAR
Searching for Zero, Cancer Bats
Never Wanna Die, Diemonds
Desire Will Rot, Fuck the Facts
Of Ghosts and Gods, Kataklysm- WINNER
Success, KEN mode
ADULT CONTEMPORARY ALBUM OF THE YEAR
Wallflower, Diana Krall
Refined, Don Amero
A Jann Arden Christmas, Jann Arden
What Love Is All About, Johnny Reid- WINNER
Under One Sky, The Tenors
So lovelies, what did you think of the 2016 Juno Awards recap? Did you see any of your fav artists take home an award? Is there anyone on this list that you rock out too? Tell me in the comments!
*Image via Pixabay