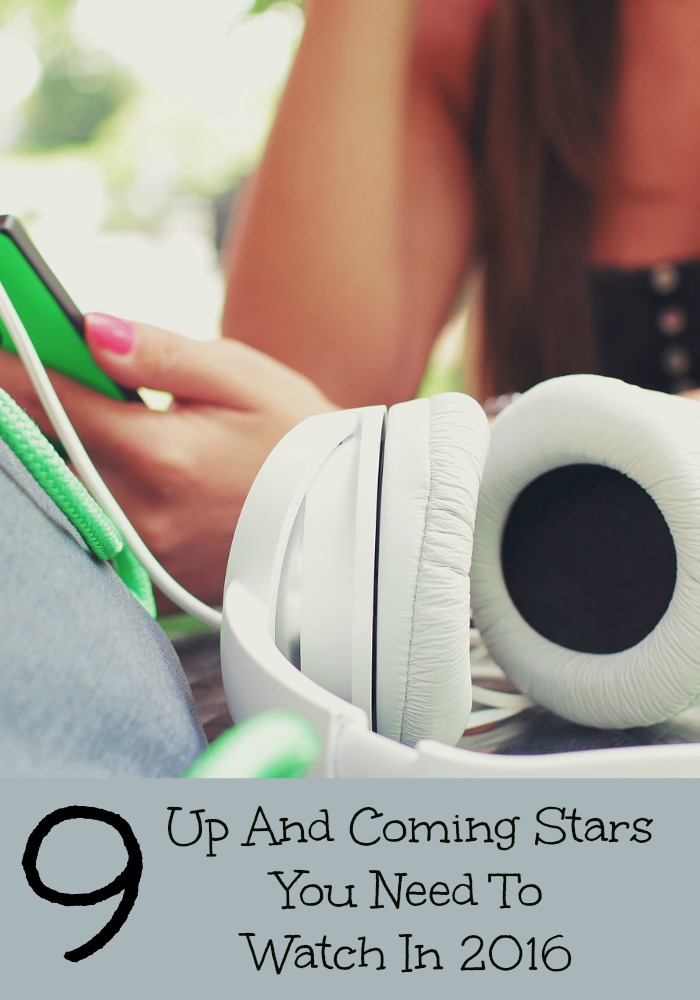 2015 has been an incredible one in the entertainment industry. From the hit singles to big blockbusters to fierce runways we've truly seen it all. This can only mean one thing – that 2016 will be even bigger and better. As we look to the exciting year ahead, let's keep our eyes on these nine celebrities. These nine talented individuals had extremely productive careers in 2015. From musicians like Alessia Cara, Brett Kissel and Jess Glynne to writers, models and actors, these celebs are sure to bring their A game in 2016, and we want to make sure that you have a front row seat to their success. These are the nine celebs to watch as we ring in the New Year.
9 Up And Coming Musicians, Artists and Actors To Watch in 2016
Alessia Cara – This young Canadian singer was thrust into the music scene in 2015 with immense success. She even attracted attention from the likes of pop star extraordinaire, Taylor Swift. Cara performed with Swift on her 1989 tour. The exposure this talented young Canadian is receiving leads us to believe that she will be an even bigger star in 2016! Her debut album Know-It-All was released on November 13, 2015, with her hit single "Here" paving the road to an extremely successful album. This girl is one to watch.
Gigi Hadid
https://www.instagram.com/p/BASOoWHjCcC/?taken-by=gigihadid
This year has been a whirlwind for the young model, Gigi Hadid. From rocking countless runways, magazine covers and photo shoots – Gigi Hadid has surely made 2015 an incredible year. The talented young model booked the Victoria Secret Fashion Show this year, one of her lifelong dreams. She not only booked her dream show but also got to do it with one of her BFFs Kendall Jenner! 2016 is guaranteed to be another fantastic year for this gorgeous model.
The Weekend – Abel Tesfaye took the music world by storm with his hit single "Can't Feel My Face" and album Beauty Behind the Madness. Touring and performing are definitely on the schedule for this young man. He's such a talented artist; keep your eye out for him in 2016.
Brett Kissel
https://www.instagram.com/p/_FjJPqwQXc/?taken-by=brettkissel
This Canadian country singer is a fan favorite. He's brilliant, down to earth and has a heart of gold. When he performs, you can truly see how much he loves every second up on that stage. A humble, class act, Brett Kissel is one artist you can't miss. His new album Pick Me Up was released in September of 2015. He has concert dates already lined up in 2016. If you have the opportunity to see this performer in action, take it!
Shawn Mendes – His album Handwritten was released in April of 2015. Mendes is a talented young musician with a bright future. He has sung with Hailee Steinfeld and Fifth Harmony's Camilla Cabello. You're going to want to follow this young man's career in 2016.
https://www.instagram.com/p/_3KxicjyBx/?taken-by=rmdrk
R.M. Drake – This man is an incredibly talented writer, and his works have been extremely popular on social media. I would recommend following him on Instagram right now. His use of language to create beautiful poetry is astounding. You're guaranteed to fall in love with his work. Be sure to check out his poetry books and stay tuned for some great new work from him in 2016.
John Boyega
https://www.instagram.com/p/_98tJCMCj4/?taken-by=john_boyega
This young actor is capturing our attention. His recent role as Finn in Star Wars: The Force Awakens will undeniably be a great career move for him as he enters 2016. We look forward to seeing what the young actor will accomplish in the upcoming year and beyond.
Jess Glynne – Her album I Cry When I Laugh was released in September of 2015. Her songs Hold My Hand and Don't Be So Hard On Yourself have become extremely popular. The singer will be on tour in 2016, don't miss out!
Hailee Steinfeld
https://www.instagram.com/p/_8SO6NoMmL/?taken-by=haileesteinfeld
This actress is well known for her roles in True Grit and Pitch Perfect 2. She has recently released her debut EP entitled Haiz with hit song Love Myself. We can't wait to see where Hailee's acting and singing careers take her in 2016.
Keep your eye on these nine extremely talented individuals throughout 2016! We can't wait for all that 2016 has to bring.
Who will you keep your eye on in 2016?
*Image via Pixbay