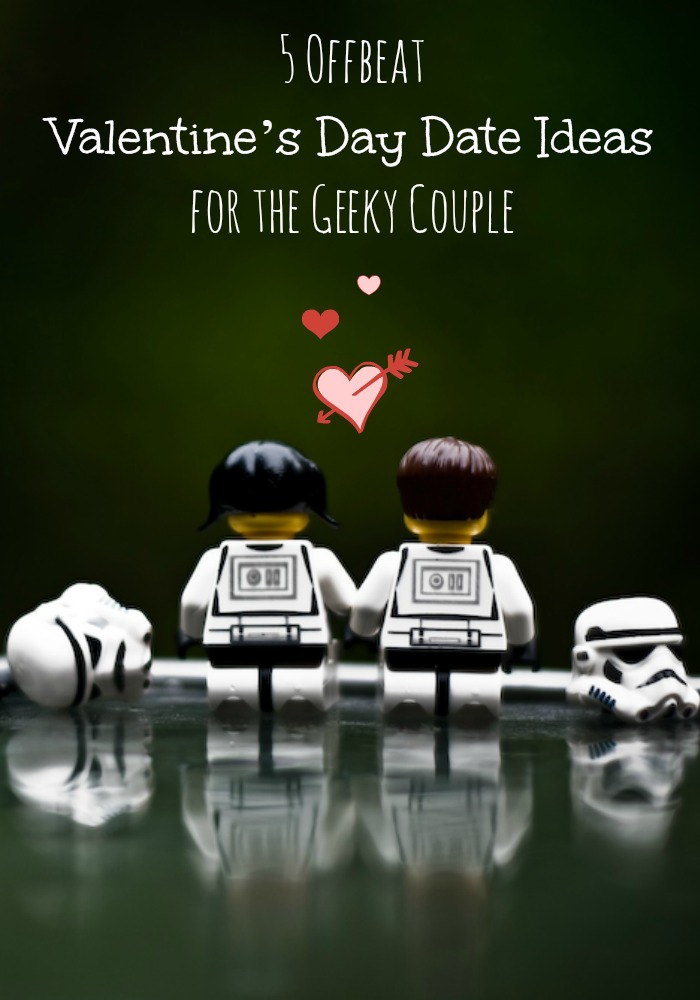 A Valentine's Day date for a geeky couple can get a little complicated and may require a little creativity. While it is easy to grab some roses and call it a Valentine's Day date, your hearts might just love an offbeat celebration. With Valentine's Day coming around the corner super fast, you may want to start planning a fun date for your favorite guy or droid. If you need some ideas to get you started, I've gathered a few to help you get those gears moving. Check our my ideas below!
*THIS POST CONTAINS AFFILIATE LINKS
Valentine's Day Date Ideas For The Geeky Couple
Have A Movie Marathon
Pop some popcorn, cuddle up on the couch and get comfy for a movie marathon. Here are some movie ideas to get you started: Star Wars, Men in Black, Weird Science, Terminator, Lord Of The Rings, Robocop, The Matrix, and The Butterfly Effect. Also, check out some newer favs like Divergent or The Maze Runner.
Related: Best Romance Movies of All Time
Stay Home And Play Video Games
I would love to stay at home and play some video games with my Valentine. The trick is picking something you both enjoy playing. You can choose to team up together or even compete for some tight competition. Some of my fav video game ideas include Minecraft, Borderlands, Magicka, Space Invaders and Mass Effect. This is also a great time to pull out the retro games like Donkey Kong and Mario Kart.
Open A Geeky Cookbook And Make Dinner
Yes, there are some geeky cookbooks out there! Grab one and whip up one of your favorite dishes together. Some great cookbooks are The Unofficial Harry Potter Cookbook, True Blood: Eats, Drinks, and Bites from Bon Temps, Dining with the Doctor: The Unauthorized Whovian Cookbook and The Unofficial Hunger Games Cookbook. Find a cookbook for your favorite fandom, you'll have a blast trying to make one of the recipes!
Play A Board Game Together
Spend your Valentine's Day date playing your favorite board games together. Here are some fun ideas: 7 Wonders, Battlestar Galactica,  Dominion or one of my personal favs: Settlers of Catan. You also must check out Exploding Kittens, a new game from the maker of the cartoon The Oatmeal. I laughed soooo hard playing Exploding Kittens.
Take A Road Trip
Hop in the car and take a road trip this Valentine's Day to somewhere you both have been wanting to visit. This is a great opportunity to be a tourist and explore some cool museums. Some of my fav trips with my sweetie include the Kirkland House in Cambridge, MA, The Computer History Museum in Mountain View, CA, Soudan Underground Mine State Park in Soudan, MN, Mercer Museum in Doylestown and the PA and Spaceport America in Sierra County, NM. Use your imagination and try something new!
Related: Your Guy Will Love these Awesome Valentine's Day Gift Ideas!
Visit The Local Library
While the library may not be the first place you think of when it comes to a date, it is full of interesting books and magazines that will get both of you started talking. You could also head to your local bookstore, grab a cappuccino at their café and spend time reading together. Browse the latest books and discover some new favorites you both will enjoy. Once my sweetie and I read Harry Potter together with the book in between us so we could discuss as we read.
Never fear, Valentine's Day dates are for all and are so much more fun if you are true to yourself. Make sure your Valentine's Day date is about you and your sweetie, not just pink tissues paper and candy hearts.
Which offbeat Valentine's Day date would you give a try? Do you consider yourself a geeky couple, or are you more of a basic kind of couple? Tell me in the comments!
Image Credit: Johnny Worthington