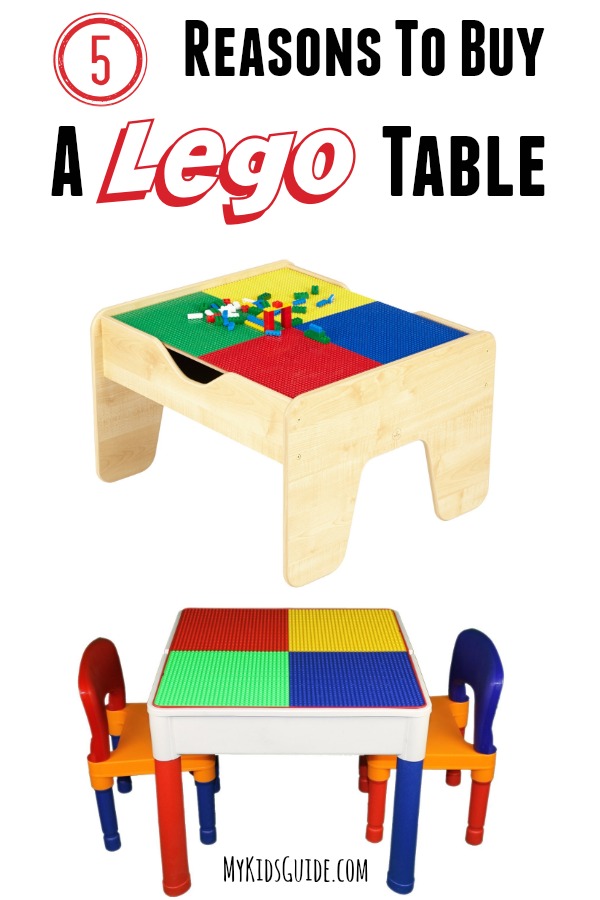 If you have Lego's scattered around your house then these 5 Reasons To Buy A Lego Table should be on your radar right now.  Not only will this make a wonderful holiday gift, it will be multi-purpose.  Lego Tables are an investment that is great if you plan to continue letting your kids play with Lego's regularly.  If you are considering investing in a Lego table, let us give you just a few more reasons to make this purchase!
Related Posts:
5 REASONS TO BUY A LEGO TABLE
They encourage more creative play.  When your kids have a place that is specifically designed for their toys, they are much more likely to sit down and play independently.  A Lego Table is designed so your Legos stay in place.  This helps kids become more creative since they aren't always worrying as much about a tower or building falling over easily.
They cut down on clutter (no more late night Lego foot injuries).  Most Lego tables are large enough for your kids to store most if not all of their Lego's on the table itself.  A few versions even have great storage drawers underneath the table that are perfect for tucking away extra Lego's.  This helps your kids to keep everything together, and protects your feet from middle of the night Lego injuries.
They are often multi-purpose.  If you find the right kind of table, it may also have the option to switch tops and create different play areas.  These can be used as a great lunch table for your kids, or simply to promote art work, play time with cars and action figures or more!
They encourage responsibility in younger kids.  Picking up toys and keeping their rooms clean is one of the first things you can have your kids do as a chore.  A Lego table helps make that even easier for them.  Not only will all of their Lego's stack neatly on top, if you buy one with drawers underneath, you will find it very simple to have them pick up other toys as well.
Our Favorite Lego Tables:
Affiliate links included.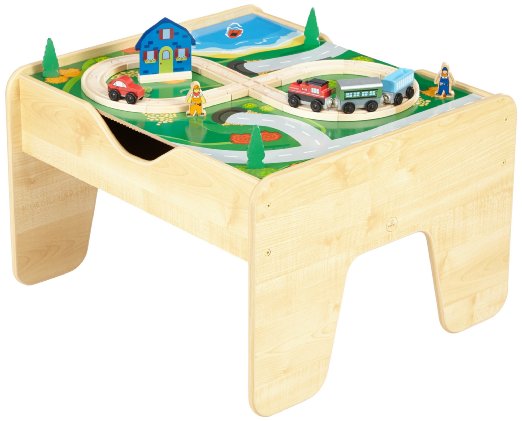 KidKraft 2-in-1 Lego Compatible Activity Table:  This versatile table is perfect for the family wanting to have fun with Lego's, but also use for playing with cars, action figures or even a quick lunch.  The slide out under table storage drawers are perfect for helping pick up and clean toys from the floor.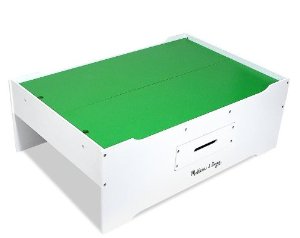 Melissa & Doug Deluxe Wooden Multi-Activity Table:  This is a great sturdy table with Lego functionality by one of the top toy makers around.  Go with a brand you can love and trust and enjoy the sleek design this offers.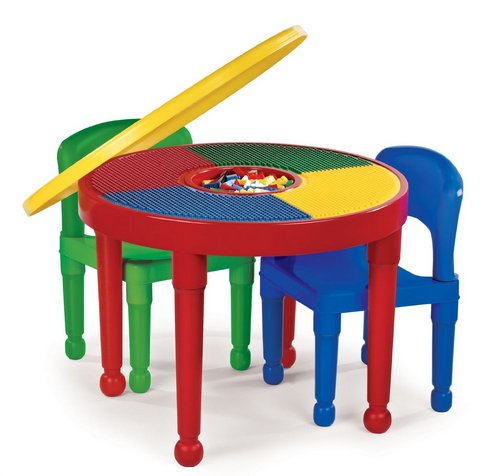 Round Plastic Construction Table with Chairs:  This is a fun and functional table that is great for using with all sorts of blocks, including Lego sets.  The bright primary colors, fun comfy chairs and circular design make this a favorite with kids and parents.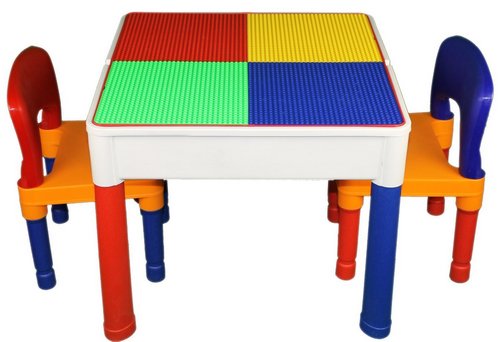 3-in-1 Kids Construction Table with Chairs:  This table converts from a solid top for drawing, writing or having lunch, to the fun Lego block top for play time.  It also includes under top storage of all your blocks and Lego's!
Keep in mind these 5 reasons to buy a Lego table, and  make not only your kids happy – but yourself happy!  Lego tables are perfect for gifts, just because or remodeling kids bedrooms!
Which Lego table is your favorite? Do your kids have a ton of Legos?