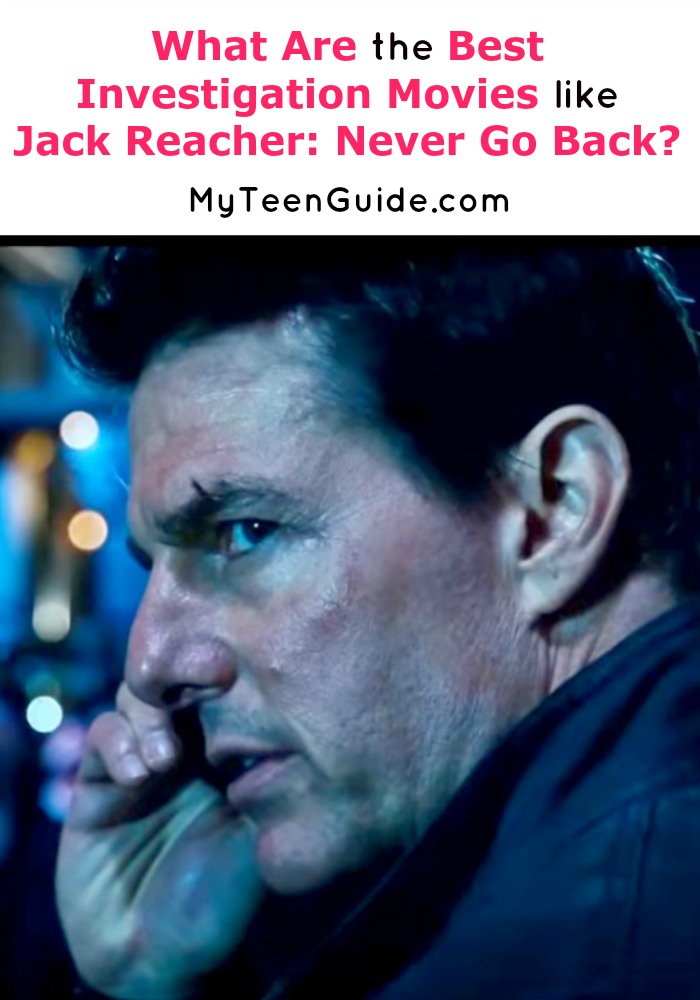 So what are the best investigation movies like Jack Reacher: Never Go Back? I love a good mystery and thriller, so when I saw this movie hitting theaters, I knew it was going to be on my list. It was also time to pull out some of my favorite thriller flicks full of crime for my next movie night. Check out my favs!
What Are The Best Investigation Movies Like Jack Reacher: Never Go Back
The best movies investigation movies like Jack Reacher: Never Go Back are full of danger, mystery and a lot of cocky attitudes. Similar films are packed to the brim with thrills and action to love. Check out our complete list, and more about the new movie!
Jack Reacher: Never Go Back is the upcoming sequel to the 2012 movie Jack Reacher, an action thriller film. Tom Cruise will reprise his role as Jack Reacher, and this film is set four years from the events of the 2012 movie. If you like movies that combine thrills with action and investigation, here are five other movies you may want to see.
Related: All The Shows like Shameless and Weeds That Are A Hot Mess
Insomnia
Insomnia is a 2002 psychological thriller film and is a remake of the 1997 movie of the same name. It is the story of two detectives with the Los Angeles Police Department, who are investigating a murder in the small town of Nighmute, Alaska. Insomnia stars Al Pacino as Detective Will Dormer and Martin Donovan as Detective Hap Eckhart. Also in the movie are Robin Williams, Hilary Swank, Maura Tierney and Jonathan Jackson.
Related: 5 Great Movies Like The Accountant That Prove Crime Can Be Right Under Your Nose
Inside Man
Inside Man is a 2006 crime thriller movie that is about a bank heist/hostage situation that takes place over a 24-hour period. During this time, a police detective, bank robber, and power broker are in heavy negotiations. Inside Man stars Denzel Washington as Detective Keith Frazier, Clive Owen as Dalton Russell and Jodie Foster as Madeleine White.
Zodiac
Zodiac is a 2007 mystery thriller movie that is based on the 1986 book of the same name by Robert Graysmith. It is about Robert, a cartoonist in San Francisco who turns into an amateur detective after he becomes obsessed with finding out who the Zodiac Killer is. Zodiac stars Jake Gyllenhaal as Robert Graysmith and also features Mark Ruffalo and Robert Downey Jr.
Run All Night
Run All Night is a 2015 action crime thriller movie. It is about Jimmy Conlon, a mobster/hitman, who has only one night to make a life-changing decision: to save his son, Mike Conlon, who is in grave danger or show his loyalty to Shawn Maguire, his best friend, and mob boss. Run All Night stars Liam Neeson as Jimmy Conlon, Joel Kinnaman as Mike Conlon and Ed Harris as Shawn Maguire.
The Tourist
The Tourist is a 2010 romantic comedy thriller movie. It showcases the life of Frank, a tourist from the United States visiting Italy. He soon finds himself involved with Elise, who is wanted for questioning by French police regarding her lover, Alexander, who owes millions in back taxes. The Tourist stars Johnny Depp as Frank Tupelo, Angelina Jolie as Elise Clifton-Ward and Rufus Sewell as Alexander Pearce.
So what do you think are the best investigation movies kike Jack Reacher: Never Go Back? Do you know of any more that should be on my list? What do you think of my picks? Tell me in the comments!