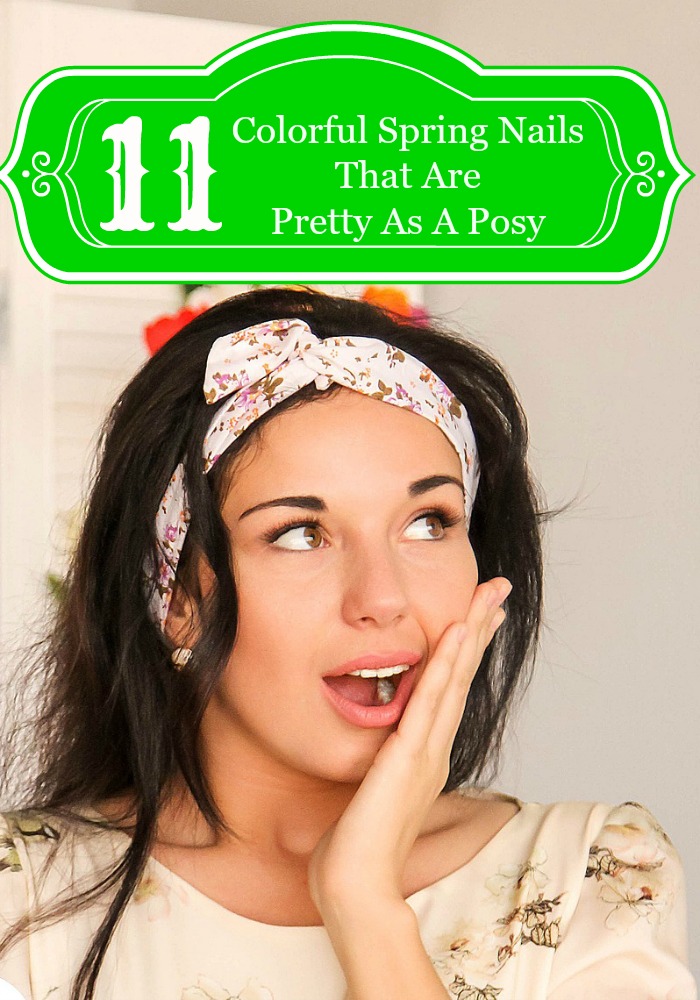 As the chill of winter starts to lift, it's time to celebrate with spring nails! There are so many different ideas and all of them are inspired from sunnier skies, fresh colors, and beautiful spring flowers. Check out my fav ideas for spring nails that are fresh and lovely!
11 Colorful Spring Nails To Inspire You
Bright & Sparkly With Flowers
I love this mix of a bright, cheerful color, a sparkly accent nail, and cute blooming flowers. I think they squeezed a bunch of my favorite things all in one mani, I'm so obsessed!
Tinkerbelle Inspiration
No one knows spring quite like spring fairies! This Tinkerbelle inspired look are a  great way to totally slay a sparkly green nail look. These nails are too sweet.
Sweet Yellow With Flowers
The bright yellow base on these floral nails immediately makes me think spring. I totally want to try this color!
Pink Mermaid Nails
How about some beautiful mermaid nails for a fun spring look? These would be even sweeter matched to mermaid hair!
Adorable Daises
Check out the adorable daisies soon to be sprouting up on my nails? These spring nails are seriously pretty for a cute, understated look.
Snoopy Inspiration
Do you think my nail tech can recreate this adorable Snoopy look? I am in love with the glitter accents paired with the Snoopy nails for a bright spring look!
Cherry Blossom Art
Nothing makes me think spring quite like beautiful cherry blossoms. These nails are beautiful works of art all on their own
Blue Mermaid Nails
The mermaid trend is so hot right now; I just couldn't include only one. I just had to include blue nails too! These are sparkly and beautiful for spring. I seriously love them!
Matte Blooms
This matte look is absolutely adorbs! Not only does it have a beautiful floral look, but I also love the finishing touch of the gold tips! Beautiful!
Perfect Polka Dots
These blooms with pretty polka dots are chic and pretty! I think I'm in love with these sweet dots that make me feel right at home in the spa.
Purple Cupcakes
Rock a sweet purple look with these sweet cupcake nails. These are also perfect for a birthday party! Love it!
So lovelies, did you find some inspiration? Do you have some ideas for beautiful spring nails? Tell me in the comments!