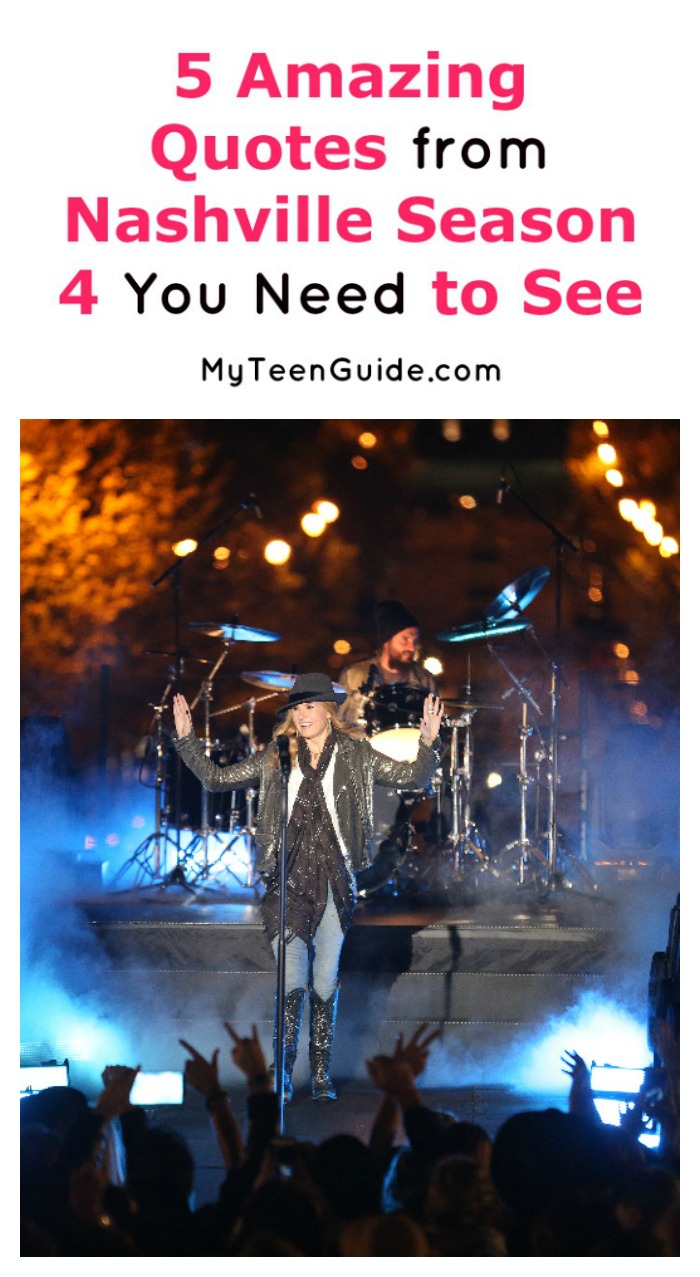 If you have never watched the musical drama, Nashville, then you are missing some great TV. If you are a fan of the show, then you already know it's filled with awesome characters, story lines and, of course, music! The show aired on ABC for 4 seasons, premiering on October 10, 2012. Season 5 made its debut on January 5, 2017 on its new home, CMT. Here are some of the best quotes from Nashville season 4 that really capture all the drama and excitement from the show. (This post contains affiliate links. Thanks for the support)
Best Quotes from Nashville Season 4
Episode 1- Can't Let Go
Juliette Barnes, talking to Rayna James:
Juliette- "I don't want your help or your pity, okay? I'm exactly where I want to be. I'm on the top of the world, and everybody knows that your label's a joke."
Rayna drops Juliette from her Highway 65 Records because of concerns over her erratic behavior, stemming from postpartum depression.
Episode 3- How Can I Help You Say Goodbye
Deacon Claybourne, talking to Scarlett O'Connor, regarding his sister, Beverly O'Connor:
Deacon- "You don't know her, I know her. This is my sister, and she's trying to breathe! She's a fighter!"
Beverly is also the mother to Scarlett. Beverly slips into a coma after undergoing transplant surgery to provide Deacon with a new liver. Later, Beverly awakens from her coma but soon suffers an aneurysm. Scarlett made the decision to take her off life support, although Deacon was against it.
Episode 8- Unguarded Moments
Maddie Conrad, talking to her mother, Rayna James:
Maddie- "You are ruining my life, mom! You're trying to keep me from doing the things I love, but you can't. Okay? You just can't!"
Rayna has plans to sign Maddie to Highway 65 Records, but Maddie wants no part of it, mainly because she doesn't want her mother to have control over her.
Episode 16- Didn't Expect It to Go Down This Way
Luke Wheeler, after finding out his opening act, Riff Bell, has vanished:
Luke- "I'm relaunching my tour in less than 24 hours with his name on the ticket and you're telling me he just up and disappeared?"
Luke and Riff Bell are old friends, so when the opportunity arose to find an opening act for his upcoming tour, Luke asks Riff. Riff suddenly disappears, but is later found in the hospital, with an array of drugs in his system.
Episode 19- After You've Gone
Conversation between Cash Gray and Rayna James:
Cash- "She's not your daughter anymore."
Rayna- "Apparently, you're not very good at biology."
Cash is the daughter of Deacon's sobriety sponsor, Frankie Gray. When Maddie decides to run away from home, she heads to Cash's house, which doesn't make Rayna happy.
What are some of your favorite quotes from Nashville season 4? Share below!