Need some ideas for totally binge-worthy shows for summer?
While I plan on enjoying the sun, I need to line up all of my shows for those rainy days!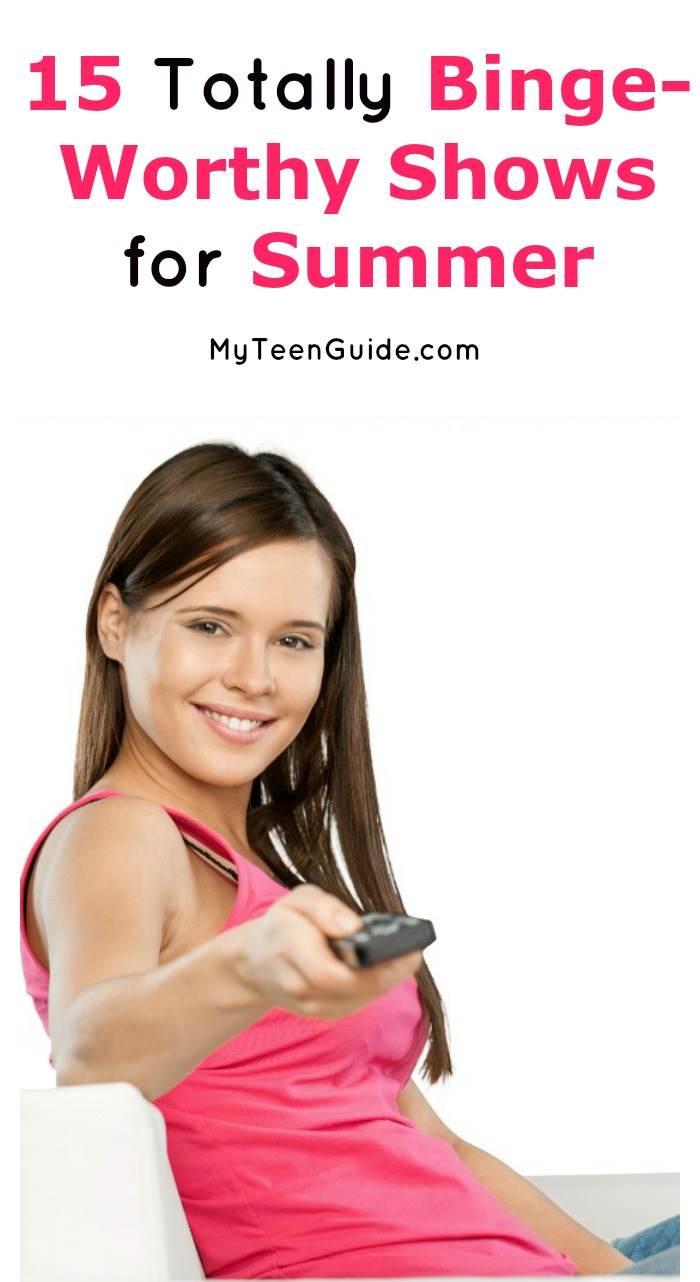 The school year is starting to wind down, and it's time to relax a little bit.
A TV day (or two) is a great way to kick off your summer relaxation plans.
These seven tv shows are fan favorites, and most of them can be found on Netflix.
Whether you're looking for a good laugh or a family drama – this list has something that you will love.
Related: Top 10 Hottest Teen Movies To Watch On Netflix This Summer
Binge-Worthy Shows For Summer
This post contains affiliate links. If you make a purchase through these links we will earn a small commission at no extra charge to you. Thanks for your support!
Curl up with some fresh fruit, tea and enjoy your day off!
If the sun is shining, head outside on your deck or patio and check out your fave show there.
Now enjoy the best shows for summer ever!
1. The Mindy Project
I watched this show so quickly.
I just couldn't get enough.
Mindy Kaling and her star-studded cast are hilariously impressive.
The short episodes mean you can have a quick half hour of relaxation here and there or just watch it all at once (HAHA).
While the Mindy Project was canceled on FOX, you can still find new episodes over on HULU.
2. Friday Night Lights
This award-winning family football story is perfect for everyone.
It's a great heartwarming story filled with trying times, hard decisions and lots of inspiration.
It's most definitely a family favorite, and something that you can feel comfortable watching with your parents in the same room.
If you love it, check out some more of our favorite shows like Friday Night Lights!

3. 90210
Sure, you can binge on the latest incarnation of Aaron Spelling's hit teen drama, but I think it's more fun to go back to its roots!
Amazon Video has the entire original Beverly Hills, 90210 series available to watch for free with Prime.
That's 6 seasons- over 100 hours- of pure early 90s magic.
Trust me, friends, it doesn't get much better than that!
Whether you're secretly a fan of the 90s or just need a good "mock-fest," you can't go wrong with California's most prestigious zip code!

4. Gilmore Girls
Are you looking for a mother-daughter show to watch?
This is it! Lorelai and Rory Gilmore have such a strong, beautiful relationship.
It's a great show to watch, and there's plenty of episodes. When you're done binging on the original show, catch the revival: A Year in the Life.
5. Glee
Can I interest you in a ton of singing and dancing?
You don't want to miss Glee.
High School is tricky enough, but when you're an ambitious misfit with musical talent, it's even more trying!
Tune in to see how the characters deal with the teenage years on the road to stardom.

6. The Fosters
https://www.youtube.com/watch?v=nQVLvcgAMQI
This family drama is so extremely interesting and captivating.
The Fosters has a great concept that will leave you wanting more. I was impressed by this show and couldn't stop watching this blended family.
It's such a heartwarming look at the lives of adopted, foster, and biological children of one couple. Check it out!
7. Friends
https://www.youtube.com/watch?v=SHvzX2pl2ec
This show is timeless. If you're in need of a good laugh about a great group of friends, this one's for you.
Friends is light, funny and brilliant. This is one of my trusty "go-to" shows. It never gets old.
8. Chuck
Now on Amazon Video (which you get free with Amazon Prime), catch the adventures of Chuck: an ordinary nerd who accidentally downloads a top-secret computer into his brain and becomes a super spy.
This was one of my favorite shows when it originally aired, so I'm super excited that Amazon has it.
It's definitely on my binge list for the summer!

9. Eureka
Another great show that Amazon Video brought back into rotation, Eureka follows the adventures of a little town the Pacific Northwest where weird things happen on purpose.
In a town full of geniuses, sometimes you need an average Joe (make that Jack) to keep everything running smoothly!
Thank goodness Sheriff Jack Carter happened to crash into the town with his trouble-making teen daughter at just the right time!

10. True Blood
If you're missing shows like The Vampire Diaries and the Originals, you'll be happy to know that you can watch the first 6 seasons of True Blood for free on Amazon Video.
While Sookie and Elena may be completely different personality-wise, they do have a lot in common when it comes to choosing between a vampire with heart and a bad-boy vamp that makes her heart race.
Originally on HBO, True Blood is definitely not something you want to watch with your kid sister in the room.
While it has more mature themes than the CW vampire hits, it's not nearly as graphic as some of the other shows we've recommended in the past.

11. Shameless
Ok, so you'll definitely want to heed my "18+" warning on this one.
Shameless is one of my all-time favorite shows. It's hilariously irreverent, completely down to earth, and oddly inspirational at times.
The 8th season just wrapped up at the end of 2017, so you have plenty of episodes to binge on this summer.
The first 7 seasons are available on Netflix, and all 8 seasons are on Amazon Showtime.
12. Lore
If you're into really bizarre documentaries, Amazon's Lore is definitely one to watch this summer.
It's created by the executive producers for The Walking Dead and The X-Files, so you know it's going to be good.
The anthology brings to life a popular podcase by Aaron Mahnke about the weird events throughout history that led to our darkest nightmares.
It blends drama with animation and narration to show how our horror legends are actually rooted in truth.

13. Sneaky Pete
I've been wanting to binge on Sneaky Pete since it came out last year, but I like to wait until a show has at least 2 seasons to dive in.
That way, I know if it's going to stick, and I have more to watch.
Sneaky Pete stars Giovanni Ribisi as an on-the-run con man trying to avoid a vicious gangster.
He takes cover from his past by pretending to be his old prison cellmate. He even goes so far as to reunite with the real Pete's long-lost family!

14. House
I literally did the dance of joy when I saw that Amazon added House to their Prime Video section!
It's like they read my mind because I have been looking everywhere for it lately! I got in the mood to binge-watch it, but no one had it. Then one magical day, there it was!
House is kind of like Grey's Anatomy meets Shameless.
It has some of the hospital romance and deep interpersonal relationships of the long-running hit Shonda show, but Dr. House's personality runs more along the lines of a highly intelligent Frank Gallagher than a charming McDreamy.
If you like medical mysteries (and can get past the fact that half of the things they do would never happen in the real world, while the other half aren't even medically accurate), and sardonic main characters, you'll love House!

15. Made-for-TV Nostalgia
https://www.youtube.com/watch?v=pQMBTWayAlE
Okay, so this isn't exactly a single tv show, but bear with me for a moment and you'll see the binge potential. Amazon Video recently dropped in a ton of fabulous Made-for-TV miniseries from the late 90s and early 2000s, including Merlin (the 1998 movie), Dinotopia, and The Magical Legend of the Leprechauns.
Alone, each of these mini-series events gives you a good 6-8 hours of pure made-for-tv magic. Together, though, you're looking at plenty of binge-worthy nostalgic television from your early years!
My favorite? The 10th Kingdom, which I bought the day before Amazon added it to their free videos.
Ugh, right? Oh well, at least I have it forever now.

It's time to curl up on the couch or outside on the patio with these binge-worthy tv shows! Enjoy your summer and make sure that you take some time for yourself. Relax & refresh.
Which of these shows for summer are your favorite? Is there one that you want to watch? Let us know in the comments below. It's always so great to hear your thoughts and opinions.