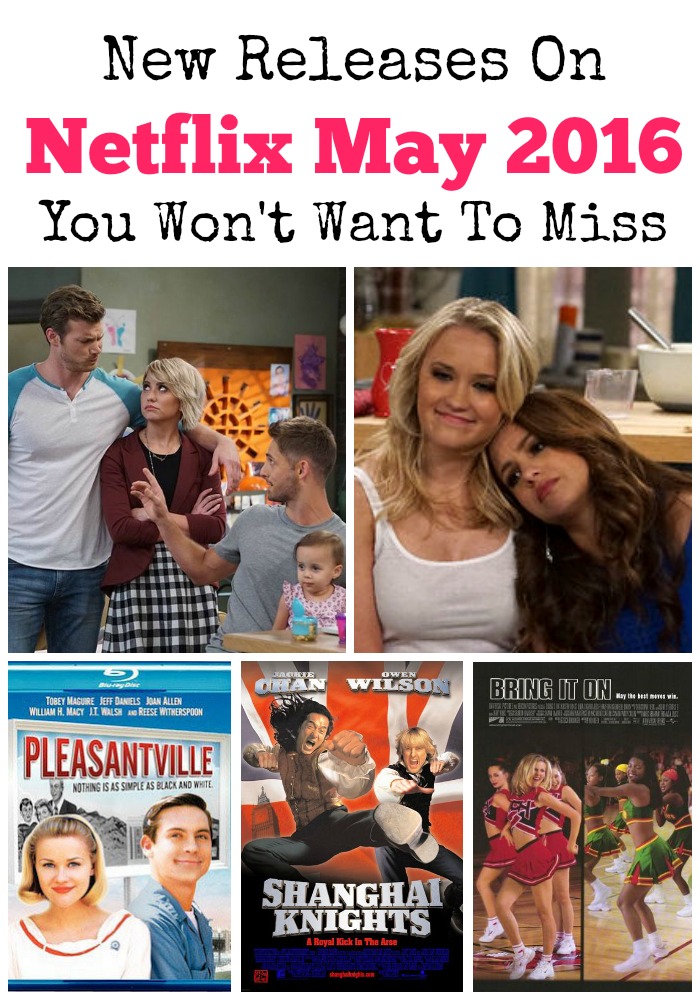 There are some awesome new releases on Netflix May 2016. If you like comedy movies, funny sitcoms, or intense dramas and scarcy movies then you have to see this month's list. With television shows like Season 5 of Baby Daddy, and the brand new season of Young and Hungry, plus Bring It On is coming to your screen! Here are the new releases on Netflix May 2016.
New Releases On Netflix May 2016
May 1st
A Study in Sherlock
Ava's Possessions
Bring It On
Bring It On: All or Nothing
Just Friends
Pleasantville
Sixteen Candles
Who's Driving Doug
A Study in Sherlock features Mark Gatiss, one of the executive producers of the crime drama TV series, Sherlock, talking about how the show was created. Ava's Possessions is a 2015 horror thriller movie about a young girl named, Ava, who is recovering from demonic possessions. Bring It On is a teen comedy movie, released in 2000, starring Kirsten Dunst, Gabrielle Union, Jesse Bradford and Eliza Dushku and Bring It On: All or Nothing was released in 2006, starring Hayden Panettiere and Solange Knowles. Just Friends is a 2005 romantic comedy movie starring Ryan Reynolds and Amy Smart. Pleasantville is a 1998 fantasy movie that combines drama and comedy. The movie is about David, played by Tobey Maguire and Jennifer, played by Reese Witherspoon, siblings who find themselves in the 1950's television sitcom, Pleasantville. Sixteen Candles is a 1984 coming of age comedy movie about a girl who thinks she has been forgotten on her 16th birthday. Who's Driving Doug tells the story of Doug, a smart yet sheltered college student and Scott, the underachiever driver he has hired. So many good watched on this list, but Pleasantville is one of my personal favs!
May 2nd
The Replacements is a 2000 sports comedy movie starring Keanu Reeves, Brooke Langton, Gene Hackman, Jack Warden and Jon Favreau, about substitute football players that are employed in the event of a professional football strike.
May 4th
The Keeping Room
Shanghai Knights
The Keeping Room is a 2014 thriller action movie about a trio of women who are forced to defend themselves as well as their homes from rogue soldiers during the Civil War. Shanghai Knights is a 2003 movie that has it all, comedy, adventure and action, starring Jackie Chan and Owen Wilson. I've seen Shanghai Knights, and Jackie Chan and Owen Wilson won't' let you down for a pick me up!
May 6th
Baby Daddy: Season 5
Young and Hungry: Season 3
Baby Daddy is a television comedy series that premiered on June 20, 2012, that features the lives of Ben, a guy in his 20's, who is tasked with taking care of his baby that was left on his doorstep, resulting from a one-night stand. Young and Hungry is a sitcom television series that premiered on June 25, 2014, showcasing a young tech entrepreneur that hires a young blogger as his personal chef. I've been following this show, and it's a way cute sitcom that reminds me a lot of Two Broke Girls.
May 11th
They Look Like People is a 2015 psychological thriller that tells the story of Wyatt, a troubled man that thinks everyone around him is becoming evil creatures. Creepy!
May 15th
We Are Still Here is a 2015 horror movie about vengeful spirits that center around a grieving mother.
May 17th
Slasher is a horror anthology television series on the United States television channel, Chiller. The series is about a young woman, who is confronted with a line of copycat murders, based on the murders of her parents several years back. If you're not wide awake from the last two movies to freak out about, this will give you nightmares.
May 18th
A Girl Like Her is a 2015 drama movie about Jessica and her best friend, Brian, teaming up against Avery, who is responsible for bullying Jessica.
May 19th
Benders is a television comedy series that ran from October 1, 2015, to December 30, 2015. The series focuses on The Chubby's, which is a men's hockey team.
May 22nd
David and Goliath
The Ouija Experiment 2: Theatre of Death
David and Goliath is a 2015 drama movie that showcases the life of a young King David. The Ouija Experiment 2: Theatre of Death is a 2015 horror movie about a spirit that is resurrected from an Ouija board.
May 23rd
Electricity is a 2014 drama movie, Paul Anderson, Agyness Deyn and Christian Cooke. This movie tells the story of Lily, a young woman with epilepsy, which causes her to have strange hallucinations. We then follow Lucy as she searches in London for her brother.
May 27th
Bloodline: Season 2- Netflix Original
Bloodline is a thriller drama television series that premiered on February 9, 2015, stars Kyle Chandler, Ben Mendelsohn, Linda Cardellini, Nobert Leo Butz, Jacinda Barrett, Sissy Spacek and Sam Shepard. The series centers on the Rayburn family and what happens when the black sheep of the family comes back home.
LAST CALL: CATCH YOUR FAVORITE BEFORE THEY ARE GONE!
I'm not seeing tons of my favorites on the Last Call list this month, but I may have to have one more go with the classic cult film Clerks. See if any of your favs made the last call list, then watch them before they are gone!
Leaving May 1st
The Animatrix
Bill & Ted's Excellent Adventure
Broadway Idiot
Election
Holiday Engagement
Mona Lisa is Missing
Terms and Conditions May Apply
Truth or Die
Leaving May 2nd
Leaving May 9th
Leaving May 14th
Leaving May 15th
In Her Skin
Inhale
The Quest: Season 1
Tiger Eyes
Leaving May 21st
Leaving May 23rd
Leaving May 31st
So which new releases on Netflix May 2016 edition are you happy to see? Tell me what you want to watch down in the comments!
*Images via Wikia