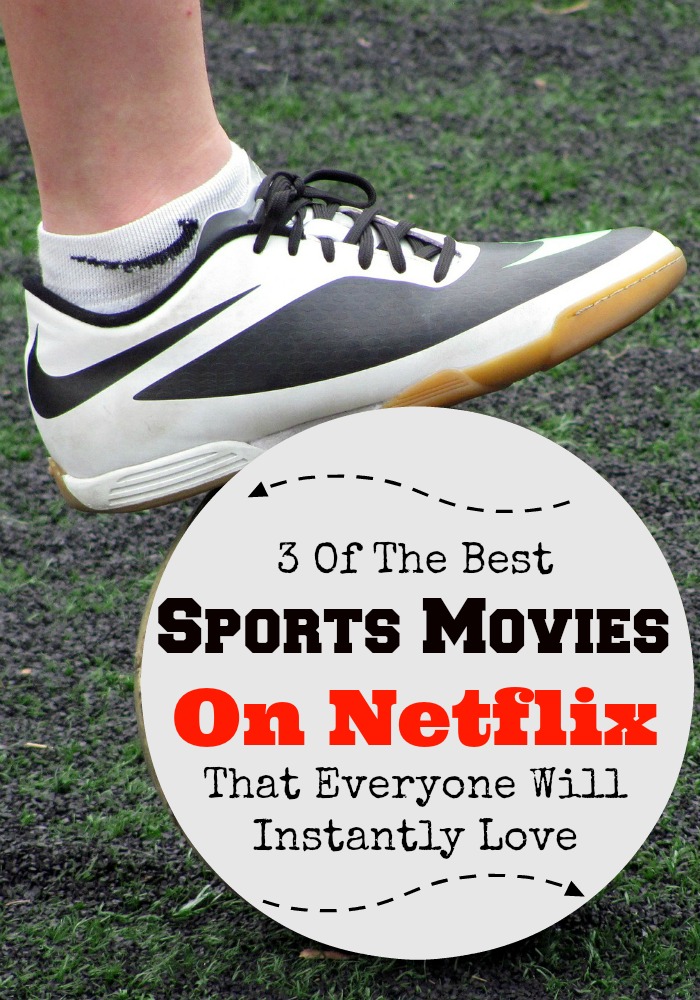 If you like to cheer for the underdog, then this list of the best sports movies on Netflix is the next big thing! From soccer to football to boxing, sports movies all have you rooting along and cheering for your player. Sports movies can also be uber dramatic, and those endings can really have your heart beating faster! I spent a bit of time finding the best sports movies on Netflix so you can watch and enjoy. Here are the sports movies that are giving me life!
The Best Sports Movies On Netflix 
Bend It Like Beckham
https://youtu.be/XsmbObwStSQ
Bend It Like Beckham is a 2002 comedy on Netflix and is also a sports movie. This movie stars Keira Knightley, Parminder Nagra, Jonathan Rhys Meyers, Archie Panjab, Shaznay Lewis and Anupam Kher. The movie tells about a super talented young Indian girl who dreams of playing soccer (like David Beckham, the soccer player!). Her super traditional Indian parents tell her repeatedly she can't since she is a girl, and want her to find a nice boyfriend instead. This award winning film keeps things funny and is a hella good.
Brian's Song
Brian's song is a sports football film that showcases the life of a Wake University student, Brian Piccolo, a football player who finds out he has terminal cancer. The movie is told through the man, teammate Gale Sayers, whose friendship got Piccolo through some hard times. Brian's song is based on a real-life story, but the movie does feature some fictional scenes. The movie stars James Caan, Billy Dee Williams, Jack Warden and Shelley Fabares. Ok, this movie is going to be on the cheesy side, it is from the 70's after all. By the end of it, you won't be disappointed. Seriously give this flick a try.
Happy Gilmore
Happy Gilmore is a 1996 sports golf comedy movie starring Adam Sandler, Christopher McDonald, Julie Bowen, Carl Weathers and Frances Bay. Sandler plays the role of Happy Gilmore, whose dream is to be a professional hockey player. After being rejected as a hockey player, Gilmore entered a golf tournament to win money to help his grandmother save her house. This film is from Adam Sandler's higher point of his career, and is perfect if you are in the mood for a cheesy comedy to make you laugh!
Raging Bull
Ok, I know I said three movies, but I had to include this one. I haven't watched this movie all the way through (which is the only reason I almost left it off the list), but it looks like a more dramatic, classier version of Rocky that I had to include it! So watch at your own risk, but the critics are telling me this movie is on point! Raging Bull is a 1980 biographical sports boxing drama that was adapted from the 1970 memoir Raging Bull: My Story by Jake LaMotta, a professional boxer. The movie stars Robert De Niro, Joe Pesci, Frank Vincent and Cathy Moriarty. The movie showcases the life of LaMotta, focusing on his temper that made him a star in the ring but destroys his life outside the ring. I love when Netflix uncovers a fantastic film that I would have never otherwise looked at.
Know of any more of the best sports movies on Netflix? Have you seen any of my picks? Leave me a note in the comments so we can all binge watch!
*Image via Pixabay