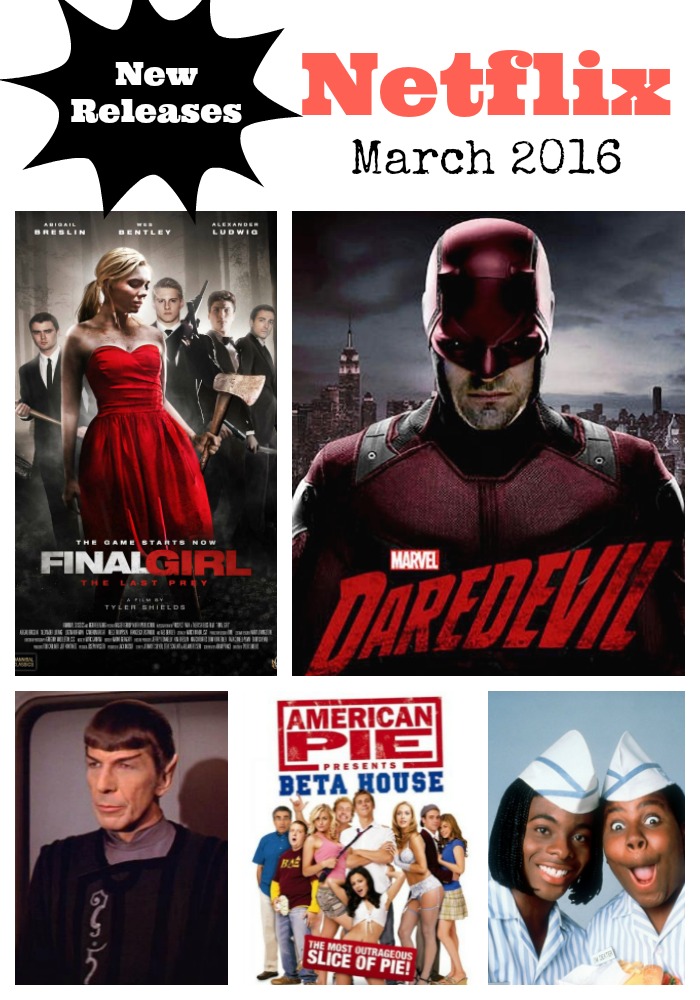 New releases on Netflix for March 2016 are here! Pop the popcorn, cause Netflix is again adding some cool television shows and movies you need to add to your list. This month we see some great sci-fi shows and movies including Season 2 of Marvel's Daredevil and two Star Trek movies. There are also many new slapstick comedies to make you feel better about your life, plus a few creepy horror flicks. I've also included what's leaving at the end of February so you can watch them one last time and wipe away your tears for your favorites before they are gone. Ready? Here are the new releases on Netflix for March 2016.
New Releases On Netflix For March 2016 To Be Addicted To
March 1st
American Pie Presents: Beta House
American Pie Presents: The Naked Mile
Fresh Meat: Season 2
Good Burger
Road Trip: Beer Pong
Star Trek: The Motion Picture
Star Trek: The Wrath of Khan
Beta House is the 3rd movie installment from the movie series American Pie, and The Naked Mile is the 5th installment in the movie series. Expect lots of slapstick humor. the American Pie sequels can be even more crude than the original movies, but they are good for a laugh. Fresh Meat focuses on the adventures of six students at Manchester Medlock University. Good Burger is a comedy about working at a burger joint and includes Kenan Thompsan, who is now on SNL. This movie is a slapstick sketch comedy show that was on Nickelodeon in the nineties. Beer Pong is a 2009 sequel to the 2000 Road Trip movie, so another slapstick comedy full of crass but funny humor. I love these movies with jokes that are "so bad it hurts" types comedies to pick up my mood sometimes.
Moving on to sci-fi, we are also adding Star Trek: The Motion Picture is a 1979 film and the first in the Star Trek movie series. The Wrath of Khan is from 1982 and is the second film in the series. TBH Star Trek: The Motion Picture was the first Star Trek movie, and all the wow was about getting Star Trek to the movie screen originally, so the plot is a little lacking. Star Trek: The Wrath of Khan, on the other hand, had an amazing storyline with lots of twists and turns. Star Trek: The Wrath of Khan can stand alone, so don't feel like you MUST watch the original before watching the much better second movie.
March 7th
Halo: The Fall of Reach is a sci-fi mini-series based on the Halo video game series and adapted from one of the Halo books. This series focuses on the creation of Spartan 117 who is known as The Master Chief. This miniseries is animated, but it is no kids show.
March 15th
10,000 Saints is a 2015 drama movie is about a teenager named Jude, who heads to New York's East Village to live with his absent father. Jude explores the city and meets some equally not quite balanced friends who add more drama to his life. Final Girl is an action horror thriller movie starring Abigail Breslin, Wes Bentley, and Alexander Ludwig. Final Girl is about a teen who has been trained to be an assassin. When a group of sadistic teen boys who kill their victims in the woods tries to lure Veronica into the woods. The boys don't realize that they are now Veronica's final assassin test. Though I'm not a huge horror movie fan (though I do like Zombies!), I want to catch this one.
March 16th
Charlie St. Cloud is a 2010 supernatural romantic drama movie with Zach Efron and Amanda Crew. Charlie is in a car crash with his brother Sam and survives, but after the crash only he can see Sam.
March 18th
Marvel's Daredevil: Season 2
Marvel's Daredevil is a Netflix original series based on the Daredevil characters from Marvel Comics. Daredevil is a man who was blinded when he was young, but it gives him the ability to use other senses in superhuman ways. He stalks the city using his superhuman powers to deliver justice. This is one you need to see.
March 22nd
The Ouija Experiment 2: Theatre of Death
The Ouija Experiment 2 features a clan of young people in a movie theater, who are trapped when an evil spirit is extracted from an Ouija board. So there's that… Good to creep your friends out for a sleepover?
Last Call: Leaving In March To Make Room For New Releases On Netflix For March 2016
Netflix is cleaning house. (No, Fuller House is still coming out this month, and we are not sure if it lives up to the hype yet!) Here is what is leaving this month to make room for all the new releases on Netflix for March 2016.
Leaving March 1st
American Pie
American Wedding
Gone in 60 Seconds
Hackers
Hitch
Master of the Universe
Not Another Teen Movie
The United States of Leland
Leaving March 4th
Getting Go: The Go Doc Project
Leaving March 6th
Leaving March 11th
Leaving March 18th
Leaving March 31st
I better catch up on the first American Pie and American wedding before watching the sequels. I'm a little sad to see Master of the Universe leave, but I'll let it go in exchange for some binge watching of the new sci-fi movies and shows.
What are you happy to see as a New Releases On Netflix for March 2016? Anything you are jumping up in down in excitement to see, or crying because it's leaving this month? Tell me in the comments!
*Images via Wikia