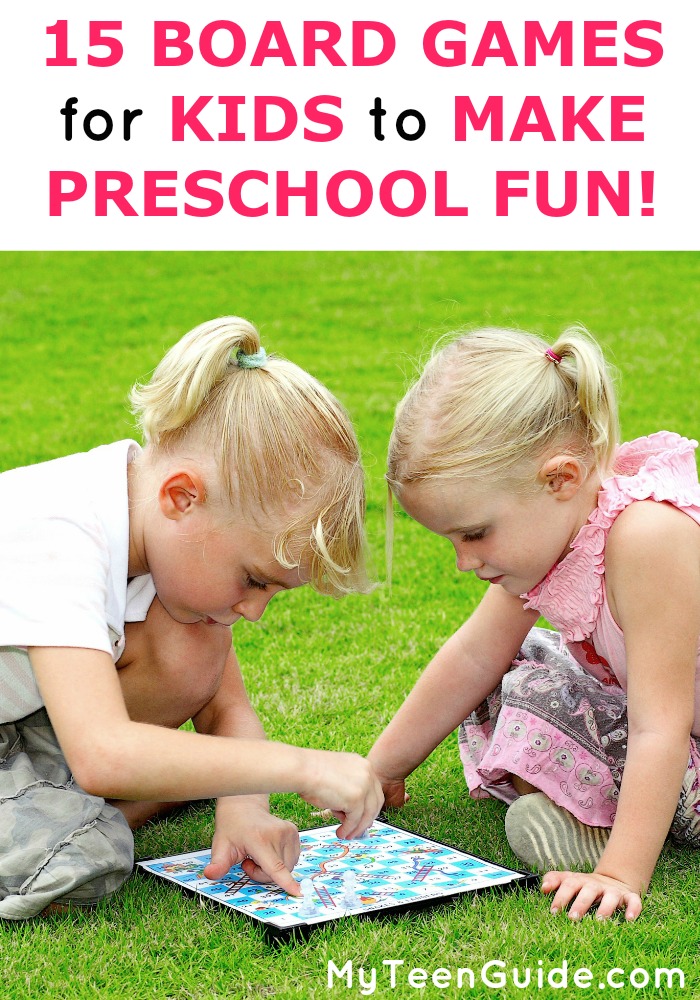 Board games for preschoolers are a great way to help your kids learn valuable skills. Top early learning educators agree that play is the best form of education for young children. When doing so, they are learning fundamental skills such as new vocabulary words, fine motor skills, critical thinking, problem-solving, and so much more! The best thing about preschool education – learning is truly fun.
Set aside time in your daily schedule to play board games for preschoolers with your child, and soon you'll see a difference in how they reason and think! Begin by selecting a handful of board games for preschoolers to form a small collection. After that, try introducing a new game each week. It will be one of the most rewarding teaching experiences of your life!
15 Board Games for Preschoolers
This article contains affiliate links. Thank you for the support.
Learning Resources Pretend and Play School Set

Help your kid earn an A+ in imaginative play with the Learning Resources Pretend and Play School Set. This inviting role-play set helps children ages three and up get excited about school by playing teacher. The set includes 149 supplies for teaching, learning, and having fun. Kids can present lessons, reward their friends with stickers, and fill out report cards to grade their "students."
Players take on the powers of the Super WHY the team in this new game based on fundamental reading skills such as alphabet recognition, rhyming, spelling and basic reading. The winner is the first to join each of the four characters and reach the finish. TV show nominated for an Emmy in 2008 #3 Rated Preschool Program for children -5.
The Very Hungry Caterpillar Twirl & Toss Educational Board Game

University Games is proud to introduce the first skill and action game starring The Very Hungry Caterpillar. Children toss their fruit and try to be the first to land all three pieces on the twirling, motorized caterpillar to win. If you haven't read this classic book for preschoolers with our child, you should pick it ups also!
Educational Insights Grandma's Trunk Alphabet Game
There's tons of fun packed into this suitcase classic. With five ways to play, kids will practice letter names and sounds, build memory skills, create stories and even play fun riddle games.
Five Little Monkeys Jumping On The Bed Game

Five Little Monkeys Jumping on the Bed Game from University Games is based on the award-winning illustrator Eileen Christelow's Five Little Monkeys book series. Five Little Monkeys is an easy-to-learn game that introduces children to counting and strategy, while developing fine motor skills. The object of the game is to get your five monkeys on the spring-action bed before it pops. Watch out; your monkeys may jump off the bed at any time! Surprise, laughter and fun for kids and their parents. Place all of your monkeys onto the bed after acting out bedtime activities, such as brushing your teeth, putting on pajamas and taking a bath, …then win the game! Includes game board, plastic bed, 24 monkeys, 20 punch-out tokens, spinner card with spinner and instructions.
Daniel Tiger's Neighborhood Educational Board Game
Daniel Tiger's Neighborhood is an entertaining and educational game that builds on the legacy of Mr. Rodgers Neighborhood. The activities focus on kindergarten readiness, with a strong focus on social skills and imagination. Players have a chance to become their favorite characters from the show, and ride the trolley to explore the Neighborhood of Make Believe. For two players aged 3 and over. University Games offers you and your family original ways to have fun. We know that people want to play right away, so our games are easy to learn. Our games keep all players involved, even when it's not their turn. The games combine luck and skill and present a new challenge each time you play. And all University Games products make learning fun. Spend time with us and you can have a great time with your family, get to know the neighbors, entertain your friends, and even learn to read.
Educational Insights Laundry Jumble Game
It's laundry day, and the animals need help getting dressed. Reach inside the dryer to find their missing clothes using only your sense of touch. Pull out the item on your card and see if it matches, but watch out for the Skunk's Undies or you'll lose a card. Engaging 3-D game play. For Ages tactile exploration, fine motor skills, and counting. SMALL PARTS. Grades Pre-K and above.
Melissa & Doug Children's Sandwich Stacking Games
Here are ten good reasons to play with your food! These unique activities use four bread-shaped gloves, which can self-stick to 14 sandwich filling layers and 20 sandwich cards. Race to match the sandwich on the picture card in Fast Food or try to toss a sandwich filling onto a bread glove in Service on the Fly. Inspiring children to burn calories while improving memory and matching skills will put fun on the menu every time. Instructions include variations on many of the games to extend the fun. For ages 4 and up.
Move and Grove is the perfect first game for toddlers! This game is designed to inspire movement, creativity, laughter and learning, it's a fun way to introduce the basics of game play and the joy of movement without the pressure of competition. The rules are simple: toss the plush cube to determine color, choose a matching colored card and perform the given move. There's no right or wrong way to boogie it's all up to interpretation — so players can use their imagination while improving balance, coordination, and flexibility. This is the perfect activity to build confidence and celebrate all the things your little one does well. Check out our Move and Groove review for more info on this great game!
Learning Resources Avalanche Fruit Stand Game
Avalanche Fruit Stand. Steady… don't spill the fruit. Spin the wheel, then use the jumbo tweezers to pick or place fruit. Develops fine motor skills, especially the all-important pincer grasp that prepares children for handwriting. This game also reinforces color and fruit vocabulary. Perfect for teachers, specialists, and occupational therapists. Includes 40 fruit counters (5 different fruits), two tweezers (6″), picture spinner, Guide printed inside a box, and adjustable cardboard stand measuring 6″ , playersL x 9 1/2″W x 13 3/4″H. Grades PreK+.
The baby chicks have flown the coop! In this board game for preschoolers, you can win multiple awards including Oppenheim Toy Portfolio Platinum Award and Creative Child Game of the Y; players help Mother Hen collect her chicks and bring them back to the coop. Spin and move, count the number of spaces and collect that number of chicks. Take turns, but work together because if you collect all the chicks, then everyone wins! The game includes one game board, one mother hen with stand, 40 baby chicks, one spinner and instructions for game play.
Chutes and Ladders Super Hero Squad

Ready for a climbing, sliding, super adventure? Race to the top with your favorite Super Heroes! Choose to be one of 8 popular characters to move along the gameboard. Ladders will zoom you forward, but watch out for chutes that will slide you back! Be the first to the finish line and you're the super hero winner!
Race around town solving mysteries! How many objects can you find? Join Huckle Cat and Lowly Worm on a fun-filled race around Busytown to solve mysteries and find hidden objects. Drive through lively city streets, an activity-filled farm, an action-packed airport, and a bustling harbor full of silly boats. There's much to discover on this gigantic, colorful game board that's over six feet long! As players race through Busytown, they'll team up every time someone lands on Goldbug—leaving no corner of the board unexplored as they discover hidden objects and race toward Picnic Island. With hundreds of objects to find this game provides hours of fun, while building confidence each time a child says, "I found it!" This game never plays the same twice, and should be in your collection of board games for preschoolers.
This is a classic game of matching and memory—now featuring everybody's favorite monkey. Flip over two tiles to find colorful pictures of Curious George and his friends. Did you find a match? If so, keep them in your scoring pile and take another turn. If not, turn them back over—but try to remember what pictures they had for later in the game. Collect the most pairs to win. I Can Do That. Games foster self-confidence by giving kids a chance to discover what they can do. Favorite Dr. Seuss, Curious George, and Richard Scarry characters come to life—challenging kids to run, slide, hide, seek, sort, explore—and more. By engaging kids physically, socially, and creatively, I Can Do That. Games provide endless hours of fun for the whole family.
For the first time, hide and seek and plush toys, two toddler favorites are brightly matched in an active play game. Parents and toddlers take turns hiding and finding Sunshine, a soft, huggable sun-shaped toy. As they excitedly seek Sunshine or hide it with glee toddlers learn to understand and respond to positional concepts such as Next To, Behind, On Top of and Under. An adorable first game for parents and toddlers to play together.
What are your favorite board games for preschoolers? Tell us in the comments!