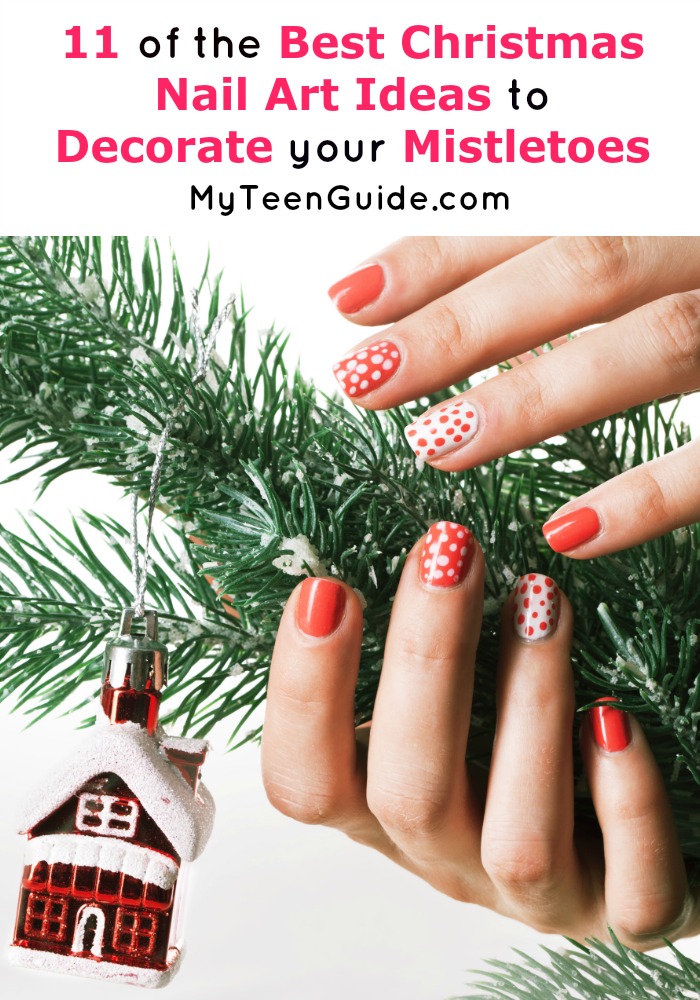 Ho ho ho it's time for sleigh bells and Christmas nail art! Whether you're prepping your nails for a big party of just want to feel merry and bright,  it's time to get your Christmas beauty prep on! Check out our favorite Christmas nail art designs for this year. You're sure to find some inspiration for the holidays here!
Related–> 7 Glow In The Dark Christmas Party Ideas That Will Make You Want To Rock Around The Tree
11 Of The Best Christmas Nail Art Ideas To Decorate Your Mistletoes
Peeking Rudolph
https://www.instagram.com/p/BMu-_odhHJO/?tagged=christmasnails
This cute little Rudolph is a must for the holiday season. I love the red sparkle polish on the other nails that compliments the reindeer accent nail. These are perfect for the Christmas party I have planned!
Santa Nails
https://www.instagram.com/p/–TwtuCavV/?tagged=santanails
Have a holly jolly Christmas, but just remember that Santa is always watching!
Candy Cane Nails
This accent nail is gorgeous, and she makes it looks so easy! I'm totally calling my friend and having her help me paint this one!
Santa Penguins
https://www.instagram.com/p/BMry0P1De7T/?tagged=christmasnails
Penguins are one of my favorites! This little guy just says merry and bright, doesn't he?
Simple Reindeer
https://www.instagram.com/p/BMo9sPGB9ju/?taken-by=borsch_nails
This is another take on a reindeer, but this idea looks even simpler. I think I can pull this one off, cute!
Santa's Buckle
https://www.instagram.com/p/_p18k9sU-A/?tagged=santanails
Have a big classy party to go to but still want to feel festive? These nails are exactly what you need. How fun!
Ornaments And Cheer
https://www.instagram.com/p/BMr6HIoDLO5/?tagged=christmasnails
I need these cute little ornament nail design in my life, how cute is that! I love the pink and white colors, but don't be afraid to switch in some green, red or gold also for a look that's all you!
O Christmas Tree
https://www.instagram.com/p/BMrRpc3gJ6F/?tagged=christmasnails
I had to include this Christmas Tree design because of the fab black base! I wouldn't have thought to use black as the base coat, but doesn't that tree design pop on the black canvas? Love it!
Red Snowflake Nails
Christmas and snow go together like hot chocolate and Christmas cookies. These fun red nails have lots of style.
Blue Reindeer
https://www.instagram.com/p/BMtsPMEhXKZ/?tagged=christmasnails
Speaking of adorable reindeer, this one has been out in the cold for a while amongst those snowflakes. He might be chilly, but she sure is cute nestled among the snowflake nails.
Easy Christmas Trees
I love intricate nail designs, but sometimes you want something festive fast! This no fuss Christmas tree nail art should be on your go-to list of styles to try!
Ok so I have to know which Christmas nail art do you think you could create yourself? Which of these Christmas nail art designs will you be running to your favorite nail tech for? Tell me in the comments!