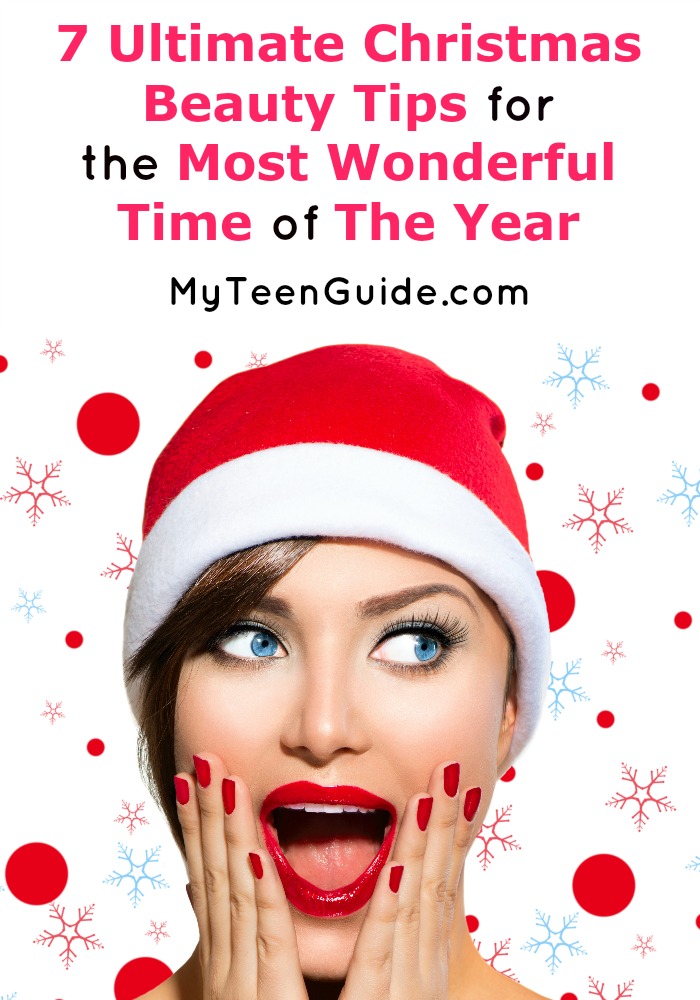 Christmas is the perfect holiday to relax, pamper yourself with our beauty tips and spend time with your loved ones. Take a step back from school, work or practice and take some time for you! Check out these seven amazing beauty tips and tricks for a well deserved relaxing break this holiday season. plus you can totally up your holiday makeup game for all of your Christmas parties. Ready?
Related: 9 Glamorous Christmas Hairstyles So You Will Be Merry And Bright
7 Ultimate Christmas Beauty Tips For The Most Wonderful Time Of The Year
1. Bath Bombs – This may be one of the best ways to relax while moisturizing and nourishing your skin. Put your feet up and enjoy a nice warm bath. Add a couple drops of peppermint essential oils for an added "pick me up" and winter scent! Try bath bombs from Lush (my personal favorite!).
2. Face Masks – The ideal facial refresher! Give your face a break, close your eyes and relax. Put some Christmas music on and get your skin ready for those family photos. Lush's mask of magnanimity is my favorite refreshing, nurturing and moisturizing mask. This mask features accents of peppermint for that extra dose of Christmas!
3. Eyeshadow – Covergirl has new eyeshadow palettes called 'trunaked' and they're stunning! I love it – it has become my go-to eyeshadow. The colors allow you to create a smokey eye or a simple shimmer. The possibilities are endless. Whether you're looking for a little shadow for a family get together or a bold eye for a Christmas party this palette is for you!
Related: 9 Ways To Up Your New Year's Eve Makeup Game
4. Toothy Tabs – The new toothpaste! This is the perfect addition to your beauty routine. Toothy tabs make traveling during the holidays easy and simple! No need to worry about liquids in your purse. They're also great to have on hand for a quick refresher throughout the day. They're from Lush and are one of my favorite products right now. They're the easiest way to brush your teeth plus they come in some amazing flavors!
5. Red Lip – Red lipstick is a holiday essential for any beauty routine! It can instantly dress up an oversized sweater or t-shirt dress. My favorite red is from Mac. I tend to prefer the matte look, especially for the holiday season. It's a bold, fun and cheerful look for the holidays!
6. Nails – Christmas time is a perfect time to try some new nail styles. Try candy cane nails, or reindeer nails. There are so many possibilities. Grab your green, red, white and gold nail polishes and go to town! Have fun and experiment with different looks and colors!
7. Eyeliner – Try a fun eyeliner for Christmas time! Experiment with colors, perhaps a sparkly silver or gold liner. Or if you're really brave you could try a red or green liner. Have fun and express yourself with your festive style!
Merry Christmas! Have you tried any of these products? Do you have a favorite Christmas beauty tip? Let us know in the comments below! We can't wait to hear from you!
Image via Deposit Photo