We received complimentary PomTree Activity Kits for kids in exchange for an honest review.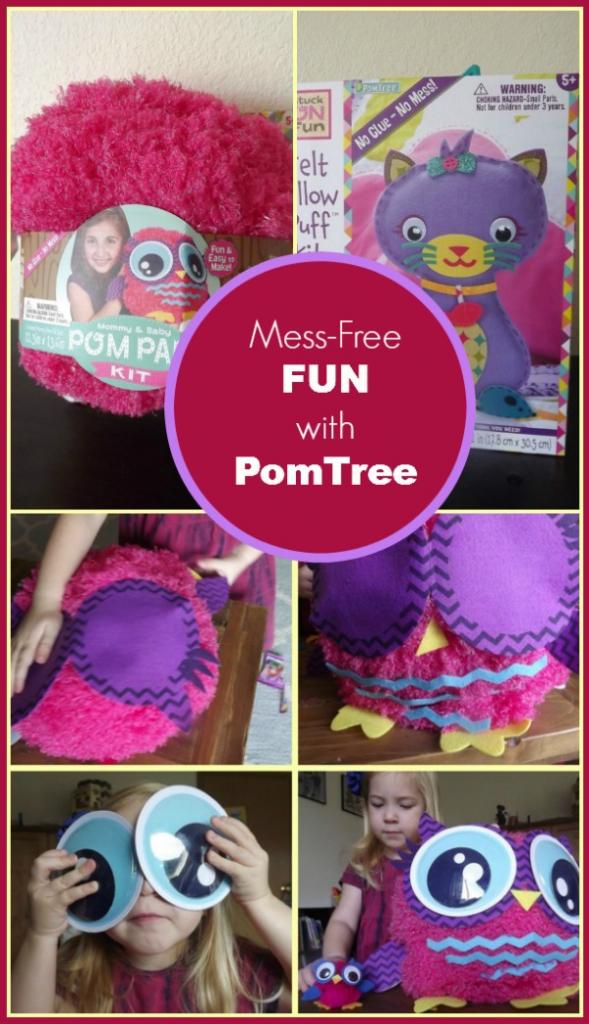 I try to keep a good stockpile of crafts and art supplies for rainy days and to combat boredom. My daughter inherited my crafting gene and loves to add her personal touch to just about anything. Sometimes this can mean big messes afterwards or me having to peel stickers off the kitchen table. The girl loves stickers and if I don't remind her that they are best placed on paper or her artwork, I would find them everywhere.  When I received the PomTree Pets Activity Kits I knew they were something that would appeal to my little sticker loving crafter.
Related Posts
Mess-Free Fun with PomTree Activity Kits for Kids
Founded in 2012, PomTree is the maker of mess-free activity kits for kids. These kits don't require any sewing, cutting, or glue. Instead, they use brightly colored shapes and colors to help children build essential creative and problem solving skills. Their Stuck On Fun products use sticky-backed foam and felt materials to aid in creative play.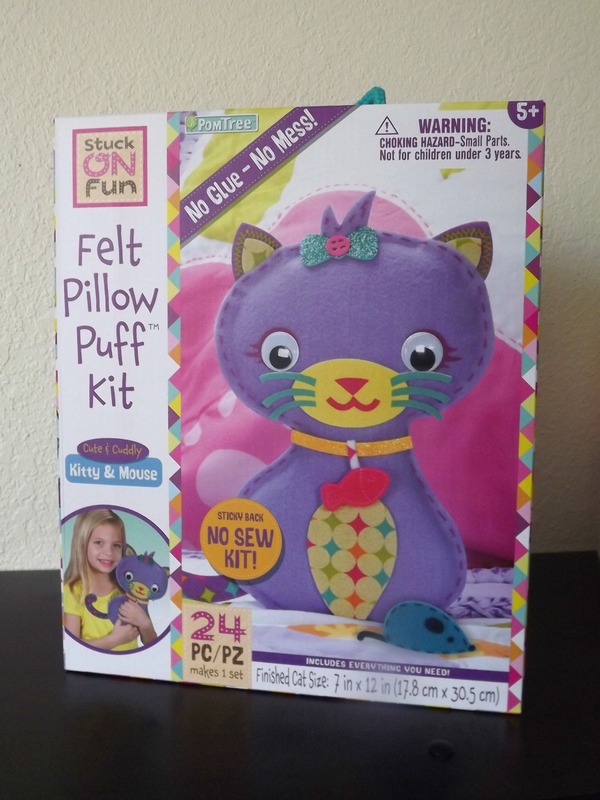 Violet wanted to construct the Felt Kitty and Mouse Pillow Puff Kit first. I helped her lay out all of the felt pieces and read the instructions to guide her through attaching each piece. All I needed to do was help her remove the paper from each sticky-backed piece so she could attach them. The Felt Kitty and Mouse Pillow Puff Kit included a felt kitty base with batting, brightly colored felt embellishments, and a little felt mouse.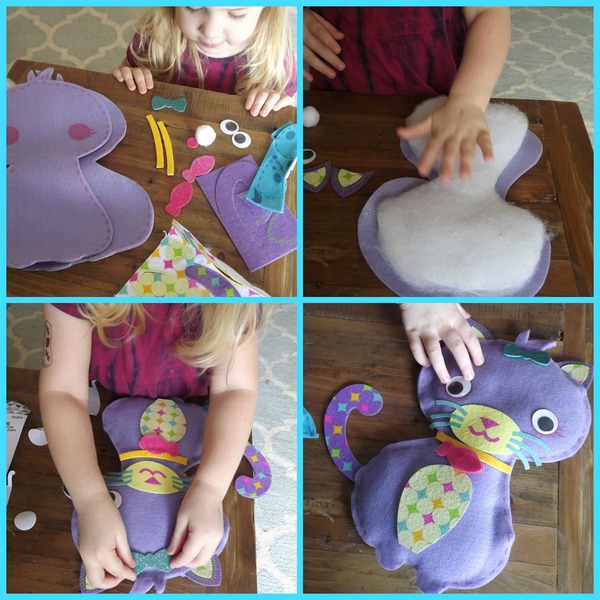 Once constructed the kitty measures about 12 inches tall. Violet loved how these were stickers that she could attach herself and carried her puffy felt kitty around for the rest of the day. The packaging to the Felt Kitty and Mouse Pillow Puff Kit state that it is for ages 5 plus. At 3 years old, my daughter enjoyed this kit and was able to manage the pieces perfectly fine with minimal help on my end.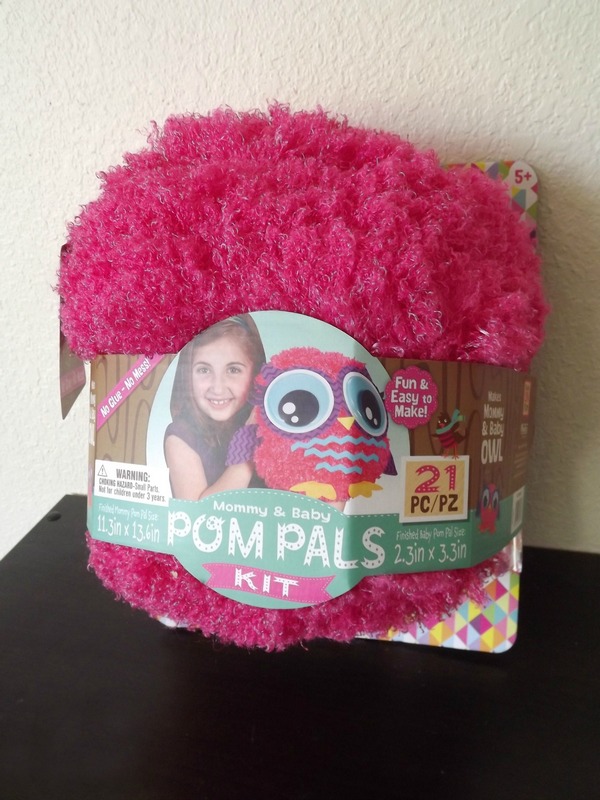 Violet put together the Mommy and Baby Owl Pom Pals Kit next, and I have to say it was a lot of fun for both of us. The bright pink mega sized plush had us both giggling as she attached the giant eyeballs and remaining embellishments. The baby owl is included as a much smaller version of the mommy, with similar embellishments. The end result were a pair of cute and silly mom and baby owls that Violet could toss around for fun or hang out next to her while she had some quiet time.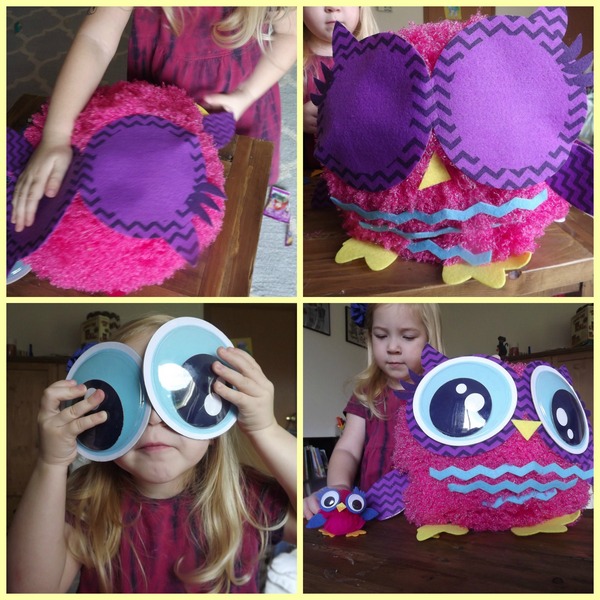 The Mommy and Baby Owl Pom Pals Kit comes with 21 pieces in all. This includes a mommy owl measuring 11.3 inches by 13.6 inches, a baby owl measuring 2.3 inches by 3.3 inches, as well as sticky-backed felt embellishments for each. Again, even though this was aimed for ages 5+, Violet had a lot of fun creating the pair with minimal help.
These Stuck On Fun products from PomTree are perfect all-inclusive kits for kids without the added mess and clean up. My daughter loved showing off her kitty and owl family she created all on her own. I loved that I wasn't left scraping stickers off the furniture around the house!
At PomTreeKids.com you can see additional activity play sets, PomTree Pets, and craft kits. You can also purchase these products by heading over to Consumer Crafts. The Mommy and Baby Owl Pom Pals Kit retails for $9.97 and the Felt Pillow Puff Kitty and Mouse Kit retails for just $8.97. These activity kits for kids are very affordable further making them a great gift for the holidays.
PomTree Activity Kits for Kids Giveaway
Enter below for a chance to win your choice of one of the following PomTree Activity Kits for Kids. Giveaway is open to US residents age 18+ and ends on November 21.
Mommy & Baby Owl (reviewed above)
Mommy & Baby Bird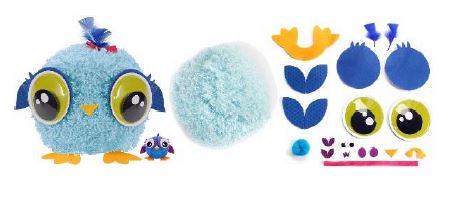 Felt Kitty & Mouse Pillow Puff (reviewed above)
Felt Puppy & Bone Pillow Puff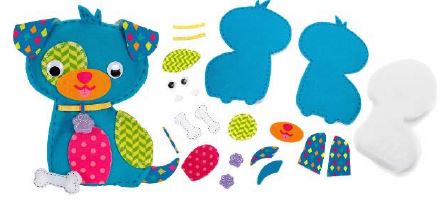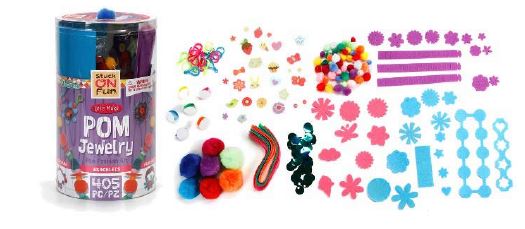 Which of the PomTree activity kits for kids is your favorite?