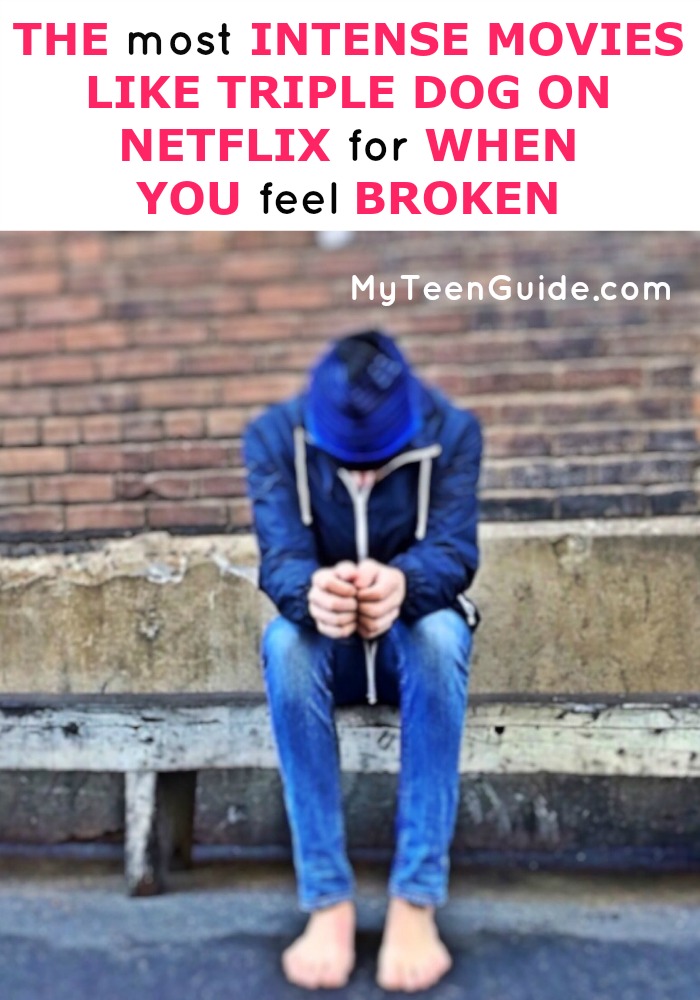 If you are struggling with bullying and peer pressure, you need to see these movies like Triple Dog on Netflix. Have you played a game of Truth of Dare that was so intense you jumped off a bridge or shaved your head? Peer pressure and bullying is a serious issue, and the movie Triple Dog on Netflix is an intense drama that shows what can happen if things get a little too intense. A sleepover isn't the only time peer pressure can get intense. I've pulled together some of my favorite drama movies like Triple Dog on Netflix that can show what happens when peer pressure and bullying aren't put back in check. These movies are great dramas to watch, but also are perfect opportunities to talk about some tough topics. Check out my list of movies like Triple Dog on Netflix below!
The Most Intense Movies Like Triple Dog On Netflix For When You're Feeling Bullied
Triple Dog is a 2009 drama thriller movie on Netflix that was released to DVD on September 21, 2010. The movie stars Britt Robertson, Julia Maxwell, Alexia Fast, Carly McKillip, Emily Tennant, Janel Parrish, Scout Taylor-Compton, Brett Davern and Aubrey Mozino. The movie follows a group of teenage girls at a sleepover, as they take on some very competitive and challenging dares fueled by some nasty peer pressure. This movie is a combination of Truth or Dare gone terribly wrong. Truth or Dare can be a fun game, but not this version! Check out the trailer for this intense movie and then see a few other movies like Triple Dog on Netflix below!
Phew, that game of truth or dare is more intense than any I've ever played. Check out some more good movies on Netflix that are about intense peer pressure and bullying below.
Cyberbully
Cyberbully is a 2011 TV movie that first aired on the ABC Family Network on July 17, 2011, and was released to DVD on February 7, 2012. The movie stars Emily Osment, Kay Panabaker, and Kelly Rowan. Cyberbully is about a teenage girl, Taylor Hillridge, who signs up on Cliquesters, a social networking website. Taylor is thrilled to be part of the site, but it doesn't take long before she becomes a victim of cyberbullying.
Safelight
Safelight is a 2015 drama movie that premiered at the Nashville Film Festival on April 17, 2015, and ARC Entertainment provided the movie with a limited release in the United States as well as via video on demand on July 17, 2015. The movie stars Evan Peters, Juno Temple, Ariel Winter, Christine Lahti, Jason Beghe and Kevin Alejandro. Safelight showcases the adventures of two teenagers, Charles, and Vickie, who set out on a road trip to take pictures of lighthouses along the California coastline. However, the teens encounter troubles when Vickie's pimp, Skid, goes looking for her.
White Rabbit
White Rabbit is a 2013 drama movie that premiered at the Zurich Film Festival on September 30, 2013, and was released by Breaking Glass Pictures in the United States on February 13, 2015. The movie stars Nick Krause, Britt Robertson, and Nick Krause. White Rabbit centers on teenager Harlon Mackey, who killed a rabbit when he was younger. Now, Harlon is a high school student that is being bullied, and he finds himself committing violent acts, resulting from a mental illness that hasn't yet been diagnosed.
Video Girl
https://www.youtube.com/watch?v=2kwBikBud5I
Video Girl is a 2011 drama movie that premiered in the United States on October 11, 2011. The movie stars Meagan Good, Adam Senn, Haylie Duff, Ruby Dee and La'Myia Good. Video Girl features the life of Lorie Walker, a dancer in music videos, who discovers celebrity life does have a dark side to it.
Do you know of any other movies like Triple Dog on Netflix? Have you seen any good movies or shows that talk about bullying an peer pressure?  Have you seen any of my picks? Talk to me in the comments!
*Image via Pixabay