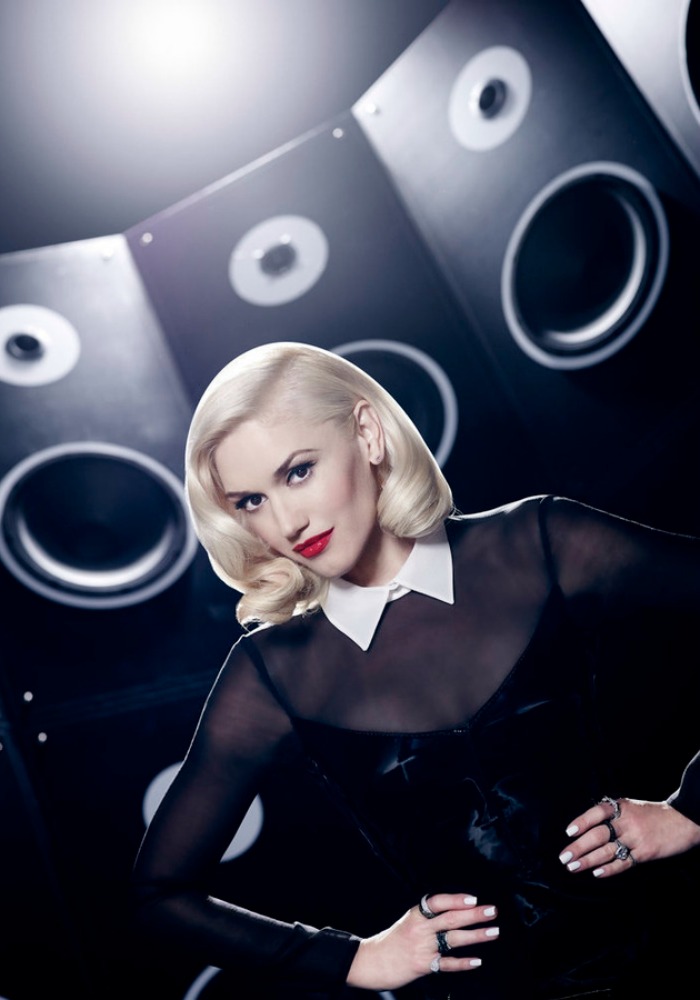 Gwen Stefani has been a judge on The Voice for Season 7 and Season 9 and we love here! Or at least, I love her, and I think her many fans do to. Did you know that on top of Gwen Stefani being a judge on The Voice and an ah-mazing musician she was also a voice in a video game? Did you ever play with her limited edition dolls? Check out all the details in our biography!
Gwen Stefani : The Voice Judge
She was born in Fullerton, California on October 3, 1969 and is a singer, songwriter, actress and fashion designer. Her father, Dennis, was a marketing executive for Yamaha and her mother, Patti, was an accountant. Gwen has a younger sister named Jill, an older brother named Eric and a younger brother named Todd. She was raised in Anaheim, California and attended Loara High School.
Stefani started with the band No Doubt in 1986, along with Tony Kanal, Tom Dumont, Adrian Young, Gabrial McNair and Stephen Bradley. In 2004, the band took a hiatus and Stefani embarked on a solo career. In 2008, No Doubt reunited, until 2013 when they took yet another hiatus.
Related: The Voice Behind The Scenes: Adam Levine Biography
With No Doubt, Stefani had six studio albums, 22 singles and 21 music videos. With No Doubt, she won a total of 14 awards including 2 Grammy Awards, one in 2003 for Best Pop Performance by a Duo or Group with Vocals for Hey Baby and in 2004 for the same award for Underneath It All and 3 MTV Video Music Awards for Best Group Video, in 1997 for Don't Speak, in 2002 for Hey Baby and in 2004 It's My Life.
As a solo artist, Stefani had two studio albums, 20 singles and 16 music videos. As a solo artist, she won a total of 46 awards. In 2005, she won the American Music Award for Favorite Pop/Rock Female Artist and two Billboard Music Awards; one for New Artist of the Year and one for Digital Song of the Year for Hollaback Girl. Stefani also won three Grammy Awards; in 2002 she won Best Rap/Sung Collaboration for Let Me Blow Ya Mind with Eve, in 2003 she won Best Pop Performance by a Duo or Group for Hey Baby and in 2004 she won Best Pop Performance by a Duo or Group for Underneath It All. No one can challenge Gwen Stefani's ability to be a judge on The Voice!
Stefani made her acting debut in 2004 when she played the role of Jean Harlow in the movie The Aviator. Also in 2004, she lent her voice in the video game Malice as the role of Malice. I had no idea she was in a video game, I thought Gwen Stefani was a judge on The Voice and  that her biggest claim to fame was making music.
Related: The Voice: Pharrell Williams Biography
She launched her own clothing line in 2004, called L.A.M.B. and in 2006, she created limited edition dolls called Love. Angel. Music. Baby. Fashion Dolls. I remember these dolls, they were pretty cute!
Stefani married Gavin Rossdale, the lead singer of the rock band Goo Goo Dolls on September 14, 2002 in London, England at the St. Paul's Covent Garden. The couple had three children (boys) together: Kingston who was born May 26, 2006; Zuma who was born August 21, 2008 and Apollo who was  born February 28, 2014. Sadly, the couple filed for divorce in August of 2015 and it was finalized in October of 2015. Rumors are that Gavin Rossdale stil holds a torch for Gwen, but it does not look likely the two will be rekindling anytime soon.
Most recently, Gwen Stefani has had a flirty romance with  The Voice judge Blake Shelton. It has been all over the news, and there are rumors of wedding bells for these two.  This is the first time we have seen a The Voice judge hook up as a couple, so it's pretty exciting to watch their flirty banter make The Voice history!
With the return of Christina Agularia in Season 10, will we see more of Gwen Stefani as a The Voice Judge? Do you like watching Gwen Stefani on The Voice as a judge and mentor? Tell me in the comments!
*Image via NBC