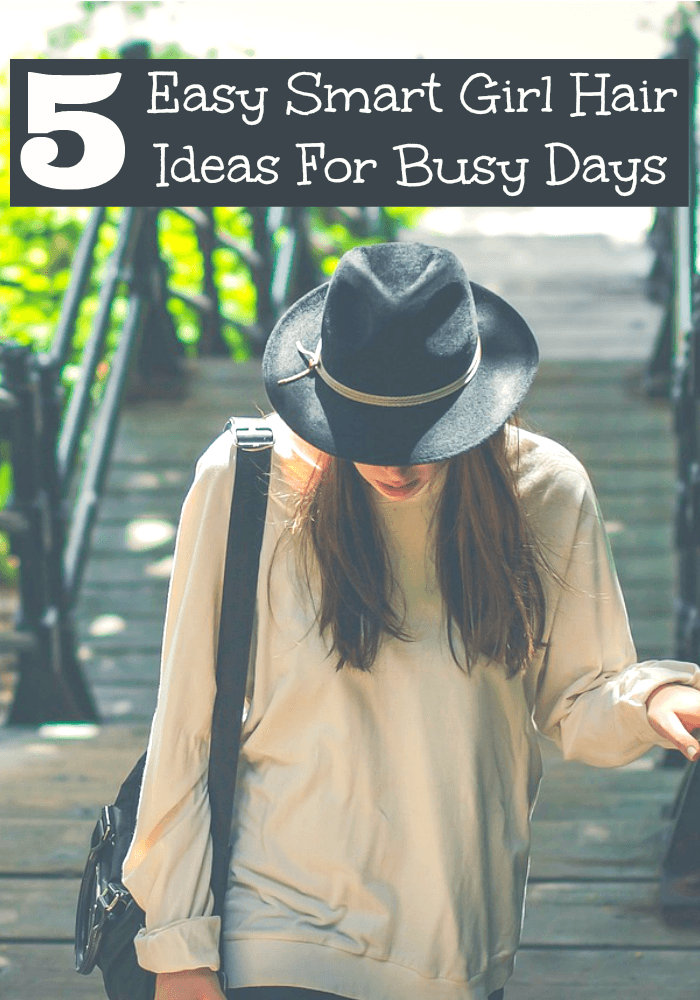 Sometimes you need hair for busy days that works with your schedule. I like intricate braids and a curled and styled look as much as the next girl, but it just does not work for every day. School piles up, you overslept your alarm and before you know it you are running out the door with a boring ponytail again. I discovered several hair hacks that help me when I need to get out the door quick but still have nice looking hair for busy days.
Easy Smart Girl Hair For Busy Days
The Double Pony Tail
This is such an easy hair idea to make that ponytail pop a little more with a little lift. Create two ponytails, one near the crown of your head and another one directly under. Then split the hair in half between the scalp and the top ponytail, and pull the lower ponytail up and through to give you more bounce. This trick also saved me when I was growing out short hair that would not always stay in a reg pony, it would stay using this method!
Headband Curls
This one you have to think about the night before, but it is so worth it! Add your favorite lightweight hair mouse style product. Place a stretchy elastic headband across your forehead and hair, similar to wearing a crown. Take a small section of your hair, about two to three inches, and loop it up and around the elastic, and repeat until the entire strand is wrapped around the headband. Now repeat will all of your hair into small sections, then finish with hairspray. In the morning, unwrap hair and you'll have beautiful waves that should just need to be tousled.
Fast Yet Messy Bun
This is my go to bun when I need to get my hair up fast, and it always holds. Start by making a high pony on top of your head. Keep holding the elastic, but make one less twist with the elastic then you normally would. Keep holding that elastic tight! Wrap the hair around the pony and elastic into a bun. Secure the bun by placing the loop of elastic coming from the middle of your bun now down and around the bun. Tuck any loose pieces, and tah-day! Your bun should easily stay all day.
Combat Frizz
In the summer months, frizz is one of my bigger issues. Try smoothing an oil or serum on your hair the night before. Cover your hair with a silk scarf, and head to bed. Remove the scarf in the morning and your hair should be smooth and frizz free! If you find your hair is too oily, try a dry shampoo.
Accessorize
Look, we all have days when we look in the mirror and say "Hrm, now what?" Accessories are perfect for these days when your hair can do no right. Keep a couple of cute headbands, a hair wrap, or a stylish hat around for just such an occasion. A well places sparkly accessory can make that messy hair look chic in an instant. Add a touch of light makeup and you will be on your way
So lovelies, what are your favorite tips and hair ideas for busy days?
*Image found on Pixabay.