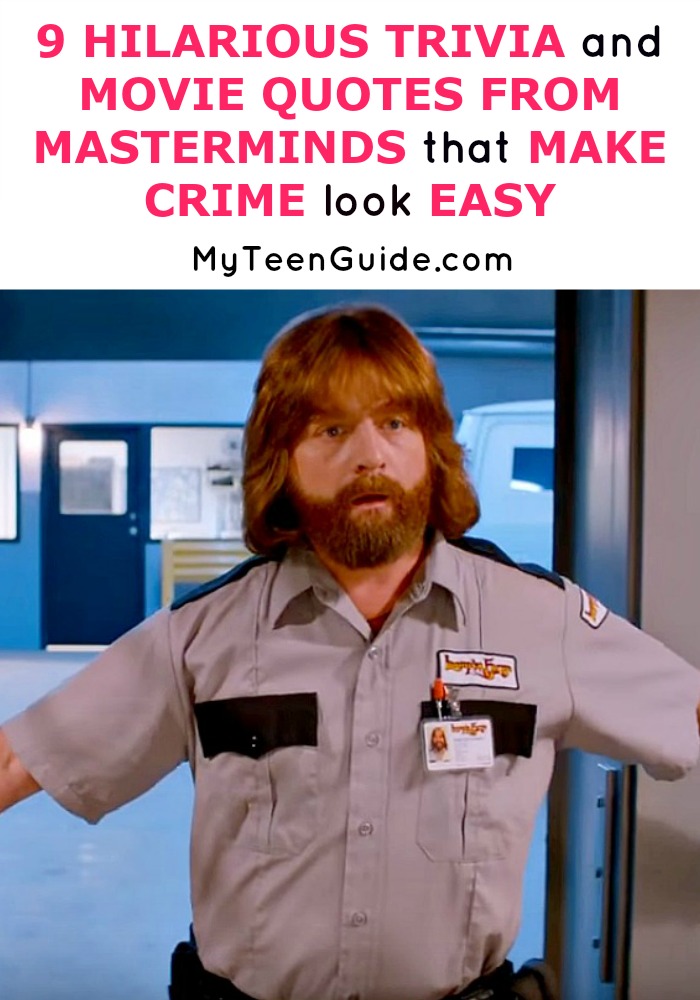 Take a sneak peek at the Masterminds movie quotes and trivia, and you'll quickly see like I did that this movie looks funny. This film has some great names in comedy, and looks like the laughs are done well! I'm already picturing watching this movie on a Saturday night after a long week, just to laugh with Bae! Check out all the details below, this funny film hits theaters soon!
9 Hilarious Trivia And Movie Quotes From Masterminds That Make Crime Look Easy
Masterminds is a comedy heist movie that is set to hit theaters on September 30, 2016. The movie centers around David Ghantt, a night guard who works for an armored car company. He creates a team of strange criminals to help him with a huge bank heist. Masterminds stars Zach Galifianakis, Kristen Wiig (who recently was in Ghostbusters!), Owen Wilson and Jason Sudeikis. Here are some cool trivia and quotes from the movie Masterminds.
Related: All The Shows like Shameless and Weeds That Are A Hot Mess
Masterminds Movie Quotes
Conversation between Kelly Campbell and David Ghantt:
Kelly- "What would you do with a million dollars?"
David- "Probably start my own business, maybe be a bounty hunter."
Kelly- "Nice."
Related: 5 Intensely Amazing TV Crime Shows Like White Collar That Are A Little Snarky
Conversation between Steve Chambers and David Ghantt:
Steve- "Kelly tells me you all work together over at Loomis. That strikes me as an incredible opportunity."
David- "You talking about robbing a bank?"
Steve- "How hard can it be? You load up a truck and you drive away."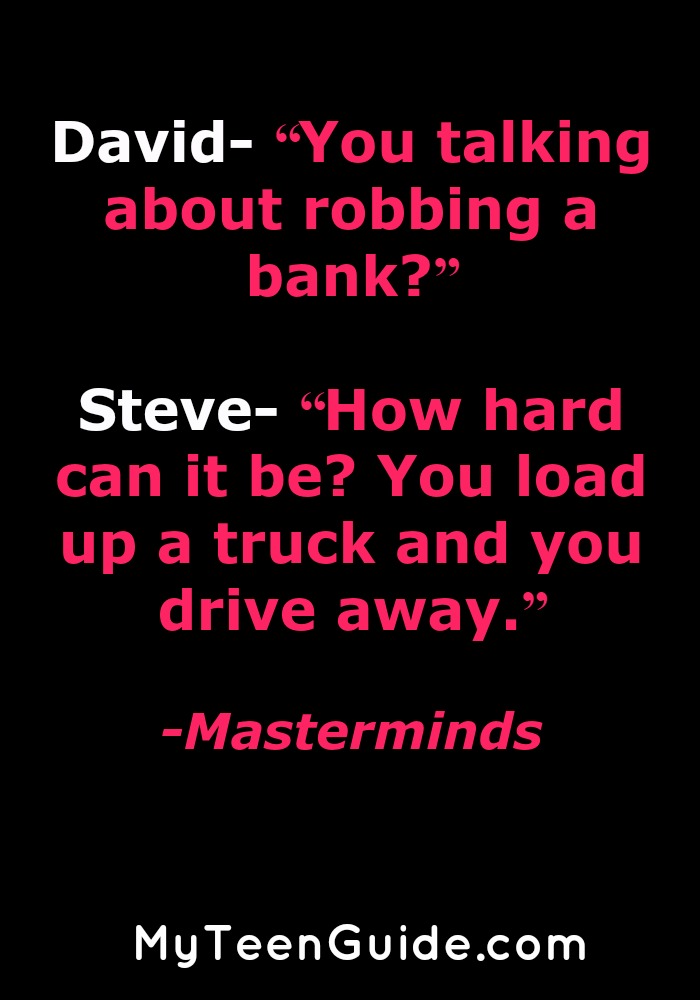 News reporter, showing a photo of David Ghantt on the broadcast:
Reporter- "Police are calling one of the largest cash heists ever. Authorities are searching now for this man."
Conversation between Steve Chambers and Kelly Campbell:
Steve- "It's time to cut David Ghantt from the team."
Kelly- "We can't do this, this is wrong!"
Masterminds Movie Trivia
The movie is based on a real-life event. On October 4, 1997, there was $17.3 million stolen from the Loomis Fargo Bank in Charlotte, North Carolina.
Due to the fact that Relativity Media, the movie's production company, was in a financial bind at the time, the original theater release date of October 2015 was indefinitely put on hold. In December of 2015, the September 30, 2016 release date was announced.
Jim Carey was originally slated to play the role of Steve Chambers. However, he had to drop the role due to a scheduling conflict. Owen Wilson was then chosen to play the role of Steve Chambers.
Zach Galifianakis and Owen Wilson worked on a movie together back in 2013 titled Are You Here? Zach played the role of Ben Baker while Owen played the role of Steve Dallas.
Kristen Wiig, Kate McKinnon and Leslie Jones all starred in the 2016 movie Ghostbusters together. Kristen plays the role of Dr. Erin Gilbert, Kate plays the role of Dr. Jillian Holtzmann and Leslie plays the role of Patty Tolan.
So what do you think about all the Masterminds movie quotes, don't they look hilarious? I can't wait to see this movie, Kirsten Wiig, Owen Wilson and Zach Galifianakis look like a super funny cast together! I'll have to remember that bit of trivia about Jim Carey almost acted in this film.
Tell me what you think about this new hilarious movie down in the comments!
Image from trailer