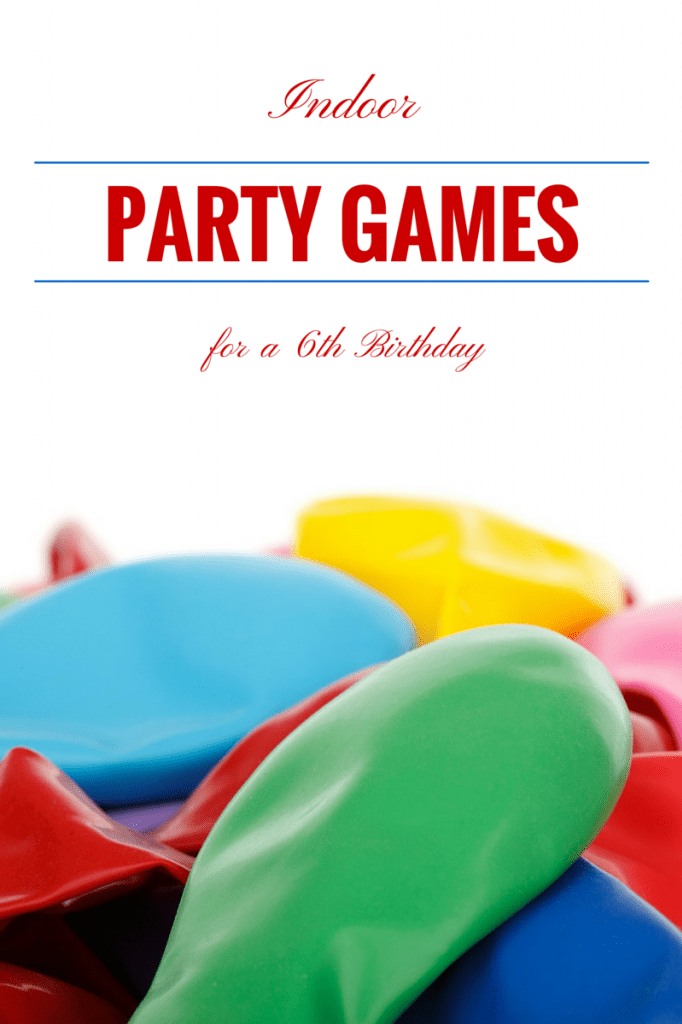 Need great ideas for indoor party games?
Maybe your child was born in the winter and you are 'stuck' inside for all birthday parties, or while you are planning, the weather forecast isn't going to cooperate for you to have an outdoor party.
Either way, there are plenty of games to keep the kids entertained and maybe even talking about on Monday at school!
Read on for some ideas on indoor party games for kids age 6!
►Don't forget to download our Printables. They will sure come in handy! Click ► HERE  To download.
Indoor Party Games for Age 6
Affiliate links included below. We earn a commission if you make a purchase, at no extra cost to you.
GAME 1: Scavenger hunt:
Depending on how many guests you have, break the kids up into teams.
Give them a list of things they need to find, such as something green, a party hat and ball.
Don't make the list too long, they have to bring all this stuff to you!

GAME 2: Musical squares:
Kind of like musical chairs with a twist.
Cut out more square pieces from construction paper than there are guests.
On the back of each one, write an action such as jump on one foot or close your eyes and spin around 4 times.
Write something fun and weird!
Having the kids standing around the circle of squares, start the music.
When it stops, they have to flip over the square in front of them and do what it says.

GAME 3: Balloon catch:
I bet you will even get in there and try this with the kids!
All you need a balloon for each party goer, and those paper cone cups.
They keep trying to catch their balloon in their cup.
Sounds a lot easier than it is!
The higher the balloon goes the harder it is to catch!

Related: 6 Awesome Party Game Ideas 
GAME 4: Mummy wrap:
Toilet paper is all you need for this fun game.
Break the kids up into 2 or 3 teams with 3 or 4 kids on each team (of course this depends on how many guests you have at the party).
Give each team 1 roll of toilet paper and have them choose who is getting wrapped up.
They can't start until you say go and they wrap their friend with toilet paper into a mummy as best and fast as they can until its gone.
The first team to finish wins!
If you have spare, you can make this mummy wrap craft.
GAME 5: Ring toss:
A piece of cardboard and an empty paper towel roll is all you need to make your stand.
Some tape of course, and you might think about painting it or wrapping some paper around it so its colorful and not brown.
You can get a few packages of the glow in the dark necklaces  and you have yourself a game of ring toss!
Increase the fun factor by making the room dark (because you are using glow in the dark necklaces!).
If you want to skip the homemade version, you can pick up an inexpensive ring toss set.
That wasn't so bad was it?  You can do this!  You can even create your own variation of indoor party games from anything on the list.  I just wanted to get your creative juices flowing.
What sort of indoor party games have you seen at other parties? Maybe you have even created some yourself?  
Share the creative love with the rest of us!